Grove at Grand Bay
Coconut Grove, Florida
Old Hotel to Be Razed
Replaced with Ultra-upscale Condos
June 28, 2012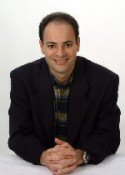 Hello.  Joel Greene here from Condo Hotel Center.  For today's featured property, I'd first like to provide some context.  Travel back with me for a bit of history.  The place is the Grand Bay hotel in Coconut Grove, a desirable area just south of downtown Miami.
Developed by The Continental Companies for $30 million, the hotel opened in 1983 in an area transitioning from artsy-hippie village (think love-ins, street performers and art festivals) to hip, popular tourist destination.
In its prime the 200-room Grand Bay hotel was the place to be, whether you were a businessman meeting for lunch, a celebrity looking for publicity, or a bride and groom celebrating their special day.
The Grand Bay was known for its unique pyramid shape, its pristine service and its draw for jetsetters, especially Regine's nightclub, which sat atop the hotel and was always filled with A-list celebrities.  In 1987, it was the only hotel south of Palm Beach to earn the coveted Mobil five-star rating, a feat that still hasn't been repeated by any other local hotel.
The common areas, the banquet rooms and the pool area were all gorgeous and on par with what you'd find at New York City's finest hotels.  Michael Jackson stayed at Grand Bay. So did Luciano Pavarotti, Prince, Elizabeth Taylor, Sophia Loren, and just about everybody who was anybody.
But the hotel's heyday was a long time ago.  After a gradual decline, the Grand Bay has been shuttered for nearly four years, collecting mold, graffiti and pigeon droppings.  And soon, it will just be a memory, demolished to make way for a new, ultra-luxurious, boutique residential development which brings me to today's featured property.
Grove at Grand Bay
Consisting of two, 20-story towers, the magnificent Grove at Grand Bay will contain a total of 96 luxurious condo residences.  The site, once cleared of the iconic Grand Bay, will still be three grand acres on a high hill with an amazing water view of the islands of Miami.
New owner, Terra Group, which bought the property last summer for $24 million, is planning a one-of-a-kind development, destined to stand out with an architectural style more likely to be found in a place like Dubai than in Miami.
The property will twist at a 38-degree angle from the second floor to the 21st, giving the building a "dancing effect."  Oscillating north at this angle will allow Grove at Grand Bay to pick up downtown views of Miami as well as the bay and the marina.
The architectural design is by Bjarke Ingels Group, or BIG, which has made waves for high-profile projects near Copenhagen and in China, New York City and Utah. Ingels, a 41-year-old Danish "starchitect," was named Innovator of the Year in "Architecture" by the Wall Street Journal's magazine.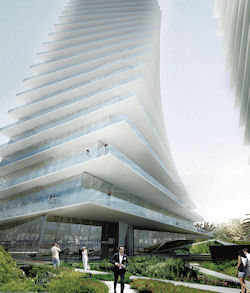 His design for the condo development was the winner of a competition for the Grand Bay site.  It will be a stunning spiral of twin glass towers, which rise from a forest pedestal and spin in the direction of the most amazing views in South Florida.
Unique Floor Plans
The spiral design of Grove at Grand Bay will mean every single floor will feature unique floor plans.  However, all of the condos will have 12-foot soaring ceilings and stunning 12-foot wide terraces running, in some cases, the full width of the residence.  The width creates an outdoor room, complete with electric summer kitchens.
The residences will have the living room, dining room and master bedroom all overlooking the bay.  They'll have gourmet kitchens or chef kitchens with Dornbracht fixtures and Miele appliances.
Ranging in size from approximately 1,200 sq. ft. to 5,700 sq. ft., the largest of the condos will have five bedrooms and seven (yes seven!) bathrooms, a new one for each day of the week, if you like.  Corner units and 4,000+ sq. ft. penthouses will have staff accommodations and bath.
Amenities Galore
The landscape for Grove at Grand Bay is being designed by Raymond Jungles, international acclaimed architect.  His plan is to return the site to its original tree hammock look of dense tropical trees occasionally parting to reveal a swimming pool or kid's park or other outdoor amenity.  Like other Jungles' projects, this one is guaranteed to amaze and delight the senses.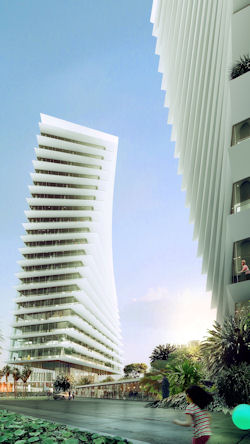 Other amenities at the property will include:
Gated entry 18' above sea level with Port Cochere
20-foot high exquisitely-appointed two-story lobby
Private rooftop swimming pool on both towers
Swimming pool on the great lawn
Fitness and spa center with treatment rooms  
Tennis court
Indoor/outdoor children's area
Pet spa
24-hour security, valet and doorman
Butler service
Onsite chef
Additionally, Grove at Grand Bay will offer two levels of covered parking with storage in the building. Penthouse units of 4,000+ sq. ft. and corner residences will each receive a two-car, air-conditioned garage.
A Desirable Location
Coconut Grove, also known as "The Grove," is a laid-back, waterfront community nestled between Biscayne Bay and Highway U.S. 1.  It is adjacent to Coral Gables and just minutes from the hustle and bustle of downtown Miami.
The eastern border of Coconut Grove is Biscayne Bay, which lends itself to a boating community. The area features a sailing club (Coconut Grove Sailing Club), a yacht club (Coral Reef Yacht Club) and a marina, (Dinner Key Marina).  Stars like Madonna and Sylvester Stallone once called Coconut Grove home.  Athletes like LeBron James (Miami Heat) and Frank Gore (San Francisco 49ers) still do.
Residents at Grove at Grand Bay will be able to enjoy a variety of gallery walks and outdoor dining, funky neighborhood bars, and waterfront parks with some of the best vantage points for watching manatees and sailing regattas.  The area is also home to Vizcaya Museum and Gardens, Miami Science Museum and CocoWalk, a shopping and dining district and a sizzling nightlife.
Pre-construction Pricing
The design and a time frame for demolition and then construction of the Grove at Grand Bay are not yet final.  Work will likely begin in late 2012 or early 2013 and be completed by summer 2014.
Pre-construction prices for the residences range from $850,000 for a 1,200 sq. ft. two-bedroom/two bath condo to $6,950,000 for the largest penthouse, which is 5,700 sq. ft. indoors plus a 1,155 sq. ft. balcony.
Reservations are currently being accepted now with deposits of 10% of the purchase price.  Multiple financing sources will be available as the development moves further into the construction phase.  Buyers who reserve a unit now will have the best selection of inventory.
Want to know more?  Request my detailed data sheet for Grove at Grand Bay.  You'll just need to provide your contact information, per the developer's requirements.
Request the Grove at Grand Bay data sheet here.
Miami Real Estate Heats Up
Thank you for your interest in my write-up on the Grove at Grand Bay.  Before I sign off, I wanted give a quickie update on the Miami real estate market.  In a word – HOT!  Condo developments I promoted a mere two to three months ago are now approaching sell out (i.e. Eden House – just a few units left; call me NOW if you're interested.)
On a personal note, I placed a Miami townhome I own on the market less than one week ago.  I was delighted to receive five offers in the first week, including two that were above full asking price.  This is not untypical for this hot market.
Miami was among the first areas to experience the real estate crash of recent years so perhaps it's logical that it's among the first to bounce back.  Or maybe, it's just that South Florida offers year-round sunshine, amazing beaches and a lifestyle that's tough to beat– anyone that witnessed the Miami Heat's championship run can attest to that!   I know that's why I love it here!
If you're interested in a vacation home or primary residence in this neck of the woods, just give me a call, and I'd be glad to fill you in on all that's available.
Have a great day!
Joel Greene
Licensed Real Estate Broker
Condo Hotel Center
1368 NW 165th Ave.
Pembroke Pines, FL 33028
(954) 450-1929
Joel@CondoHotelCenter.com
www.CondoHotelCenter.com
www.CondoHotelsDubai.com
www.WorldClassCondoHotels.com
www.CondoHotelsBahamas.com
www.CentralAmericaSecondHomes.com
www.DominicanRepublicVacationHomes.com
www.BiscayneLandingMiami.com
Want to know more about me? Click below:
//www.condohotelcenter.com/joel-greene.html

Follow us on Facebook.
© Copyright 2012 Condo Hotel Center
*All rights reserved. No portion of this Property Alert may be reproduced, exhibited or distributed without the express written permission of Condo Hotel Center. Although Condo Hotel Center believes the information contained in this Property Alert to be accurate and complete, Condo Hotel Center can make no such guarantee.