Art Deco Styling at
Grand Central at Kennedy
Tampa Condos from $117,900 
September 25, 2012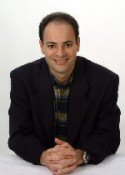 Joel Greene here from Condo Hotel Center.  Before I tell you about today's property, I want to share a little back story.
When I was growing up back in the 1970s in Miami Beach, I frequently passed through the area known as South Beach or SoBe.
Although sophisticated and trendy now, back then it wasn't the greatest neighborhood.  South Beach was mostly inhabited by aging seniors and, like its residents, its buildings were old and tired too.  Demolition loomed on the horizon.
Then in 1979 a group of dedicated crusaders for historic preservation recognized South Beach as the world's best example of Art Deco architecture.  It made saving those aging buildings their personal mission and incited a movement for renovation, giving them a new lease on life.
In case you're not familiar with Art Deco, it's a style of architecture that, in its heyday of the 1920s and 1930s, was considered ultra-modern.  Its sherbet shades of peach, periwinkle, turquoise and purple combined with intricate architectural details to make it unique.  Today, fans of the style consider it "retro fabulous."
The reason I'm giving you this brief art-history lesson is the property I want to feature today is reminiscent of the buildings of South Beach.  It is a new condominium development located in Tampa, Florida, but its architectural style is decidedly Art Deco.
Condos + Retail = Convenience
Grand Central at Kennedy is a mixed-use urban neighborhood concept contained in one city block.  It encompasses two, 15-story buildings with Art Deco-inspired construction.
It has a total of 392 residences and 180,000 square feet of office and retail space that includes restaurants, a gym, service providers and more.  It's fresh, vibrant and anything but the suburbs.
Construction on Grand Central at Kennedy took place throughout 2007.  By the time it was ready to open to residents, unfortunately, the real estate market was in a state of flux.  Almost half of the condos had been sold in the preconstruction phase, but the developer decided to rent out the balance of the condos until the market recovered.
Now, five years later, with the market coming back to life, the developer is converting the balance of leases to sales.
Plenty of Great Amenities and Services
Grand Central at Kennedy has a ninth-floor, open-air pool deck in each building. This area also features pet-friendly walking areas, recreation areas and clubhouse, exercise facility, a jogging and walking track, private cabanas and outdoor cooking areas.
It has ample parking in a secure, covered parking garage, 24-hour security and a concierge service.
Also at Grand Central at Kennedy, you'll find the new Powerhouse Gym, a dry cleaners right downstairs, and restaurants, bars and Stageworks Theatre, Tampa's live professional theater company.
The individual condos feature attractive interior amenities:
Gourmet kitchens with granite countertops, stainless steel appliances and elegant cabinetry
Oversized custom-enclosed shower
Bathtubs in select units
Soaring 9'4" ceilings
Floor-to-ceiling windows in select units
Hardwood floors throughout kitchen and entry
Brushed stainless steel hardware throughout units
Pre-wired ceiling fan outlets
Ample closet space
Check Out the Neighborhood
Grand Central at Kennedy is in the heart of downtown Tampa's urban renewal.  Head to Channelside, a dining and entertainment complex, for a movie, dinner and drinks.  Catch a concert or hockey game at the St. Pete Times Forum.  Stroll along the Riverwalk and take in an exhibit at the Tampa Bay History Center.
There's no shortage of restaurants, bars, entertainment venues and shopping.  You can even tour the city by boat with the new water taxi service.
The Tampa Bay area averages well over 300 days of sunshine each year and is home to some of the world's top-rated beaches.  Here you'll find some of the most magnificent West Coast Florida sunsets, and you can often spot manatees and dolphins from the shore line.
Investor Appeal & Pricing
There are 110 condos available for sale at Grand Central at Kennedy, many of them with leases in place, which could be appealing if you're interested in the property as an investor.  Condos can be leased with a seven month minimum.  Area rental rate are roughly $2.00 per square foot.
The condos come in one-, two- and three-bedroom floor plans, ranging from 620 sq. ft. to 2,169 sq. ft.  Prices start at just $117,900 and go up to $429,900.  Financing is available.
Want to know more?  I've put together a detailed data sheet.  Just provide your name and contact information per the developer's requirements, and it's yours for the asking.  Click on the link below.
Request the Grand Central at Kennedy data sheet.
What's Old Is New
This month I celebrated my 48th birthday.  I don't feel my age.  Ask my wife, and she'll tell you that I don't act my age either.  But somehow, writing about historic Art Deco with its roots in my old stomping grounds and the new trend it is inspiring in places like Tampa, makes me realize I'm not getting any younger.  I guess that's not such a bad thing when you consider the alternative.
As always, thank you for taking time to read my Property Alerts and for your interest in the properties we showcase at Condo Hotel Center.
Have a great day!
Joel Greene
Licensed Real Estate Broker
Condo Hotel Center
1368 NW 165th Ave.
Pembroke Pines, FL 33028
(954) 450-1929
Joel@CondoHotelCenter.com
www.CondoHotelCenter.com
www.CondoHotelsDubai.com
www.WorldClassCondoHotels.com
www.CondoHotelsBahamas.com
www.CentralAmericaSecondHomes.com
www.DominicanRepublicVacationHomes.com
Want to know more about me? Click below: //www.condohotelcenter.com/joel-greene.html

Follow us on Facebook.
© Copyright 2012 Condo Hotel Center
*All rights reserved. No portion of this Property Alert may be reproduced, exhibited or distributed without the express written permission of Condo Hotel Center. Although Condo Hotel Center believes the information contained in this Property Alert to be accurate and complete, Condo Hotel Center can make no such guarantee.