Golfito Marina Village & Resort,
Golfito, Costa Rica
Vacation Villas from $349,000
March 2, 2015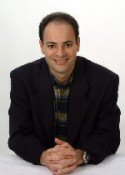 Hello.  Joel Greene here from Condo Hotel Center.  Got a fish tale for you today.
About a year ago, I had an opportunity to go deep sea fishing out of Ft. Lauderdale.  It had been a good 40+ years since I'd last tried it, and as I recall, I had gotten terribly sea sick and ended up "feeding the fish."
I decided it was time to give deep sea fishing another try.  This time I had a blast!  It was an awesome way to spend the day even though I didn't catch anything impressive.
Since then, I've said many times, "I need to do that again soon."  So when I heard about today's featured property and the fact that there's "world-class unspoiled fishing right off the resort," it caught my attention, and hopefully yours.  Read on for details.
Golfito Marina Village & Resort
A branded five-star resort with an emphasis on fishing and yachting, Golfito Marina Village & Resort is soon to be Costa Rica's newest vacation property.  It is located on the country's Pacific coast (Did you know Costa Rica also has an Atlantic coast?) and is surrounded by lush green mountains and endless beaches.
Golfito Marina Village & Resort will encompass four manmade islands with 150+ (exact number yet to be determined) villas, and a large private marina.
A main lobby building will contain a reception area, coffee shop, bar and lounge with an ocean view open patio.  There will also be a jungle-themed restaurant, adventure & eco-tourism concierge, convenience gift shops, private yacht club, conference facilities, wedding area and business center.
Other resort amenities include:
Pristine beach and the bio-diverse waters of the Pacific
Jungle landscaping with ponds, waterfalls and local animals
Pools and recreational grounds
La Isla, a floating island restaurant and night club
Open-air, full-service spa
Mangrove eco-walk
The resort will also have a main recreational park with tennis courts, volleyball and bocce ball courts, jogging trails and the Golfito Town Museum.
Marina Amenities
As mentioned, Golfito Marina Village & Resort will cater to folks who love fishing and yachting.  In fact, the resort will have the only authorized pickup and drop-off zone for yacht transport ships on the west coast of both Central and South America.
The marina will feature:
132 private slips with support for mega-yachts exceeding 350′ (106m)
250′ fuel dock with high volume (100GPM) filtered fuel pumps
All built to Blue Flag Marina standards
Blue water fishing charters from local captains
A Great Location
Golfito Marina Village & Resort is easily reached with a 45-minute flight from San Jose, the capital of Costa Rica.
Nestled inside Golfo Dulce Bay, and geographically located south of the hurricane zone, the resort enjoys the perfect conditions of a peaceful and tranquil environment.  The area offers many unforgettable eco-tourism experiences, from a rain forest hike to whale watching.
Downtown Golfito is 1.5 miles away from the property.  Enjoy shopping and restaurants in this tax free zone.
Punta Piedra, two miles from Golfito, is perfect for whale and dolphin watching.
Golfo Dulce Bay offers water sports, such as water skiing, parasailing and sport fishing.
Right off the resort is the Pacific Ocean teeming with billfish, sailfish, marlin, dorado, yellow fin tuna, wahoo, giant cubera, rooster fish, snapper, grouper and snook.
Across the bay is Corcovado National Park, called by the National Geographic Society "the most biologically intense place on earth" with 104 mammal species, 367 birds, 117 amphibian and reptiles, and 40 species of fresh water fish. The park also offers snorkeling and scuba diving adventures.
The Villas
The 150+ fee-simple deeded villas of Golfito Marina Village & Resort will be delivered fully furnished and professionally designed in either a Tommy Bahama rustic or a contemporary style.
Phase 1 will have eight two-story buildings, each containing four villas, although the building configuration will permit for the merging of two or more units to create a larger villa.
The villas will have the following features:
Expansive furnished terraces with panoramic ocean and marina views
Bedrooms with luxurious beds and European linens
Gourmet kitchens with quality appliances
Spacious bathrooms with marble and stone
Private washers and dryers
Private pools with furnished entertainment decks
Private dock with water toys such as jet skis and kayaks
One parking spot and one golf cart to share while at the resort
The property will have an onsite rental program and, much like a condo hotel, owners will have the option of placing their villa into the program when not there and sharing in the revenue it generates.
Construction Already Underway
Groundbreaking for Golfito Marina Village & Resort took place June 2014.  Phase 1 should be complete by mid-2016. Other phases could take several years to develop. No firm dates provided yet.
The villas come as studios and two- to four- bedroom units with private patios.  They range in size from 710 to 3,520 square feet.
The developer is currently offering a fly-and-buy program.  If you visit the property and purchase a villa, your travel costs up to $2,500 will be reimbursed.
I have lots more information about this property, which I'm happy to share with you.  You'll just need to provide your name and contact information per the developer's requirements.
Request the Golfito Marina Village & Resort data sheet here.
Or, if you'd like, upon request, my contact at Golfito would be delighted to give you a PowerPoint/phone presentation, so you can learn all the particulars as well as hear of future phases at Golfito Marina Village.  Please let me know if you wish to be contacted and the best time.
Escape the Winter
I know much of the U.S. is having a miserable winter with tons of snow and freezing temps.  If you'd like to one day be able to escape to a tropical paradise like Golfito Marina Village & Resort or something domestic like a condo in Miami, I hope you'll give me a call.
As always, thank you for your interest in the properties we showcase.  Have a great day!
Joel Greene
Licensed Real Estate Broker
Condo Hotel Center
1368 NW 165th Ave.
Pembroke Pines, FL 33028
(954) 450-1929
Joel@CondoHotelCenter.com
www.CondoHotelCenter.com
www.CondoHotelsDubai.com
www.WorldClassCondoHotels.com
www.CondoHotelsBahamas.com
www.CentralAmericaSecondHomes.com
www.DominicanRepublicVacationHomes.com
Want to know more about me? Click below: //www.condohotelcenter.com/joel-greene.html

Follow us on Facebook.
© Condo Hotel Center.  All rights reserved. No portion of this data sheet may be reproduced, exhibited or distributed without the express written permission of Condo Hotel Center.  Condo Hotel Center takes copyright infringement seriously.  Violators will be prosecuted to the fullest extent of the law.
Although Condo Hotel Center believes the information contained in this data sheet to be accurate and complete, Condo Hotel Center can make no such guarantee. All features and descriptions are subject to change.
Please speak with your personal legal and financial advisors to determine whether this property is suitable for your objectives.