Italian Artistry Comes to Dubai
Giovanni Boutique Suites, Prices From $176,470
September 28, 2007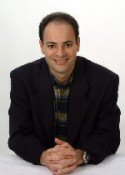 Hello. Joel Greene here from Condo Hotel Center. If you've been reading our Property Alerts for a while, then you know that one of our favorite locations for condo hotels has been Dubai in the United Arab Emirates.
What's the appeal? It offers top-quality properties at affordable prices with well-managed rental programs and great appreciation potential over time. We see Dubai as the quintessential emerging market.
So what have I got for you today? Let's say it's a project with an Italian flair. The Italians have long been known for their artistic talent: Michelangelo, da Vinci, etc.
Well, now Italian artistry will come to Dubai in the form of a contemporary condo hotel destined to be an architectural masterpiece.
Refined Italian Design
Giovanni Boutique Suites will be a five-star condo hotel located in Dubai Sports City, soon-to-be the sports capital of the world. Well-known Italian architect-designer Giovanni Batista Ravagnani has created a glass tower that will reflect quality, finesse and refined Italian taste. It will combine art and modern architecture to become a landmark on the Dubai skyline.
Offering breathtaking golf course and garden views, Giovanni Boutique Suites will have a prime location. It will be the closest tower to the city's major sports academies and shopping areas. Owners and guests will find everything they need within walking distance. More on all that Dubai Sports City has to offer in a minute.
Five-star Amenities and Features
The condo hotel will have 20 stories and will be contemporary, yet functional, in design. It will have 400 individual units.
As you would expect from a property of this caliber, Giovanni Boutique Suites will have a full complement of amenities including:
Elegant entrance, lounge and reception area
Rooftop health club and gymnasium
Separate aerobics hall
Full-service spa
Rooftop swimming pool
Two level basement parking
24 hour room service
24 hour security system
Close to all amenities (schools, shopping malls, recreational facilities, etc.)
The individual condo hotel units, or "boutique suites" as the developer refers to them, will be delivered fully furnished with top-of-the-line furniture and finishes selected by the internationally acclaimed Italian designer Giovanni Battista Ravagnani.
The kitchens will be fully equipped. Each unit will have a private balcony and will offer spectacular views of Dubai Sports City.
Why Dubai?
Let me put the Giovanni Boutique Suites into context for you by giving you a little background on Dubai. It's a fascinating place. Probably more than any other destination, it represents a city with a seemingly unlimited capacity for growth. Only a few years ago, its rulers began thinking ahead to a time when its economy could no longer be fueled by its oil reserves. They made a decision to invest in developing their city's travel and tourism sectors. And their vision is coming to life with unbelievable speed. Dubai is the fastest growing city in the world. For the past three years its economy's growth rate has exceeded 16%, beating that of China at 8%, acknowledged to be one of the fastest growing economies in the world. Dubai has more heavy building cranes than anywhere else in the world.
Just about every foreign airline already flies to Dubai, and the expatriate community is also growing rapidly. This is truly the definition of a global city, with over 180 different nations represented here. Dubai has been called the Las Vegas of the Middle East. Although it doesn't have casinos, the hotels are architectural icons, and there are many massive upscale residential developments, most of which are sold out before "sand" is broken.
Dubai has plenty of firsts. It has the world's only seven-star hotel, the Burj Al-Arab (pictured right), which also boasts the world's tallest atrium. Rooms run $2,000 to $16,000 per night, and that includes some distinct special touches like a 16-page pillow menu. The Burj Al-Arab is usually sold out months in advance. Dubai also has skiing. Yes, skiing, in the desert, no less. It has the world's largest indoor ski resort, which just happens to be located in the world's second largest shopping mall.
Currently under construction is the Burj Dubai, which is still "growing," but is already the world's largest tower. It will be over 160 stores high, but the exact height is a secret because the developers don't want competitors to one-up them.
When the city ran out of coastline on which to build luxury homes, its rulers were undaunted. They simply began constructing artificial islands, creating 90 square miles of new beachfront property. The Palm Islands are the world's three largest man-made islands, which are being built on the coast of Dubai.
Built in the shape of date palm trees, the islands will feature over 60 luxury hotels, 4,000 exclusive residential villas, 1,000 unique water homes, 5,000 waterfront apartments, marinas, water theme parks, restaurants, shopping malls, sports facilities, health spas, cinemas and various dive sites. The World, also located off the coast of Dubai is a collection of 300 man-made islands shaped into the continents of the world. It too will offer private homes, luxury resorts and community islands. Celebrities are already scooping up theirs, including Rod Stewart, David Beckham, and Pamela Anderson (wouldn't you love to be her neighbor!). Tiger Woods has reserved a lot too, and he's signed a deal to design his first golf course nearby.
Dubai, World-Class Tourist Destination
Dubai lies on the southeastern shore of the Persian Gulf near the strait of Hormuz, strategically located at the cross roads of Europe, Africa, the Middle East and Asia. This central location makes it a gateway to an estimated 1.5 billion consumers.
Over the past decade, the number of visitors to Dubai has grown from 1.08 million to 5.4 million, representing an annual growth of 16%. This growth rate is more than triple the world tourism growth rate over the same period. In fact, the last five years alone Dubai experienced a 54% increase in the numbers of tourists. Forecasting 200,000 visitors a day, Dubai is being designed to accommodate 15 million visitors a year from 2010 onwards.
Dubailand, Disney on Steroids
Much of the explosive growth of Dubai has been focused on a "city" called Dubailand. What exactly is Dubailand? I guess you could say it's Disney World on steroids in the desert!
By any name, though, it's an incredible undertaking. It is a master-planned, full-featured city for tourism, entertainment and leisure. Spanning 107 square miles, the massive development will cost $20 billion. It will include 45 mega projects and 200 sub projects. It will be more than twice the size of all of the Disneyland/Disney World resorts put together, currently the largest collection of theme parks and attractions in the world. And the plans for Dubailand keep expanding. Just a couple of months ago, U.S.-based Universal Studios announced it would develop its own $2.2 billion theme park within Dubailand. By 2008, the first of four phases comprising the development of Dubailand will be complete. The final phases will extend to 2020.
Dubai Sports City
Dubailand will consist of 70 square miles of attractions and entertainment venues by 2020. The various projects being built in Dubailand have been categorized into six immense themed zones, each of which focuses on a different aspect of the Dubailand experience. The zones, referred to as "worlds," include:
Attractions and Entertainment World
Leisure and Vacation World
Retail and Entertainment World
Downtown
Eco-tourism World
6. Sports and Outdoor World
Now stay with me here. Let's talk just about Sports and Outdoor World. Here's what this World will include:
Dubai Autodrome (already built)
Extreme Sports World
Golf World
The Plantation Equestrian & Polo Club
Dubai Sports City
It is in Dubai Sports City, a $1.9 billion development, that The Giovanni Boutique Suites will be located. Dubai Sports City is already under construction and will be complete in 2011. It will have a variety of sports, lifestyle, leisure and entertainment developments. Here are a few more stats on Dubai Sports City.
Designed to attract professional athletes and world-class athletic competitions, it will encompass the following venues:
Stadiums – Various stadiums for international sports and mega-events. A dedicated cricket stadium, capacity 30,000 spectators; an outdoor multipurpose stadium for football and rugby, capacity 60,000 spectators; an indoor multi-purpose stadium for basketball and volleyball, capacity 10,000 spectators; and a dedicated hockey stadium, capacity 10,000 spectators.
Sports Academies – The Manchester United Soccer Schools, Butch Harmon School of Golf, David Lloyd (Leisure, Spa, and Tennis Academies), and the International Global Cricket Academy.
Training Facilities – Multi-sport training facilities including gymnasiums, Olympic pools, and a state-of-the-art sports rehabilitation center.
Golf Course – 18-hole Ernie Els golf course being designed in association with Nicklaus Design.
Residences – Various residential communities and high-rise buildings offering spectacular views of the surrounding golf course, stadiums and canals.
Commercial – The biggest brands, franchises and contemporary icons from the business, hospitality, entertainment and sports training worlds will all be represented in Dubai Sports City.
Let me summarize. Dubai Sports City is the centerpiece of Sports and Outdoor World, one of the six main Worlds in Dubailand, the world-class tourist destination in the exciting emirate, Dubai. And Giovanni Boutique Suites condo hotel will be located in the center of it all!
Pretty amazing stuff, wouldn't you say? And The Giovanni Boutique Suites at Dubai Sports City offers an opportunity to be a part of this area's dynamic growth.
If you've ever thought to yourself, "Gee, if only I'd bought property in Orlando when Disney World was just being built…" well, this is that same kind of exceptional opportunity!
Prices and Availability
The property has not been released to the general public. In fact, it is only being offered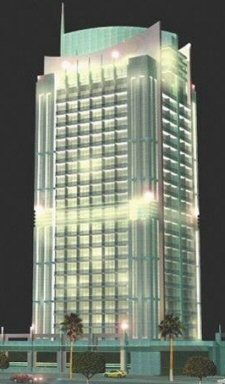 through about a half-dozen, hand-picked realtors in Europe and the Middle East. Condo Hotel Center was pleased to be selected as the only North American representative.
Prices at Giovanni are at first-tier, pre-construction levels, giving you the opportunity to maximize any potential appreciation.
There are two main types of units, studios and two-bedrooms. The studios range from $176,470 to $230,692. The two-bedroom units range from $356,687 to $448,482.
Want to learn more about Giovanni? I've put together a very detailed data sheet that will give you the facts you need to make an informed decision on whether this condo hotel is right for you. All we ask is that you provide your name, address and phone number in accordance with the developer's requirements.
Request Giovanni Boutique Suites data sheet here.
Why You Want to Act Quickly
Giovanni is expected to sell out in under eight weeks. I don't believe this is being overly optimistic.
If you recall, just a couple of months ago, I told you about The Bridge in Dubai Sports City, another large, contemporary-designed, condo hotel tower. It is already sold out.
So if Giovanni Boutique Suites and its Italian design appeals to you, and you want a condo hotel unit (ahem, I mean a "boutique suite"), at first-release pricing, you will want to move quickly.
Upcoming Condo Hotel Symposium for Developers
As always, thank you for your interest in the properties we showcase at Condo Hotel Center.
If you're a developer, I encourage you to consider attending our upcoming Condo Hotel Symposium in Las Vegas. And if you're considering buying a condo hotel, be sure to keep an eye on our New Listings, as we're always adding new condo hotel properties.
Have a great day!
Joel Greene
Licensed Real Estate Broker
Condo Hotel Center
1368 NW 165th Ave.
Pembroke Pines, FL 33028
(954) 450-1929
Joel@CondoHotelCenter.com 
www.CondoHotelCenter.com
www.CondoHotelsDubai.com
www.WorldClassCondoHotels.com
www.CondoHotelsBahamas.com
www.CentralAmericaSecondHomes.com
www.DominicanRepublicVacationHomes.com
Want to know more about me? Click below:
//www.condohotelcenter.com/joel-greene.html
 Follow us on Facebook.
* Copyright infringement is taken seriously by Condo Hotel Center and will be prosecuted. © Copyright 2010 Condo Hotel Center.