NEW FORT LAUDERDALE CONDO HOTEL
THE DOUBLETREE HOTEL TO BECOME GALLERY ONE
October 11, 2004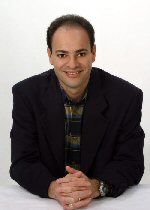 Greetings Property Alert readers. As you may notice, we have a new look to our Property Alerts. Hope you like it. We are also in the process of giving our web site, www.CondoHotelCenter.com, a new look, as well as adding substantially more property data to it in our quest to become the #1 resource for information on condo hotels.
But enough about us. Today I am pleased to offer you something special in Fort Lauderdale, Florida, one of the hottest condo-hotel markets in South Florida, not to mention the U.S. And this condo hotel, in particular, has all the makings of a great property.
Doubletree to Be Converted to Condo Hotel
Sitting just two blocks from beautiful Ft. Lauderdale beach, and located right on the Intracoastal Waterway, will soon be the Gallery One. Currently it is a Doubletree, one of the leading Ft. Lauderdale beach hotels for business and leisure travelers. But beginning January 2005, and with a completion date the end of 2005, it will be converted, renovated and renamed.
As the Gallery One, it will have a total of 231 condo units. There will be 209 one-bedroom condos of 475-745 sq. ft. and 22 two-bedroom condos of 935-1,110 sq. ft.
Spacious Suites, Great Views
I have personally visited with the owners on a couple of occasions and have had a tour of each different model of every available unit. I can honestly say that the rooms are spacious, very nicely decorated and have magnificent waterfront views.
However, I'm talking about the way these rooms are today, prior to a massive renovation which is planned. I can only imagine that these condo hotel units will be gorgeous once completed. Here are some of the features.
Scenic views of the intracoastal waterways, ocean, parks and downtown skyline
Spacious suites, significantly bigger than your average hotel room
Interior design by the renowned Howard Design Group
Large balconies
European-style kitchens with granite countertops, stainless steel appliances
Plasma-screen televisions in living areas
High-speed Internet access
Washer/dryer combos in every unit
Décor by Howard Design Group
The Howard Design Group of Miami will be responsible for the décor of the Gallery One, including the lobby area and the individual condo units. As one of the most respected architectural interior design firms, its name is synonymous with luxury hotels, resorts, and fine residential properties.
Some of Howard Design's recent design projects include the Ritz Carlton, South Beach and the Ritz Carlton, Coconut Grove. The company is known for its creativity and innovation demonstrated in a wide variety of both domestic and international projects.
Building Features
The Doubletree will undergo a multi-million dollar renovation as part of its conversion to Gallery One. It will offer its guests many great amenities including:
Heated swimming pool with modern Indonesian style décor
Whirlpool/spa
Private beach club on intracoastal waterway
Restaurant and cocktail bar featuring indoor/outdoor dining
8,000 sq. ft. indoor meeting and event facility
Business center
New-age fitness center
Covered garage and 24/7 valet parking
Relax on the Beach
Gallery One will be located just two blocks from the ocean. How does the beach in this area rank? Fort Lauderdale beach is nationally recognized as one of Florida's first Blue Wave beaches. This distinction, presented by the Clean Beaches Council, recognizes the nation's most pristine, safe and user-friendly beaches. Fort Lauderdale beach features 23 miles of continuous coastline.
Great Location for Filling Rooms
As a Doubletree hotel, this property has a long history of high occupancy, thanks in large part to its excellent location. There's no reason to think that after the conversion it won't have similar success.
Gallery One is located in a luxury, upscale residential neighborhood with no competing hotels. In addition, the supply of moderately-priced rooms has recently decreased as several hotels in the area have been knocked down to make room for the four- and five-star W Fort Lauderdale Hotel & Residences, Hilton Q Club, The Atlantic, The St. Regis and soon, The Ft. Lauderdale Trump. The room rates at Gallery One are expected to be more competitive than at those ultra-luxury condo hotels.
Like most Ft. Lauderdale hotel properties, Gallery One will likely benefit from its proximity to Port Everglades, the largest cruise port in South Florida which almost 6,000 ships a year call home. Often, cruise passengers will package their cruise with a visit to the South Florida area and a stay in a local hotel before or after their voyage.
Gallery One will also find it easy to fill rooms thanks to the 600,000 sq. ft. Greater Ft. Lauderdale-Broward County Convention Center which is within a 10-minute drive.
Area Attractions
Gallery One will have a prime location with easy access to highways, restaurants, shopping and more. It will be close to many area attractions, including the elegant shops on Las Olas Boulevard and in the Galleria Mall and the Center for the Performing Arts.
For nightlife, about 20 minutes up the road is the new Seminole Hard Rock Hotel & Casino. This 500-room hotel features a 130,000 sq. ft. casino and Las Vegas-style entertainment. Coming soon is also a 300,000 sq. ft. retail area boasting more than 30 shops, 11 restaurants and 11 nightclubs, a 5,600-seat concert venue and an amphitheater.
Here are more details on the hotel's location:
Situated on the west side of the Intracoastal Waterway on Sunrise Blvd.
5-minute drive to downtown Ft. Lauderdale
10 minutes from Ft. Lauderdale International Airport
Over 50 restaurants within a three mile radius including fine dining at Jackson's Steak House, Max's Grill, Stranahan House, Capitol Grill, Burt & Jacks and Blue Martini
Nearby attractions and activities include: seaside boat tours, deep sea fishing, Everglade tours, snorkeling, scuba diving, Jungle Queen Riverboat Tour, Butterfly World
Walking distance to Birch State Park and Bonnet House Museum & Garden
One more item worth mentioning with regard to location. The Fort Lauderdale water taxi stops right at the property, actually just past the pool area. A unique way to travel in Ft. Lauderdale, these sunshine-yellow boats can take you on a relaxing round-trip cruise to view million-dollar mansions and yachts along the New River and Intracoastal Waterway or offer a convenient, carefree way to get to shopping or dining.
More on Area Shopping
The Galleria Mall, which is literally right next door to the Gallery One location, deserves mention as the largest and most popular upscale regional shopping center in Broward County. The 1.3 million sq. ft. super regional mall is a retail hub that attracts shoppers from around the world.
In 2003 the mall underwent a $50 million expansion and renovation, ensuring its place as one of South Florida's premier retail destinations with stores like Neiman Marcus, Saks Fifth Avenue, Williams-Sonoma and Pottery Barn.
If that's not enticing enough, then a short drive brings you to Sawgrass Mills, touted as the second largest tourist attraction in Florida after Disney World. It features the world's largest outlet mall with over 250 stores representing the nation's best manufacturers and retailers.
Fort Lauderdale is Growing Fast
In addition to the over five-million tourists who visit Broward County in which Ft. Lauderdale is located, the Ft. Lauderdale area has experienced solid growth in the number of affluent residents over the past five years. That, and the fact that several major corporations have also recently relocated their headquarters to the Fort Lauderdale area, has spurred many new housing starts.
Real estate values in Fort Lauderdale have appreciated by over 16% for each of the past five years. An additional 7% increase in population and 22% increase in income is forecast by 2005. Essentially, the market is young, affluent and upwardly mobile.
Limited Information Available on Gallery One
I wish I had more specific information to give you about Gallery One, but truthfully, I have provided you with almost every lick of data I could get out of the developer at this point. I do know that the developing company is experienced in condos and condo hotels. More decisions will be made soon, and more information is coming on such open items as the maintenance costs, living restrictions, management company, franchise, etc.
If I had my choice, the developer would wait until he had all these questions answered before coming to market. It is, however, my experience, that the more information that is provided up front and the more that the developer can show you instead of tell you, the more you will be charged. (Translation: Prices are lower than they should be or would be if the developer waited another month before coming to market.)
This is pre-construction pricing, at deliberately low prices because there is an element of risk that you will not be satisfied with the choices that the developer makes. Based on my meetings with him and what I have already seen in the existing property, I doubt that this will be the case.
If I'm incorrect, however, as the information comes in you will have the right to cancel your reservation. But, if you aren't willing to take the leap of faith that comes with this kind of buying opportunity, please don't reserve a unit at this property.
All Gallery One Units Will Likely Be Gone by Next Week
Gallery One has been much anticipated. Due to an overwhelming interest in the property both locally and in Latin America, the developer expects to have all or at least most of his property reserved out on his reservation day, Thursday, Oct. 14, 2004. Yes, that's in just a few days!
There have been so many individual buyers and brokers just biding their time for the opportunity to get into this property that I had to plead with the developer to set aside some units for Condo Hotel Center readers. I requested 20-25, but was fortunate to be offered only five units, as many other brokers who also requested exclusivity were shut out completely.
Pricing Information
Prices for condo hotel units at Gallery One will be from the mid-$200,000's to the mid-$500,000's. I'm aware of no other condo hotel in the area that can be bought in the mid-$200,000's, least of all, one on the water.
I have been able to secure the following units for Condo Hotel Center clients. Beyond these, I may not be able to get anymore, although I'm willing to try if there is interest.
UNIT PRICE VIEW SQ. FT. PH02 $328,520 Ocean 630 1121 $266,448 West 620 528 $310,298 Bridge 635 805 $297,922 Pool 670 418 $305,453 Ocean 620
Deposit Required
I will take requests for the five units mentioned above on a first come, first served basis. After those are gone, I'll develop a waiting list and do my best to secure additional units, if they are not all gone on Thursday as expected.
To reserve a unit, you'll need to fill out a reservation form that I will have faxed to you upon request. Fax back the completed form along with a copy of your $20,000 deposit. The actual check needs to be overnighted directly to the developer within 48 hours. When the contracts are ready, you will have 10 days to convert the reservation to contract and put up the balance of your 10% deposit.
The reservation is refundable (with interest) with written notice from the purchaser at any time during the reservation period. At contract, you'll need to put up a 10% deposit. An additional 10% deposit is due 30 days later.
Thanks for Your Interest
So there you have it, Fort Lauderdale's newest condo hotel available at pre-construction prices. As always, thank you for your interest in our Condo Hotel Center Property Alerts. It is our mission to keep bringing you updates on the newest and hottest condo hotel properties poised to hit the market before the general public gets the scoop.
If you know anyone else who'd like to receive our Property Alerts, please feel free to forward this e-mail to them and have them sign up for this newsletter on our website, www.CondoHotelCenter.com.
Have a great week!
Joel Greene
Licensed Real Estate Broker
Condo Hotel Center
1368 NW 165th Ave.
Pembroke Pines, FL 33028
(954) 450-1929
Joel@CondoHotelCenter.com
www.CondoHotelCenter.com
www.CondoHotelsDubai.com
www.WorldClassCondoHotels.com
www.CondoHotelsBahamas.com 
www.CentralAmericaSecondHomes.com
www.DominicanRepublicVacationHomes.com
Want to know more about me? Click below:
//www.condohotelcenter.com/joel-greene.html
Follow us on Facebook.