W FT. LAUDERDALE HOTEL & RESIDENCES
Get in on Pre-Construction Pricing!
March 5, 2004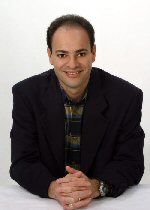 Hello, Joel Greene here from Condo Hotel Center.  As you may already know from our past one-on-one conversations, there are occasions when I can save you money by clueing you in to unpublicized sales, special discounts and unique short-term buying opportunities.  I'm pleased to say, this is one of those times.
A sales agent friend, who was formerly with the Brazilian Court Condo Hotel in West Palm Beach, called me yesterday to give me a scoop.  She just joined the sales staff at the W Ft. Lauderdale Hotel & Residences and wanted me to preview their sales office before they begin advertising this brand new property to the rest of the world in just a few days.
I spent several hours at the sales office yesterday viewing the plans, talking with the sales agents and checking out the site where the property will be built.  I came away feeling very confident that this project has potential to be a real winner.
W Ft. Lauderdale Hotel & Residences
W Ft. Lauderdale Hotel & Residences will be a 24-story, 171-room, five-star condo hotel.  It will consist of one and two bedroom units priced from $900,000 for the one bedroom and from $1,400,000 for the two bedroom units.
The property will have 315 feet of frontage directly across the street from the ocean.  All units will have ocean or city views with nine foot ceilings in most living areas and sliding glass doors onto balconies.   All units will be delivered furnished in W Hotels' impressive signature style.  Construction will begin at the end of this year and is scheduled to be complete by 2007.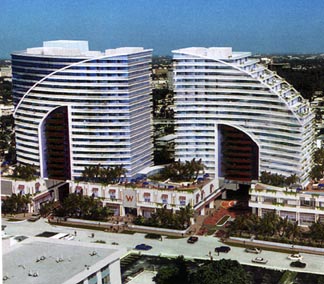 Among the other amenities of the property are:
A spectacular ocean view
Cocktail lounge and "W Living Room" for drinks, snacks and socializing
Two heated pools
Poolside snack bar, grill & sun deck,
Indoor/outdoor oceanfront gourmet restaurant
19,200 sq. ft. of event and meeting space.
And while all that's nice, the real sales feature of this property is their service.
The W will have a world-class spa featuring:
"In home" spa services
In-house personal styling
A nutritionist
Custom meal and diet programs
A state-of-the-art fitness club with the latest strength and aerobic equipment, personal training, free weights, yoga, pilates, steamroom, sauna and whirlpool. 
Plus you'll get all of the 24/7 hotel services like:
Concierge
Security
Room service
Maintenance
In-residence dining
Grocery shopping and delivery
Private in home catering
Personal chef service
You don't even need to worry about care for your children, pets or even your plants.  All this can be taken care of for you!
The W Residences will be well received for three reasons.
There is pent-up buyer demand for new condo hotel inventory onFt.LauderdaleBeach. Currently, there are only two other condo hotel choices in Ft. Lauderdale, and one of them, The Atlantic, is 90% sold out.  The other, The Q Club Resort, has sold out one third of their 333 units in just under three months, even though they had estimated an 18-month sell-out!
It has a spectacular oceanfront location in the heart of Ft. Lauderdale, near many restaurants, bars, shops and, of course, the beach.
Its residences are physically attached to and associated with the W Hotel and operated by Starwood Hotels and Resorts, one of the largest and most successful hotel and resort management companies worldwide.
Get in Early on This Ft. Lauderdale Condo Hotel
If you have been thinking seriously about buying a condo hotel, but have waited on the sidelines until now because you wanted to "get in early," this is the opportunity for you.  And if you need more time to "think about it," let me tell you why you shouldn't.
They have already placed nine units under reservation, and the property technically isn't even on the market yet!  Furthermore, it was explained to me, that every time another three units in the next block of rooms is sold, there will be a price increase.  They anticipate five or more price increases in the next to-three months.
Now is the absolute best time to act if, and only if, this property meets your needs.  If you'd like additional information on this property, I can e-mail you preliminary data (size of units, price of units, maintenance costs, etc.) and arrange to have a complete brochure sent to you on the double.  Just let me know.  I look forward to hearing from you soon.
Joel Greene, Broker-Associate
Condo Hotel Center
A division of Sheldon Greene & Assoc., Inc.
12700 Biscayne Blvd. Ste. 301
N. Miami, FL 33181
PH: 305-944-3090
FX: 305-948-0460
Info@CondoHotelCenter.com
www.CondoHotelCenter.com
www.CondoHotelsDubai.com
www.WorldClassCondoHotels.com
www.CondoHotelsBahamas.com
www.CentralAmericaSecondHomes.com
www.DominicanRepublicVacationHomes.com
Want to know more about me? Click below:
//www.condohotelcenter.com/joel-greene.html