Four Seasons Hotel & Private Residences
 Fort Lauderdale's Newest Condo/Condo Hotel, Coming Soon!
March 17, 2015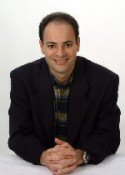 Hello, Joel Greene here from Condo Hotel Center.  I've lived in Florida nearly all of my life.  And much as I love this state, even I have to admit some bizarre things happen here.  Like this…
Last Friday a group of golfers at Myakka Pines golf course in Englewood on Florida's southwest coast were preparing to putt on the 7th hole when they spotted a massive alligator making a beeline to the pond on the other side of the putting surface.
The golfers wisely gave the big guy plenty of room but did manage to snap a few photos as he lumbered toward the water.
According to Myakka Pines' general manager Mickie Zada, in the club's 37-year history, there are no reports of alligators attacking golfers. "They usually move when the golfers approach," Zada said, adding, "and we tell golfers to just forget about any golf balls that end up in the water."  Sounds like a good idea to me.
Forgetting about the occasional friendly gator, there really is no better place to be a golfer than in Florida.  Beautiful courses.  Amazing vistas.  Gorgeous weather.
The city I'll be talking about today, Fort Lauderdale, has 31 different golf courses.  And even if you're not a golfer, there's plenty more to make this city a winner.  Read on to learn of the newest condo/condo hotel to soon be built there.
The Four Seasons Condo/Condo Hotel
The Four Seasons Hotel & Residences Fort Lauderdale will be a prestigious mixed-use development offering both residences (condo hotel units) and private residences (condos) with all the advantages of living in a grand hotel.  The building will fill 1.8 acres and span an entire block of oceanfront property on beautiful Fort Lauderdale Beach.
If you've ever stayed at a Four Seasons, then you know its reputation for world-class architecture, interior design, amenities and services.  The Four Seasons Fort Lauderdale high-rise designed by Miami-based Kobi Karp Architects and Interior Design will be 25-stories tall set atop a three-story podium. It will contain:
135-150 hotel rooms on the first five floors
30-33 condo hotels on floors 4-10
65-70 condo residences on floors 11-25
These room counts are not yet finalized, but you get the idea about this property's combined hotel and residential functions.  Hotel guests and residents will have separate pools and lobbies, and residents will also have a private driveway.
Five-star Amenities
Four Seasons will make sure that every homeowner's and guest's experience is exceptional with its host of five-star amenities.
Private porte-cochere entrance for private residences
Separate hotel and residential lobbies
Destination restaurant with interior and al fresco-dining
A garden café with indoor and outdoor seating
Tropical landscaped gardens
Poolside restaurant and cocktail lounge
Four Seasons pool deck with ocean views and cabanas
Residents-only pool and cabana
Four Seasons fitness center
Residents-only fitness club
Four Seasons spa
Executive lounge, business center
Kids for All Seasons Club
Ballroom
Meeting facilities
Four Seasons service offerings are legendary.  They include:
In-residence dining and event catering
In-residence laundry
Grocery provisioning
Butler service
Beach butler service
Housekeeping
Dog groomers and an extensive list of other residential services
24-hour valet and security services
24-hour concierge and bell services
Room service
The Four Seasons building will be angled so that whether you are facing northeast, southeast or directly east, you'll have an amazing view of the beach and Atlantic Ocean.  West views look out on to the city of Ft. Lauderdale and its downtown area.  You'll be able to watch the sun set over the Intracoastal Waterway from your balcony.
Ft. Lauderdale Has Much to Offer
Four Seasons Hotel & Residences Fort Lauderdale will have a superb location across from the beach.  The beach stretches for 23 miles and, in addition to swimming and sun bathing, offers exceptional deep sea fishing, yachting, snorkeling and diving.
Also nearby is Port Everglades, one of the top three cruise ship ports in the world, making it easy to visit the many beautiful islands of the Caribbean.
Ft. Lauderdale's vibrant cultural and arts district, galleries, fine arts museums and performing arts venues showcase stellar performances of music, dance and drama.
Nearby is Las Olas Boulevard with its many shopping, dining and entertainment venues. Numerous high-end and outlet malls are also nearby.
Fort Lauderdale International Airport is a 10-minute drive and Miami International Airport is 40 minutes away.
Condo Hotel Rental Program
Condo residence owners may rent their unit out up to two times per year with a minimum lease length of six months.
The condo hotel owners may rent their units without any restrictions.  If they place their units in the Four Seasons rental program, they'll share in the revenue their unit generates, helping to offset the costs of ownership.
Construction Plans and Pricing
Construction of the Four Seasons Hotel & Private Residences is expected to begin in early 2016 and to be complete by early 2018.  However, the condo residences and condo hotel units can be reserved now with a 15% deposit.  Additional payments will be due at various stages of construction.
The condo hotel residences come in one- and two-bedroom floor plans and will be delivered fully furnished.  Prices range from $1.2 million to $2.2 million. The condominium residences come in two- and three-bedroom floor plans.  They cost from $2.2 million to $3.1 million. Want to know more?  Request my detailed data sheet below.
Request the data sheet for Four Seasons Hotel & Private Residences.
Gators Don't Scare Me
You'll be glad to know that if you purchase a residence or condo hotel unit at the Four Seasons in Ft. Lauderdale, you are unlikely to see any gators.  They don't frequent the beach, preferring instead lakes and swamps.
If you choose to go golfing, however, I can't make any guarantees. Gators are great spectators of the sport.  But if you're like me, you won't let a little thing like a gator keep you away.
As always, thank you for taking the time to read my Property Alerts.  If you are looking for a South Florida condo hotel or traditional condominium, I hope you'll give me a call.  I have detailed data sheets available on all the new and coming-soon local properties.
Have a great day!
Joel Greene Licensed
Real Estate Broker
Condo Hotel Center
1368 NW 165th Ave.
Pembroke Pines, FL 33028
(954) 450-1929
Joel@CondoHotelCenter.com
www.CondoHotelCenter.com
www.CondoHotelsDubai.com
www.WorldClassCondoHotels.com
www.CondoHotelsBahamas.com
www.CentralAmericaSecondHomes.com
www.DominicanRepublicVacationHomes.com
Want to know more about me? Click below: //www.condohotelcenter.com/joel-greene.html

Follow us on Facebook.
© Condo Hotel Center. All rights reserved. No portion of this data sheet may be reproduced, exhibited or distributed without the express written permission of Condo Hotel Center. Condo Hotel Center takes copyright infringement seriously. Violators will be prosecuted to the fullest extent of the law.
Although Condo Hotel Center believes the information contained in this data sheet to be accurate and complete, Condo Hotel Center can make no such guarantee. All features and descriptions are subject to change.
Please speak with your personal legal and financial advisors to determine whether this property is suitable for your objectives.