Fountains on Ocean Boulevard Ft. Lauderdale, Florida
20 Luxurious Condos to Be Sold at Auction
Bidding Starts at $124,000!
February 17, 2011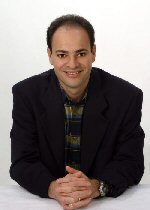 Hello.  Joel Greene here from Condo Hotel Center.  My write-up today is to give you a heads up on an upcoming auction of condos in beautiful Fort Lauderdale, Florida.
We always have our ear to the ground for opportunities like this.  If you've ever wanted a South Florida home, near the beach and affordably priced, this property could be for you, but you'll need to act quickly!
Fountains on Ocean Boulevard consists of two 7-story buildings with a post-modern design.  In total, they contain 61 condo residences of two and three bedrooms.  The condos offer views of the Intracoastal Waterway and the city skyline, and some also overlook the Atlantic Ocean.
Quiet Luxury by the Sea
Construction on Fountains on Ocean Boulevard was completed in late 2007.  The condos being sold are new, part of the original developer inventory. The property itself has all the amenities you'd expect of a luxury residential development:
Landmark "fountains" water feature at entry plaza
Rooftop pool and spacious sun deck featuring ocean and Intracoastal views
Rooftop fitness center with entertainment system
Outside lounge area and relaxing ocean view
Semi-private elevator foyers
Biometric building access control system
Two garage decks with owner reserved parking
The location of Fountains is in a quiet area of single family homes and low-rise buildings, just two short blocks to the Atlantic Ocean and its beautiful beaches.
The Venice of America
Fort Lauderdale is a medium-sized city, a popular tourist destination but also a superb residential location.  It has a thriving community of restaurants, nightclubs and shopping.
One look at the abundant canals and waterways, and you'll know why Fort Lauderdale is called the "Venice of America."  The city is a major yachting center, with 42,000 resident yachts and 100 marinas and boatyards.
The beach here is serene and uncrowded.  And there's amazing boutique shopping at Las Olas and more upscale shops and restaurants at The Galleria mall nearby.
Why the Auction?
Two thirds of the condos at Fountains on Ocean Boulevard have already been sold.  Now the developer, North Ocean Condos LP, hopes to sell off the remaining one-third by auction.  Holding unsold inventory is costly, and the developer is anxious to move on to their next project.
The auction will be for 20 condos with bids starting at $124,000 for units that previously were listed up to $999,900.
Let me give you just a couple of examples:
Unit     # Beds           SF                    Starting Bid               Previously Listed Up To
300     2                      1567             $169,000                 $649,900
502     3                      2154             $229,000                 $922,900
775     3                      2082             $279,000                 $999,900
Let me put it another way, so you can appreciate the potential opportunity.  The developer, in an attempt to blow out his remaining units in one day, is prepared to auction off the last 20 condos quickly, with some units starting at a bid price of under $100 per sq. ft.!  By comparison, according to Broward County records, he has already sold four units so far in 2011 for between $208 and $280 per square foot.
The auction will take place Saturday, March 5, 2011.  Buyers can bid in person or online.  Financing is available and free pre-approval is available, so that you can be ready on auction day.  Just be sure to contact me quickly to set up your preview of the property.
Get the Auction Details
I've put together a data sheet that will give you more details about Fountains on Ocean Boulevard as well as the upcoming auction.  You'll just need to provide your name and contact information, as required by the developer.
Request the Fountains on Ocean Boulevard data sheet here.
As always, thank you for your interest in the properties we showcase at Condo Hotel Center.  If there's anything special that you're looking for, don't hesitate to contact us.  We have detailed property information that we're happy to share.
Enjoy your day.
Joel Greene
Licensed Real Estate Broker
Condo Hotel Center
1368 NW 165th Ave.
Pembroke Pines, FL 33028
(954) 450-1929
Joel@CondoHotelCenter.com
www.CondoHotelCenter.com
www.CondoHotelsDubai.com
www.WorldClassCondoHotels.com
www.CondoHotelsBahamas.com 
www.CentralAmericaSecondHomes.com
www.DominicanRepublicVacationHomes.com
Want to know more about me? Click below:
//www.condohotelcenter.com/joel-greene.html
Follow us on Facebook.
© Copyright 2011 Condo Hotel Center
*All rights reserved. No portion of this Property Alert may be reproduced, exhibited or distributed without the express written permission of Condo Hotel Center. Although Condo Hotel Center believes the information contained in this Property Alert to be accurate and complete, Condo Hotel Center can make no such guarantee.