MIAMI BEACH LANDMARK HOTEL TO ADD SECOND TOWER
Reservations Being Taken at
Fontainebleau III Ocean Club
June 18, 2004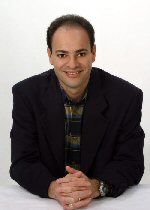 Hello.  Joel Greene here from Condo Hotel Center.  Just got back from a few days in New York City where I attended a surprise 50th wedding anniversary party for my aunt and uncle.  It was a nice affair, but as I drove through the city and looked at all of the amazing skyscrapers I couldn't help thinking that only one of them, The Trump International Plaza, is a condo hotel.  What's up with that?
So now I'm back here in South Florida where we have LOTS of condo hotels.  And today's featured property is about one of our finest, or it will be when built, the Fontainebleau III Ocean Club, Miami Beach.
Now many of you may be saying to yourselves, "Hmm, the Fontainebleau.  I think I've heard of that before."  And you have.  The Fontainebleau Hilton is a landmark hotel in Miami Beach.
It occupies 1,200 feet of beautiful oceanfront land.  No other hotel even comes close to having that much ocean frontage.  And unlike any other condo hotel on the market, the Fontainebleau Hilton, a 900-unit hotel, has a 50-year operating history on which to base any revenue-generating projections for buyers of Fontainebleau III units.
Many of you are probably aware of the Fontainebleau II condo hotel.  The 36-story, 462-unit property sold out about ten months before delivery was even scheduled to begin.  That condo hotel is six months away from its grand opening.  Now the developers have started selling Fontainebleau III Ocean Club, a tower to be built on the south end of the property, adjacent to Fontainebleau II.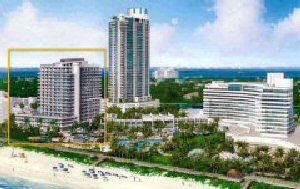 Fontainebleau III is intended to be a five-star condo hotel with a completion date of late 2006.  It will be 18-stories tall with 286 condo hotel units that have outstanding views of the Atlantic Ocean, Miami Beach and the Fontainebleau Hilton grounds.
Amenities will include:
A private owners' lounge
Pool
24-hour security
Valet parking
Several restaurants and lounges
The famous La Ronde Room
Concierge
Housekeeping services
Laundry service
Full use of all of the amenities of the adjacent Fontainebleau Hilton
For those of you with kids, listen to this.  The property will include an indoor/outdoor children's facility with a water park featuring a 260-foot, twisting water slide and a 7,000-square foot octopus.  Now I ask you, where else are you going to find a creature feature like that!
One of the really nice things about this condo hotel that you don't find in most other condo hotels is there are no living restrictions.  That is, you may live in your unit 365 days a year if you choose.
The other thing that makes this property so outstanding is its phenomenal location.  Besides its amazing beachfront, it is situated close to the Miami Beach Convention Center (great for keeping those hotel rooms filled), trendy South Beach, the shops of Lincoln Road, the Bal Harbour shops, as well as various malls, and is just 20 minutes from downtown Miami and 15 minutes from Miami International Airport.
The developers are Stephen Muss of the Fontainebleau and Turnberry Associates.  Turnberry Associates is a 44-year old company known for such South Florida landmark projects as Porto Vita, Turnberry Isle Resort & Club, Aventura Mall and Fontainebleau II.
The Fontainebleau, built in 1954, has been upgraded numerous times and is now in the midst of another multi-million dollar remodeling.  This landmark property shows no signs of aging.  In fact, along with the towers of Fontainebleau II and Fontainebleau III, they will form an impressive private club-like complex that will dominate the middle portion of Miami Beach.
Because Fontainebleau II sold out well in advance, many interested buyers were left out on the doorstep.  Fontainebleau III will have no problem selling out quickly.  In fact, sales are brisk already even though the property has not yet completed its marketing materials.  Many of the units are being purchased by buyers from all parts of the U.S. as well as from South America and Europe who trust the Fontainebleau name and want to get in on pre-construction prices.
I can assure you of one thing based on my experience with these condo hotel projects:  As soon as the circular material is ready, which should be within a month, there will be a rush of enthusiasm by buyers who have been waiting on the sidelines.  Units will start selling quickly, and prices will likely increase soon thereafter.  Now is the best time to buy to capture the appreciation before the surge.
Prices for units at Fontainebleau III will range from $700,000 to $925,000.  The furnished studio, and one-bedroom suites will range from 550 square feet to 1,165 square feet plus terraces.
If you're interested, what's the next step?  You can reserve a unit in the new Fontainebleau III tower with a 10% deposit.  90 days after the contract is signed, an additional 10% deposit is required.  A third and final 10% deposit is required by mid 2006.
Now here is the great news.  The Fontainebleau III is offering an interest incentive if you agree to put up 20% or more at the signing of the contract, instead of 10%.  For 20%, you would receive at closing 4% interest on your entire deposit.  30% down will get you 5% interest, and 40% down or more will get you 6% interest.  No other property I know offers this kind of incentive.
This is truly a premium property offering tremendous revenue-generating power (with a 50-year operating history to prove it) as well as appreciation potential.  Want to learn more?  Drop me a line, and I'll send you my data sheet.  I'll also put you on the list to receive the Fontainebleau III brochure package as soon as it comes out.
As always, thank you for your interest in news from Condo Hotel Center.  Please feel free to pass this newsletter to friends whom you think might enjoy it.  They can sign up for themselves on our web site at www.condohotelcenter.com.
Joel Greene
Broker-Associate
Condo Hotel Center A division of Sheldon Greene & Assoc., Inc.
1368 NW 165th Ave.
Pembroke Pines, FL 33028
(954) 450-1929
Info@CondoHotelCenter.com
www.CondoHotelCenter.com
www.CondoHotelsDubai.com
www.WorldClassCondoHotels.com
www.CondoHotelsBahamas.com
www.CentralAmericaSecondHomes.com
www.DominicanRepublicVacationHomes.com
Want to know more about me? Click below: //www.condohotelcenter.com/joel-greene.html