Eden House, Miami Beach Waterfront Condos
Pre-opening Prices from $244,000
May 3, 2012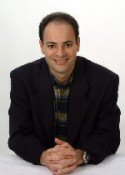 Joel Greene here from Condo Hotel Center. Today I get to wax nostalgic about my old stomping grounds, Miami Beach.
I grew up in that city, and as the son of a hotel real estate broker, I became familiar at a young age with the many hotels that graced Miami Beach. One of the iconic properties from my youth was the Eden Roc Hotel, now the Eden Roc Renaissance.
Its 1950s and 60s heyday established it as a legendary landmark,attracting a steady stream of celebrities, including Elizabeth Taylor, Lucille Ball, Desi Arnaz, Lena Horne, Jerry Lewis, Sammy Davis, Jr., Ann Margret and others.
Today, the Eden Roc Renaissance continues its reign as the Grande Dame of Miami Beach. So why am I telling you all this? The property I'm featuring today, Eden House, is an extension of the Eden Roc Renaissance.
Double the Amenities
Eden House will be a luxurious residential development right on the beautiful Intracoastal Waterway. Designed by renowned architect Kobi Karp, it will feature 98 condos and a full complement of amenities and services including:
Multi-sectional pool with zero entry
Expansive pool deck
Luxury waterfront cabanas overlooking the bay
Dock facilities, marina and boat slips
Water activity center with jet skis, boat, kayak, etc.
Trendsetting submerged aqua beds
High-tech fitness center overlooking the pool and bay
Trails and meditation garden
Top floor units have private rooftop terrace, sand beach club
Hammocks and outdoor lounge beds
Wi-Fi in common areas
Magnificent three-story lobby with operational fireplace
Entertainment center
24-hour valet and front desk/concierge
Covered secure parking garage
Because of its connection to the Eden Roc Renaissance, residents of Eden House will get one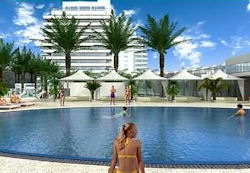 year of free access to the amenities at the hotel-resort. They'll have an option to renew at $2,000 per year afterwards, which is a 50% discount off the regular price.
At the Eden Roc Renaissance, they'll be able to use the beach club, infinity pool, sauna, steam room, gym, Elle Spa, restaurants and lounges. They will also get 15% discounts at the Eden Roc's "1,500 Degrees Restaurant" and at Elle Spa.
Property Background
You're probably wondering how Eden House condominium and the Eden Roc Renaissance hotel are connected, other than by name. Here's the story.
Going back a few years, the Eden House was going to be the NoBe Bay Condominiums. However, in the recent real estate crisis, the developer lost his financing and was unable to complete construction. The property went into foreclosure.
Key International and 13th Floor Investments recently acquired the note for NoBe Bay Condominiums from Regions Bank at a discount of more than 50% of its original value. They are investing more than $10 million to complete construction of the unfinished building, which will be re-branded as Eden House.
Key International also happens to be the developer that purchased the Eden Roc Renaissance more than a year ago.
Friends & Family Pre-opening Prices
Construction on Eden House should be complete by August 2012. The condos are not officially on the market yet. However, Condo Hotel Center has been given permission to participate in the "Friends and Family Pre-Opening."
These pre-opening prices range from $244,000 to $742,000. The condos range in size from 620 sq. ft. to 1,880 sq. ft. and are one- to three-bedrooms.
Eden House is an opportunity to purchase waterfront Miami Beach real estate for under $500 per sq. ft. With so little new inventory on the market in Miami Beach, and only 98 condos available, I expect the units to be reserved fast.
Eden House won't officially be open to the project to the public until May 3, 2012, and I've been told that if any inventory still remains available then, the prices will be 32% higher.
Request a Free Data Sheet
Want to know more about the condos at Eden House? I've put together a data sheet that will give you lots more details. To receive it, you'll just have to provide your name and contact information, per the developer's requirements.
Request the Eden House data sheet here.
Thanks for joining me on my nostalgic return to Miami Beach. We appreciate your interest in the properties we showcase here at Condo Hotel Center. Please feel free to pass this Property Alert along to friends. We're always happy to share our information.
Joel Greene
Licensed Real Estate Broker
Condo Hotel Center
1368 NW 165th Ave.
Pembroke Pines, FL 33028
(954) 450-1929
Joel@CondoHotelCenter.com
www.CondoHotelCenter.com
www.CondoHotelsDubai.com
www.WorldClassCondoHotels.com
www.CondoHotelsBahamas.com
www.CentralAmericaSecondHomes.com
www.DominicanRepublicVacationHomes.com
Want to know more about me? Click below:
//www.condohotelcenter.com/joel-greene.html

Follow us on Facebook.
© Copyright 2012 Condo Hotel Center
*All rights reserved. No portion of this Property Alert may be reproduced, exhibited or distributed without the express written permission of Condo Hotel Center. Although Condo Hotel Center believes the information contained in this Property Alert to be accurate and complete, Condo Hotel Center can make no such guarantee.