FIVE-STAR CONDO HOTELS IN DUBAI
Pre-construction Opportunity, Prices Start at $133,934!
August 26, 2005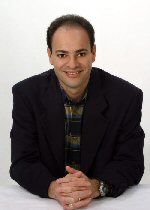 What if you could get in early on an ultra-modern city expected to be bigger in scale and stature than an Orlando or a Las Vegas?
What if you could participate in the emergence of the fastest-growing country on the planet?
What if you could be among the first to invest in a world of uncharted territory that has all the makings of a blockbuster global success of epic proportions?
That opportunity is here. Condo Hotel Center has been chosen as the exclusive U.S. representative of several five-star condo hotels to be built in Dubai, one of the seven United Arab Emirates. We are able to offer you the chance to purchase units in premium properties in a new land with unimaginable potential.
Have I got your attention? Then come with me on a visit to Dubai, the world's fastest growing country. A little background first before we get into the details of the individual properties.
DUBAI, MORE THAN A MIRAGE IN THE DESERT
Dubai is the quintessential home of sand, sun and shopping. A century ago, it was a tranquil town whose coral-and-gypsum huts housed Bedouin traders and pearl divers.
Today the merchants have gone international and science-fiction skyscrapers stand alongside the mosques and wind towers of Old Dubai. Mercedes glide past on ultra-modern highways alongside sand dunes where camels trotted not too long ago.
The audacity of the city's rulers is breathtaking. Running out of coastline to build hotels? Build vast artificial islands with 90 square miles of new beachfront. Need better connections with the world? Build up an award-winning international airport in 15 years.
Need some publicity? Stage the world's richest horse race, million-dollar lotteries, international tennis and golf tournaments, and a month-long shopping festival.
Need a few landmarks for people to recognize? Up goes the world's tallest and most lavish hotel (the only seven-star hotel in the world, pictured right), perched on an artificial platform, and a city skyline to boggle the eye.
DUBAI, WORLD-CLASS TOURIST DESTINATION
Dubai lies on the south-eastern shore of the Persian Gulf near the strait of Hormuz, strategically located at the cross roads of Europe, Africa, the Middle East and Asia, making it a gateway to over 1.5 billion consumers.
With its central location, Dubai is increasingly becoming the premier tourist destination of the region. Over the past decade, the number of visitors to Dubai has grown from 1.08 million to 5.4 million, representing an annual growth of 16%. This growth rate is more than triple the world tourism growth rate over the same period. In fact, the last five years alone witnessed a 54% growth in the numbers of tourists visiting Dubai.
Forecasting 200,000 visitors a day, Dubai is being designed to attract and accommodate 15 million visitors a year from 2010 onwards.
WHAT SPARKED DUBAI'S SUDDEN GROWTH?
May 2002 will go down in the history of Dubai real estate as the month that the great freehold property revolution began. Before that time, only United Arab Emirates (UAE) nationals could own property, and even then, only on restricted land.
It was in May 2002 that Sheik Mohammed bin Rashid al-Maktoum issued a decree allowing non-nationals to buy and sell property in selected developments. Combine all this with a stable economy, zero property and income tax, and an unmatched standard of living, and it is no surprise that Dubai is the number one emerging market today.
THE RACE IS ON
Almost as soon as the Sheik issued his decree, developers began planning and building. An estimated $80 billion of real-estate projects are now underway in Dubai.
In fact, remember my recent Property Alert about the Residences at Atlantis in the Bahamas, the huge condo hotel that is being added on to the world-famous Atlantis Resort? Well they're setting up shop in Dubai too. Bahamas-based resort operator Kerzner International Ltd. has $100 million of equity in a $1.1 billion joint venture with Dubai's government for Atlantis, a 2,000-room hotel and resort development on one of Dubai's man-made Palm Islands.
THE ULTIMATE TOURISM, LEISURE AND ENTERTAINMENT DESTINATION

Now that you have some background on Dubai, let me tell you about Dubailand. We're slowly zeroing in on where the condo hotels will be located.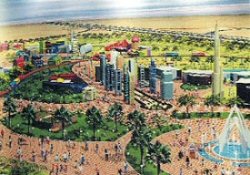 In a nutshell, Dubailand will be a city of theme parks and visual splendors within the great City of Dubai. Its location? Dubailand will be just minutes away from the region's commercial and financial hub in downtown Dubai.
A product of extraordinary vision, Dubailand will consist of just under 90 square miles and will contain 45 mega-projects and over 200 tourism, leisure and entertainment sub-projects, designed to make it the most ambitious tourist destination ever created.
When complete, it will be nearly three times the size of all of Walt Disney World Resort in Orlando, currently the largest collection of amusement parks and resorts in the world.
Specifically what will Dubailand have?
Theme parks featuring the latest technology
Luxury resorts
Five-star hotels
Full-service spas
Championship golf courses
Immense shopping malls (including what will be the world's largest mall, the Mall of Arabia)
State-of-the-art sports complexes (with a goal of eventually attracting the Olympics)
Ultra-modern museums
Art galleries
Sun, the beach and palm trees
A location next to the most influential commercial and financial center in the region
Click here to learn more about Dubailand's planned worlds.
CITY OF ARABIA
The condo hotels I'm going to tell you about today will be located in a section of Dubailand called the City of Arabia. The City of Arabia will be a blend of Dubai residential and commercial properties together with family attractions.
With business offices, schools, clinics, luxury apartments, shops, galleries, restaurants and unique attractions, the City of Arabia will become a key destination and urban community which some have dubbed a "thriving utopia." Its monorail system will offer convenient access to all major theme parks and shopping areas and will eventually link with the larger Dubai Light Rail Project.
Currently, two condo hotels are planned for Dubailand. Contemporary and futuristic in design, these condo hotels will break new architectural ground. And these are the properties I enthusiastically have to offer to you today.
THE WINDSOR RESIDENCE APARTMENTS
The Windsor will be a five-star, 30-story condo hotel tower located in Dubailand's City of Arabia. It will contain 200 condo hotel units managed by a major international hotel chain that will ensure maximum occupancy and returns utilizing its worldwide reservation system. Available are studios and one-, two- and three-bedroom units, all fully furnished by a professional decorator. They will range in size from 526 sq. ft. to 1,839 sq. ft.
On-site amenities will include restaurants, lounge, coffee shop, boutiques, health club, spa, swimming pool, business center, meeting space and tennis courts. Services will include security, valet parking and concierge.
Owners will be able to use their units up to 30 days per year. Or they can choose to place it in the rental program for 365 days a year to maximize their revenue.
Contracts at the Windsor are assignable, no penalty or fee. This is something we very rarely see in the U.S. and provides the buyers with the opportunity to "flip" their unit after putting a mere 20% down. Finally, look at these prices. We're talking about a five-star, ultra-modern, brand new property with prices that start at $133,934!
Studio, 516 sq. ft.,  $133,934 – $140,279 $258
1 Bedroom ,796 sq ft., $206,612 – $216,399
2 Bedroom, 1,312 sq. ft., $340,437 – $356,678
3 Bedroom, 1,839 sq. ft., $477,336 – $499,947
ARABIAN CROWNE RESIDENCE APARTMENTS
The Arabian Crowne Residence Apartments will be a five-star condo hotel in the City of Arabia.
It will be 44 stories and a total of 240 units comprised of studios, one-, two- and three-bedroom units. The first 15 floors of this condo hotel will be luxury office space.
The amenities at The Arabian Crowne will be very comparable to those at Windsor. They will include:
Restaurants
Coffee shop
Boutiques
Health club
Spa
Like the Windsor, contracts are assignable. No penalty or fee for flipping, thus adding to the appeal for real estate investors.
1 Bedroom, 753 sq. ft., $203,680 – $204,709
2 Bedroom, 1,216 sq. ft., $315,628 – $330,579
3 Bedroom, 2,045 sq. ft., $530,806 – $555,949
PH, 4,842 sq. ft., $1,389,098
Construction on both the Windsor and the Arabian Crowne is scheduled to begin this October and be complete by the end of 2007.
WHY BUY NOW?
There are lots of good reasons to buy now, but perhaps the most persuasive one is that on September 1 prices will go up 10% at both the Windsor and Arabian Crowne.
But looking at the big picture, you may be wondering whether this is a good time to buy in Dubai. After all, this country is not an established vacation destination like Las Vegas or Florida. But in fact, that's exactly the reason to buy right now.
The Dubai real estate sector is just a few years old. Getting in on the ground floor of a new property market has its advantages. The prices we're seeing on these five-star condo hotels are perceived by global real estate experts to be substantially underpriced.
Compare, for example, the Trump in Ft. Lauderdale where a studio of 612 sq. ft would cost you over $850,000 today or the Cosmopolitan, Las Vegas, where a 600 sq. ft. studio will run you $750,000+. For the price of a studio there, you can buy a three-bedroom unit in Dubai with enough left over to purchase new his and hers Mercedes and a pair of matching camels to boot!
Demand for property typically picks up during an economic boom such as the one being seen in Dubai now. With massive projects such as Dubailand with its theme park, Palm Islands, and Dubai International Financial Centre coming to fruition, this is the best time to invest in Dubai real estate. Need more convincing? Read on.
CONSIDER THESE NUMBERS
In 2004, the hotel occupancy rate in Dubai was 81%, as confirmed by the Dubai tourism board. For the first half of 2005, hotels in Dubai achieved 88% occupancy rates.
For comparison, Las Vegas, which has the highest occupancy rates of any city in the U.S. is just under 89%. Global travel analysts predict continued growth in tourism in Dubai due to the significant investment now being made in new hotel development and tourism infrastructure.
A one-bedroom hotel room at the five-star Grand Hyatt Dubai is approximately $478 in the summer and $765 in the winter months. A studio unit (376 sq. ft.) at the Hyatt in low season is $225. Rates at the five-star Ritz-Carlton in Dubai are $450-$560 for a studio and $642-$1,065 for a one-bedroom unit. As demand increases, these rates will surely climb.
Dubai offers a 100% tax-free business environment, which has certainly helped contribute to its impressive Gross Domestic Product (GDP) increases. Dubai's GDP rose a robust 16.7% in 2004 and has averaged annual growth of 10% over the last decade, according to the Department of Economic Development. By contrast, Western economies consider their growth to be strong at 2%.
While we were unable to confirm annual appreciation rates of Dubai real estate, realtors and developers in Dubai are quick to quote numbers ranging from 40% per year to 70% in the most popular areas.
In essence, Dubai offers a safe and secure living environment, a tax-free stable economy, and the most luxurious and advanced amenities. Women can drive and walk on the streets unaccompanied, and alcohol is available (unlike in some Middle Eastern countries). Nearly everyone speaks English. And temperatures rarely fall below 75°, even in the dead of winter. Put it all together and you'd have to agree, the Dubai package is extremely attractive.
DUBAI FACTS & ACHIEVEMENTS
Since so much of the success of the condo hotels rides on the success of the country of Dubai, I thought I'd summarize for you some of the country's most outstanding accomplishments including a few still in the planning stages:
Burj Al-Arab – The only seven-star hotel in the world.

Burj Dubai

– Proposed tallest tower in the world.
Mall of Arabia – Proposed largest shopping mall in the world
Palms Jebel Ali – The two largest man-made islands, palm-shaped and with resorts and entertainment venues, in the Arabian Gulf off the Dubai coast
Jebel Ali Port – The largest man-made port in the world
Sky-walk – The longest foot bridge in the world
World-class Sporting Events – Dubai World Cup (the world's richest horse race), Dubai Desert Classic (Golf) and Dubai Rugby Sevens
Dubai International Financial Centre (DIFC) – Proposed regional financial hub for the entire Middle East
Dubai's Airport – From nine airlines serving 20 destinations in 1969, Dubai International Airport has grown to accommodate over 90 airlines connecting over 140 destinations. An expansion to Dubai Airport has commenced to handle 45 million passengers a year by 2018.
Highest Concentration of Wealth – According to a report of the International Monetary Fund (IMF), one in every 67 persons in Dubai is a millionaire in U.S. dollar terms
Tax Incentives – 100% tax-free business environment
Most Cosmopolitan City in World – Dubai is home to people from more than 185 nationalities
World's Safest City – Voted "Safest City in the World" for four consecutive years in a study conducted by Interpol. Crime in Dubai is virtually non-existent.
Cheap Gas – And probably the most appealing fact of all, gas in Dubai is only about $1.09 per gallon. Maybe that's because it's pumped directly from the ground into your tank…well, not exactly but I imagine it's comparable to my being able to buy cheap oranges here in Miami.
DATA SHEETS WITH MORE DETAILS
I've put together detailed information on each of the two condo hotel properties that I mentioned earlier, The Windsor and The Arabian Crowne. Remember the prices are current. But on September 1, they will go up 10%, according to the developer. I've also put together a very detailed Frequently Asked Questions data sheet that will give you a better understanding of the Dubailand project and Dubai itself.
To receive our more detailed information, in accordance with developer requirements, you'll need to provide your full name and contact information. Both data sheets and the FAQs will be sent to you instantly via email.
Request the data sheets and FAQs here.
HOW'D I DO ON DUBAI?
Well I hope you enjoyed our trip to Dubai. Our Condo Hotel Center team — yes it's true, I can't take all the credit — has spent three months researching it to be able to bring you this information (you should see our phone bills!). It isn't often that we find opportunities this exciting so far from home.
I intend to keep you updated on this part of the world as the condo hotel concept makes its way across oceans and begins rising from the sand dunes of Dubai's desert.
Joel Greene
Broker-Associate
Condo Hotel Center A Division of Sheldon Greene & Assoc., Inc. Licensed Real Estate Broker
1368 NW 135th Ave.
Pembroke Pines, FL 33028
(954) 450-1929
Info@CondoHotelCenter.com
www.CondoHotelCenter.com
www.CondoHotelsDubai.com
www.WorldClassCondoHotels.com
www.CondoHotelsBahamas.com
www.CentralAmericaSecondHomes.com
www.DominicanRepublicVacationHomes.com
Want to know more about me? Click below: //www.condohotelcenter.com/joel-greene.html
* All rights reserved. No portion of this Condo Hotel Property Alert may be reproduced without the express written permission of Condo Hotel Center. * Although Condo Hotel Center believes the information contained in this Property Alert to be accurate and complete, Condo Hotel Center can make no such guarantee.