A REAL ESTATE OPPORTUNITY FOR EVERYONE'S BUDGET
The Executive Tower E
Residence Apts. in Dubai
Priced Well Under $100k!
October 27, 2005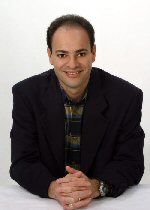 Hello. Joel Greene here. Back in August, Condo Hotel Center became the first and only U.S. real estate broker to offer condo hotel units for sale in Dubai, one of the seven United Arab Emirates. At that time, we told you that Dubai was brimming with excitement as it had become the fastest growing city in the world for tourism and business.
We described it as a tax-free, politically-safe, tourism and investment haven; a land of imagination, with white sandy beaches and crystal clear waters, ultra-modern architecture, incredible shopping, a multi-cultural population, and opportunities galore for domestic and international investors alike.
Why are we telling you all this again? Well, we are pleased to now share another first with our readers. It's another Dubai condo hotel, but this one comes with a twist — an affordable opportunity to buy a fraction of a unit.
A FRACTIONAL CONDO HOTEL
As you may know, in addition to condo hotels, Condo Hotel Center offers fractionals. These are shared ownership condo units at first-class hotels and resorts. There are a lot of great reasons to buy fractionals, however, the fact that they don't typically generate revenue for their owners as do condo hotels has kept some investors from jumping into the market.
Well now, we have available a hybrid of the two types of real estate that provides the best of both worlds — a fractional condo hotel. You pay for a fraction of a condo hotel unit and receive a fraction of the revenue it generates.
THE EXECUTIVE TOWER E RESIDENCE APARTMENTS
Middle East Development, a multi-billion dollar development firm, will be building a condo hotel in the rapidly growing downtown Dubai business district. The Executive Tower E Residence Apartments will be located in Dubai's main hot spot, Business Bay.
What's Business Bay? This is where the regional bases of over 100 of the world's largest multi-national corporations have been established. It's also the location of the Burj Dubai (the world's tallest tower). Plus it is only a stone's throw from the Dubai International Financial Centre (DIFC), which will soon be the region's Stock Exchange, bridging the gap between Hong Kong and London to New York.
AFFORDABLE PRICING
Only three floors of The Executive Tower E Residence Apartments will be sold as fractionals. Available units are two bedrooms or three bedrooms. The two-bedroom fractionals are priced at $49,180; the three-bedroom fractionals are $60,109.
Of course, if you prefer, you can still buy whole units at this property with prices starting at $508,092 for two-bedroom units and $624,855 for three-bedroom units. As you can see, the fractional ownership opportunity is much more affordable than whole ownership.
HERE'S HOW IT WILL WORK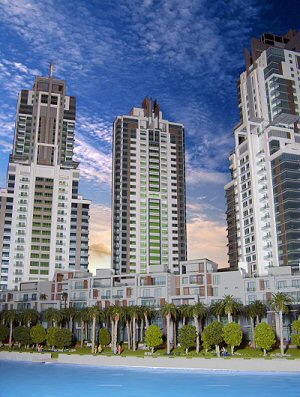 Each of the two- and three-bedroom units being sold as fractionals may be purchased in 28-day shares. This means that there will be 13 owners to each unit, although you can purchase as many fractions as you wish.
Each fractional owner will get his own contract and title deed. This means you are free to resell your fraction at any time without concern about the other owners.
Seller financing is available with 50% cash down, based on a three-year term
WHY IS THE DEVELOPER DOING THIS?
A big part of the reason for this unique fractional-condo hotel hybrid is you! After our Property Alert on the other condo hotel projects in Dubai, the developer asked what our readers thought. As the only U.S. broker representing these properties, he looked to us to give the American perspective.
We told him that while the response was overwhelming and a lot of you did buy units, some of you expressed concern about investing so much in a vacation home that you likely would never use. He therefore decided to modify his plans for his next condo hotel, The Executive Tower E, to include a limited number of fractional ownership opportunities. Owners would be required to participate in the rental program, rather than having the option to use their unit as a vacation home.
This hybrid is truly a win-win situation. The purchase is more affordable, yet you still get the opportunity to participate in the revenue generated by owning a hotel unit in what is one of the most up and coming cities in the world. The developer gets a unit that will be included in the condo hotel rental program 100% of the time. With average occupancy rates of 81% in Dubai in 2004 and 88% for the first half of 2005, you can see what his motivation is.
MORE ABOUT THE BUSINESS BAY EXECUTIVE TOWER E
The Business Bay Executive Tower E will be a five-star ultra-luxurious condo hotel. It will be 28 stories with 106 units, mostly two and three bedrooms, and a few garden apartments, lofts and penthouses. The property will be managed by a top, international hotel chain, still to be determined.
It will be a part of The Executive Towers complex, an impressive cluster of 11 residential towers, a hotel, a two-level shopping mall, health clubs, spas, boutiques, top-quality restaurants, supermarkets and cafes. The design is ultra-modern.
A city within a city, Business Bay will be a commercial, residential and business cluster that covers an area of 64 million square feet. It will have a network of roads designed for easy access. Its intricate layout will be interwoven with beautiful canals. A plaza level or courtyard will act as a town center. It will feature landscaped plazas, fountain yards, and gardens.
On a level which the developer is calling "the podium," you'll find facilities like shopping, children's playgrounds, swimming pools, health clubs, a jogging track, and other recreational amenities, all within walking distance. The podium will be designed in a way that connects the 11 towers and gives a sense of community to residents.
The podium will be pedestrian-friendly so it encourages people to walk or cycle rather than drive. With an innovative climate control system that utilizes simple architectural solutions to the heat, it will include covered walkways, courtyards, fountains and shading elements that keep visitors cool in the desert sun.
Construction on The Business Bay Executive Towers will begin October 2005 and is expected to be complete by October 2007.
A PREMIER LOCATION
The location for The Business Bay Executive Towers is outstanding. Already being called the region's business capital, Business Bay is destined to become the Manhattan of the Middle East. The Executive Towers will be near the Burj Dubai, the tallest skyscraper in the world and just minutes to shopping and dining.
In addition to its proximity to Dubai's International Financial Centre, it will be near the World Trade Centre, Conference Centre and offices of literally hundreds of multi-national corporations, all of which will enhance hotel occupancy rates.
The towers will also be neighbors to Dubai Festival Centre, a retail and leisure development. It's only 10 minutes to Jumierah Beach and the ocean, 15 minutes to the Dubai International Airport and also the new Jebel-Ali International Airport, and only 10 minutes to the City of Arabia and Dubailand with its many theme parks, retail centers and resorts. (Read more about Dubailand here.)
YOU'RE IN GOOD COMPANY
Ever since I wrote the Property Alert on Dubai in August, I have to admit I've been particularly tuned in to any news coming out of that region. And guess what? There's a whole lot going on.
You might have seen the Michael Jackson CNN story about the pop star's visit with Dubai's crown prince, Sheik Mohammed bin Rashid Al Maktoum. Dubai is even rumored to be a place Michael is considering as a new residence. I know this might not be much of a selling point, but you have to appreciate that Michael isn't one to go slumming.
The bigger news, however, is that another guy, one whose name is synonymous with real estate and good taste, has decided that Dubai is a market ripe with opportunity.
Donald Trump recently announced that he will team with a Dubai company to build hotels and condominiums in the Middle East, his first foray into the region. "We have very big projects planned for Dubai, very upscale and large," Trump said.
The first project will be done in conjunction with Nakheel, a top Emirates development company. The Palm Trump International Hotel and Tower will be a 50-story hotel-and-residential tower. It will be built on an existing man-made island shaped like a palm tree that has already attracted many celebrity residents like English soccer player David Beckham.
Trump isn't the only one who recognizes the opportunity brimming within Dubai. Kerzner International Ltd., the owner of Atlantis in the Bahamas, is developing a 2,000-room resort in Dubai. Literally billions of dollars worth of real estate ventures, hotel and infrastructure projects are underway in this rapidly developing part of the world.
As these projects create more worldwide buyer interest and demand, property values are likely to escalate. We have seen, for instance, where prices in Fort Lauderdale's condo hotels increased dramatically after Trump's announcement that he too was building one there.
REQUEST A DATA SHEET ON EXECUTIVE TOWER E
Dubai is a city on the brink of major development, ready to launch itself into an international business and tourist mecca. It has captured the attention of celebrities and big league developers like Trump and Kerzner. And now you can be a part of Dubai's emergence through this unique real estate opportunity.
Want to know more? I've put together a detailed data sheet. It's yours for the asking. However, the developer does require that you submit your name and address before we can release this proprietary information. Please understand that if you request this data sheet, you will be registered with the developer of this property as a client of Condo Hotel Center.
CONDO HOTEL SYMPOSIUM COMING SOON
If you're a hotel owner or developer and could be considering a condo hotel project, you might want to attend an upcoming symposium we're sponsoring titled "Financing, Developing & Operating Condo Hotels." It takes place Dec. 6 & 7, 2005 at the Mandalay Bay in Las Vegas. Early bird discounted registration ends on Nov. 4, 2005, so don't procrastinate.
CLICK HERE FOR DETAILS ON THE CONDO HOTEL SYMPOSIUM.
WRAP UP
As always, thank you for your interest in news from Condo Hotel Center. We're delighted to be able to bring you unique opportunities such as Dubai properties. We're always on the lookout for something new, exciting and different. (By the way, we really appreciate tips about new properties from you, our readers!)
If you enjoy our newsletter, please feel free to share it with a friend. They can register for their own Property Alert subscription on our website, www.CondoHotelCenter.com.
Have a great week!
Joel Greene
Licensed Real Estate Broker
Condo Hotel Center
1368 NW 165th Ave.
Pembroke Pines, FL 33028
(954) 450-1929
Joel@CondoHotelCenter.com
www.CondoHotelCenter.com
www.CondoHotelsDubai.com
www.WorldClassCondoHotels.com
www.CondoHotelsBahamas.com 
www.CentralAmericaSecondHomes.com
www.DominicanRepublicVacationHomes.com
Want to know more about me? Click below:
//www.condohotelcenter.com/joel-greene.html
Follow us on Facebook.
* All rights reserved. No portion of this Condo Hotel Property Alert may be reproduced without the express written permission of Condo Hotel Center. * Although Condo Hotel Center believes the information contained in this Property Alert to be accurate and complete, Condo Hotel Center can make no such guarantee.