Domus Brickell Park
New Miami Condo Hotel, Prices Start in the $400s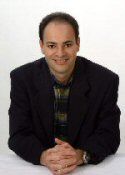 Hello. Joel Greene here from Condo Hotel Center.
One of the questions I'm frequently asked in my real estate business is how long condo hotels have been around. At Condo Hotel Center, we trace their beginnings back to the late 1990s when The Mutiny in Coconut Grove (Miami) became the first condo hotel in Florida.
The Mutiny was instantly popular among investors with prices repeatedly increased for the individual units throughout the sales process. This resulted in a very fast, high equity build up in the value of the units. With that proof of concept, it wasn't long before other condo hotels began cropping up both as new construction projects and conversions of existing hotel properties. The condo hotel craze was on!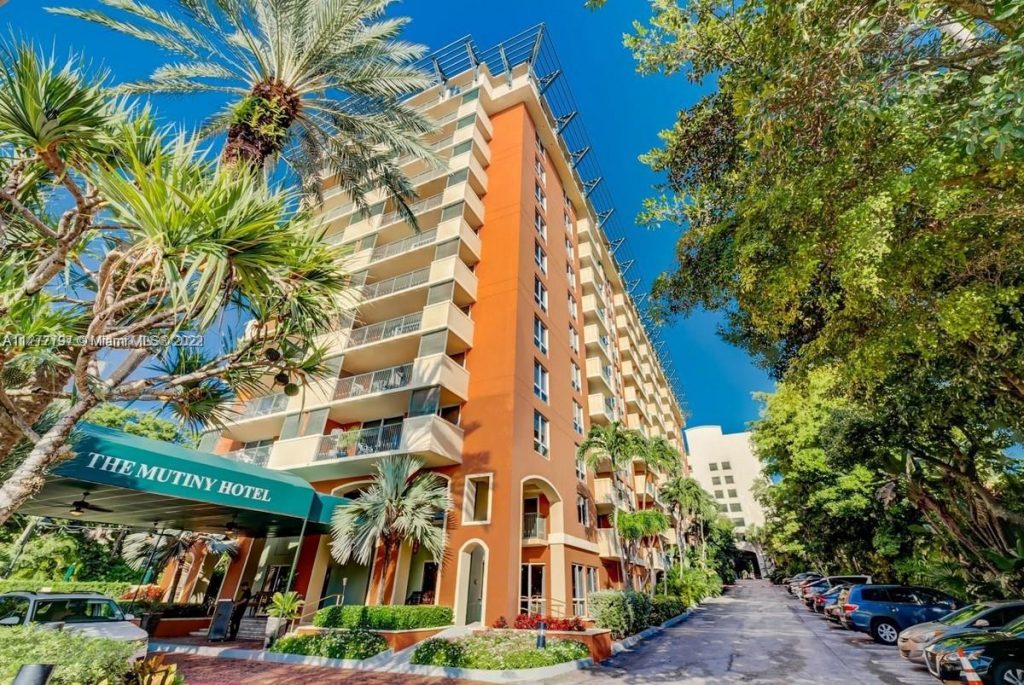 The developer of The Mutiny was Ricardo Dunin. Since then, Ricardo and his real estate investment company have developed three Ritz-Carlton Residences in Florida, the Le Sereno Hotel in St. Barth and 12 hotels with Accor in Rio de Janeiro.
Now, he's back again in South Florida, coming full circle to co-develop a new condo hotel, which is today's featured property. Read on for details.
Domus Brickell Park
Domus Brickell Park will be a 12-story condo hotel with 171 fully furnished units for sale to individual investors.
It will be located in the diverse, dynamic Brickell area, a burgeoning urban center with world-class restaurants, shops and upscale bars – so many bars.
Brickell also sports Miami's tallest high-rises, the headquarters of the nation's top law firms and over 50 banks, giving it the nickname "Wall Street South."
Domus Brickell Park will be a four-star quality property with the following amenities:
4,200 sq. ft. double-height lobby with floor-to-ceiling windows
The Peacock Room in the lobby contains:
Café and bakery with covered terrace
Artisanal market offering gourmet options
Wine and beer bar
Ample co-working area
Pocket Park, a covered outdoor courtyard garden
Rooftop pool deck with cabanas, hot tub
Rooftop grilling and entertainment area
Steam room
Fitness center with state-of-the-art equipment
Lush garden lounge
24-hour front desk
24-hour valet service
A Rental Program to Maximize Occupancy
Owners at Domus Brickell Park will be able to choose whether to place their condo hotel unit in the onsite rental program. That program will offer access to over 85 sales channels, including Airbnb, Booking, Expedia and Marriott, to maximize revenue and occupancy rates.
Owners may also rent out their unit on their own, but not short term. Leases must be for a minimum of one month and no more than six months.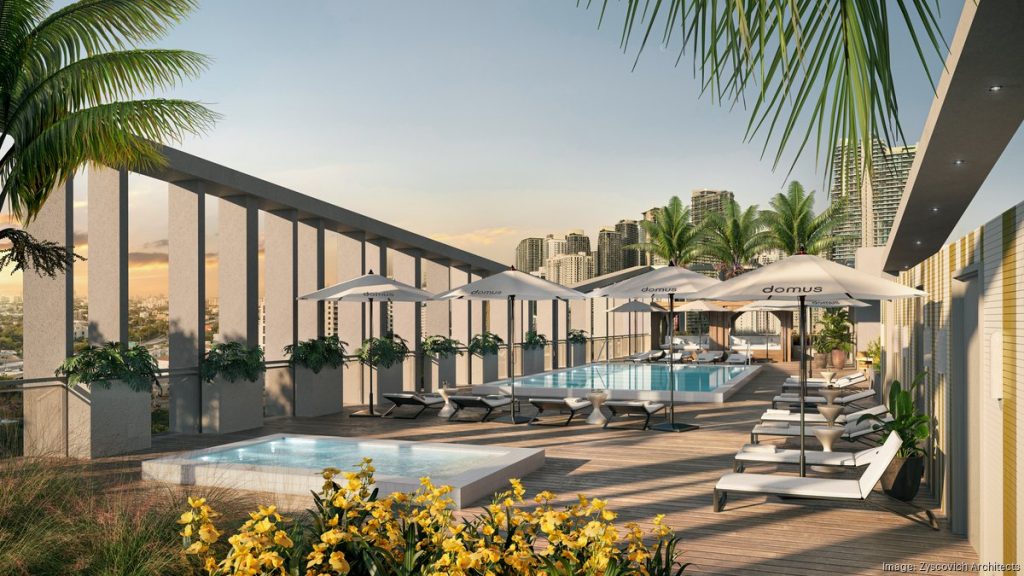 Early Pre-construction Opportunity
Construction on Domus Brickell Park is expected to begin at the end of 2023 with completion scheduled for the end of 2025.
Domus Brickell Park is not officially on the market yet, but I've been granted permission to tell you about it and give Condo Hotel Center buyers a chance to reserve a unit when prices are at the lowest pre-construction rates. Unfortunately, that means I have only a few photos to share. More will come soon once the property is marketed to the general public.

Choose from studios and one- and two-bedroom condo hotel units. Prices range from $400,000 to $873,000 and include full furnishings.
Want more information? I've got plenty of details in my data sheet.
Request the Domus Brickell Park data sheet.
The Condo Hotel Concept – Here to Stay
At the beginning of this write-up, I mentioned the founding of the condo hotel concept. What I didn't say was that it was also the founding of Condo Hotel Center. Since 1970, my father, Sheldon Greene, was a top real estate broker in Miami. He saw the instant success of The Mutiny as the first condo hotel and guessed that it was the start of an exciting, new trend.
At the time, from a developer standpoint, condo hotels offered a way to make projects feasible. Getting financing for a $100 million hotel wasn't likely in what was then a difficult lending environment. By leveraging the project with multiple investors who each owned a single condo hotel unit, the project became viable. Sheldon saw condo hotels as a win-win situation for buyers and developers.
In 2002, he and I officially launched Condo Hotel Center, the first real estate company in the country to specialize in the sale of condo hotels. Sheldon passed away 11 years ago. But I'd like to think he'd be pleased to know his company and the condo hotel concept live on.
Again, if you could be interested in Domus Brickell Park, request my data sheet here. Or, if you're seeking a property in a different Florida location, please contact me. I'd be happy to share with you information on what's available.
Have a nice day.
Joel Greene
Licensed Real Estate Broker
Condo Hotel Center
1368 NW 165th Ave.
Pembroke Pines, FL 33028
(954) 450-1929
Joel@CondoHotelCenter.com
www.CondoHotelCenter.com
Want to know more about me? Click below:
//www.condohotelcenter.com/joel-greene.html
© Condo Hotel Center. All rights reserved. No portion of this Property Alert newsletter may be reproduced, exhibited or distributed without the express written permission of Condo Hotel Center. Condo Hotel Center takes copyright infringement seriously. Violators will be prosecuted to the fullest extent of the law.
Although Condo Hotel Center believes the information contained in this Property Alert newsletter to be accurate and complete, Condo Hotel Center can make no such guarantee. All features and descriptions are subject to change.
Please speak with your personal legal and financial advisors to determine whether this property is suitable for your objectives.