Costa Hollywood Condo Resort at Hollywood Beach Village
New Florida Condo-Hotel Units near the Beach from $190,000
October 9, 2012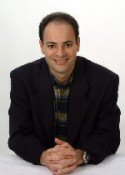 Hello, Joel Greene here from Condo Hotel Center. I can't help but smile when I think of Hollywood Beach, Florida. Almost 20 years ago, I met a beautiful lady who lived considerably north of my Miami Beach home. We felt a spark and agreed to have our first date in Hollywood Beach, a city midway between our respective homes. I don't know whether it was the pizza at Capone's Flicker Lite, the stroll hand-in-hand along the Hollywood Broadwalk, the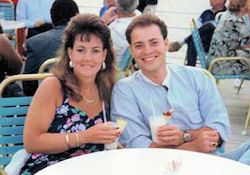 wine coolers we sipped on a blanket on the beach, or simply the charm of a lovely lady, but that was the best first date of my life. (See photo right, circa 1992.) There's more to this story, but I'll save it for the end. First, let me explain what got me thinking back to my fondest memory of Hollywood Beach. Today's featured property is Costa Hollywood Condo Resort at Hollywood Beach Village, and it is located in, you guessed it, Hollywood Beach. This is the first time I've had something new to offer in this great city, just 30 minutes north of Miami, since 2005, as it has seen very little new construction in the past decade or so. Now, I have a wonderful, pre-construction opportunity there, and I'm excited to tell you about it.
Costa Hollywood, Coming Soon!
Costa Hollywood Condo Resort at Hollywood will be a new, luxury condo-hotel resort and high-end shopping district.  It will be built on world-famous A1A, also known as Ocean Drive, just a few steps from the beach.
The property will feature 310 fully furnished turnkey "smart units," progressively designed with eco-friendly construction materials, lighting control, energy-efficient appliances and a robotic parking system.
Because Costa Hollywood will be a condo hotel, it should be seen as a vacation home.  Owners won't be able to live there year-round, as they would in a traditional condo.  While the exact parameters have yet to be finalized, owners will likely be able to use their vacation homes for as many as five months of the year.  The rest of the time, they'll have an opportunity to participate in the onsite rental program, which will offer both long- and short-term rental options.
The developer plans to break ground December 2012 with completion expected in late 2014, however condos can be reserved now at pre-construction prices.
Enjoy the Floridian Lifestyle
This condo hotel resort, the first new project of its kind to the South Florida market in about five years, will incorporate contemporary style with upscale amenities and resort services.
With its unique design, Costa Hollywood will offer 30 different floor plans to choose from.  This new development will not be your typical cookie-cutter development.
The tropical nature and the open architecture of the property will invite guests to experience the coveted "Floridian Lifestyle" that Hollywood Beach has been known for since the 1920's.
Costa Hollywood will consist of two buildings, facing each other, just steps from the beach and the Hollywood Boardwalk, (yes, the same one where I had that first awesome date).
Five-Star Amenities
The two buildings will each have six floors, lavish courtyard, expansive terraces and roof garden views of the Atlantic Ocean and Intracoastal Waterway.
The first floors of both buildings will be an upscale outdoor entertainment district with dining and shopping venues. Residences will be located on floors two through six. And the beach and boardwalk are just steps outside the door.
Other features and amenities at Costa Hollywood include:
Beach club and beach service
Gourmet dining, signature restaurants and coffee shop
Rooftop bar and restaurant overlooking Costa Hollywood's open courtyard
Rooftop infinity pool and terrace
Terrace entertainment lounge area
On-site, holistic day spa and gym
Oceanfront cabanas
Bike and golf cart rentals
Synagogue on-site and a Shabbat elevator
Exclusive shopping boutiques
Business center and multi-purpose meeting rooms
Elegantly furnished conference/event room
State-of-the-art security system
The development is expected to become one of the primary luxury properties in Hollywood Beach associated with retail establishments.
An Experienced Developer
The developer of Costa Hollywood is Moses Bensusan, CEO of Liberty Sites, LLC, a Canadian based company. He brings more than 25 years of industry experience developing commercial and residential properties across Canada and the United States.
"Hollywood Beach is considered one of the few remaining beachfront cities that is not over-developed," Bensusan said. "It offers a smart ownership opportunity in one of South Florida's most vibrant, cultural and up-and-coming areas."
Bensusan's projects have included numerous public works projects, medical and educational facilities, commercial, and residential projects entailing multi-family residences and luxury homes.
Desirable Location
Hollywood Beach is a village-like destination nestled between Miami Beach and Fort Lauderdale. It features a one-of-a-kind oceanfront promenade called the Hollywood Beach Broadwalk that stretches nearly 2.5 miles along the Atlantic.
Named one of America's Best Beach Boardwalks by "Travel & Leisure" magazine, this brick-paved thoroughfare is a haven for joggers, bicyclists and roller-bladers. It has dozens of seaside eateries along the way, all just steps from the sand.
The beach stretches for seven miles. There are also three oceanfront parks featuring playgrounds, paddleball courts, ping pong tables, interactive water play fountains and picnic pavilions. Also in close proximity are restaurants, casinos, nightlife, a marina, and the Hollywood Beach Theatre, which offers free outdoor concerts.
Hollywood Beach has been recognized as a Blue Wave Certified Clean Beach by the Clean Beaches Council for the past 10 consecutive years. It also won the 2009 Fodor Travel Guide award for Best Beach for Families.
Reserve a Unit at Pre-construction Prices
Costa Hollywood will have studios and one- and two-bedroom units ranging from 366 sq. ft. to 1,217 sq. ft. with terraces and views of the ocean and Intracoastal Waterway. They'll feature furnished designer interiors including fully-equipped kitchens. Prices start at $190,000 and go up to $750,000.
Reserving a unit at this time requires a 10% deposit. Additional deposits will be required at various milestones in the construction process.
I have lots more details that I can share about Costa Hollywood. You'll just need to provide your contact information per the developer's requirements to receive my data sheet.
Request the Costa Hollywood data sheet here.
A Happy Ending to my Hollywood Beach Story
Thank you for your interest in Costa Hollywood Condo Resort at Hollywood Beach Village and the properties we showcase at Condo Hotel Center. As for that terrific first date on Hollywood Beach going back 20 years ago, each date that followed was just as good.
I ended up marrying that lovely lady, Jackie, and we have darling twin daughters, Haley and Lindsay, who just turned 14.
Now you know the rest of the story and why whenever I mention Hollywood Beach, I get a big smile on my face.
Hope you are smiling, too. Have a great day!
Joel Greene
Licensed Real Estate Broker
Condo Hotel Center
1368 NW 165th Ave.
Pembroke Pines, FL 33028
(954) 450-1929
Joel@CondoHotelCenter.com
www.CondoHotelCenter.com
www.CondoHotelsDubai.com
www.WorldClassCondoHotels.com
www.CondoHotelsBahamas.com
www.CentralAmericaSecondHomes.com
www.DominicanRepublicVacationHomes.com
Want to know more about me? Click below: //www.condohotelcenter.com/joel-greene.html

Follow us on Facebook.
© Copyright 2012 Condo Hotel Center
*All rights reserved. No portion of this Property Alert may be reproduced, exhibited or distributed without the express written permission of Condo Hotel Center. Although Condo Hotel Center believes the information contained in this Property Alert to be accurate and complete, Condo Hotel Center can make no such guarantee.