Surprisingly Affordable, Luxurious West Palm Beach Condos
City Palms – Priced from $161,900
June 7, 2011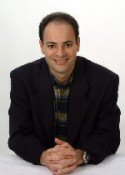 Joel Greene here from Condo Hotel Center. Every once in a while, you uncover a hidden jewel, a shiny little nugget that somehow eluded you while you were looking just past it or in the other direction.
Upon a recent trip to West Palm Beach, Florida to show another of my listed properties, I discovered such a gem. I researched the development and was impressed with what I learned. So it is my pleasure now to introduce this property to you.
Located just across the street from CityPlace, West Palm Beach's "place to be" for shopping, dining and entertainment, is City Palms. This 10-story, Key West-style building, offers high-end amenities found in upscale buildings, like integrated Smart Building technology, but does so at a price point that is lower than other comparable luxury condos in the market.
You Don't Know Jack
City Palms is a 288-unit luxury, mixed-use condominium property that can best be described as urban living in a sophisticated and relaxed environment. And, while it offers a valet, front desk staff and 24-hour controlled access too, what really makes City Palms unique is that nowhere else in West Palm Beach can you find "Call on Jack."
Call on Jack is the residents' personal concierge service. It is dedicated to making life easier and more enjoyable. There's practically nothing Call on Jack can't do from coordinating your move-in to arranging interior design services, stocking your fridge, making dinner reservations and so much more. Special touches like Call on Jack make City Palms more than just a condo; it's a lifestyle.
Upscale Features & Amenities
City Palms has much to offer. Its features include:
Signature Key West architecture
Pedestrian plaza with clock tower and water feature
Parking garage with direct building access
Retail and restaurant space
Four high-speed elevators
Luxuriously appointed double-height ceilings in lobby and lounge
Newsroom featuring LCD TVs and self-serve café
Club room with bar, billiards table and LCD TVs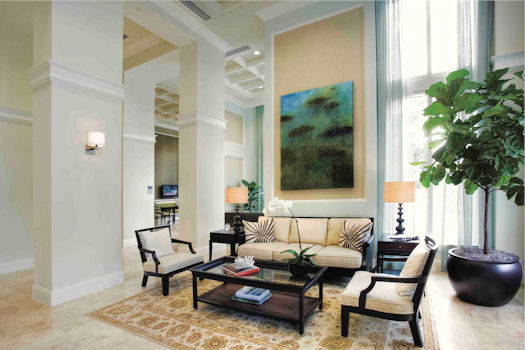 On the sixth floor, residents will find most of the amenities including:
70-foot swimming pool and raised spa
Smith & Hawken furnishings
Pavilion featuring state-of-the-art fitness club
Sauna with men's and women's locker rooms
Covered outdoor bar with lounge area
As you can see, living at City Palms is comparable to living in an upscale resort.
A Great Location
Downtown West Palm Beach is in the midst of a cultural and urban renaissance and City Palms, located across the street from CityPlace, is right at its heart. CityPlace is comprised of over 75 retail businesses, 20 restaurants and sidewalk cafes, a 20-screen movie theater, an open-air plaza and a cultural arts theater.
Add to that the rest of downtown West Palm Beach and you find within a five-block area, over 50 restaurants and clubs, and 250,000 square feet of shopping. Also the region's main cultural institutions, like The Kravis Center for the Performing Arts, the Norton Museum, and Palm Beach Opera, to name a few, are practically within walking distance.
Of course, when you come right down to it, people come to Florida for the Atlantic Ocean and its beautiful beaches. Even though City Palms is in a downtown location, it is conveniently only five minutes from the ocean, and 10 minutes from West Palm Beach International Airport.
Move-in Ready
Construction on City Palms began in 2006 and was completed the end of 2008. The individual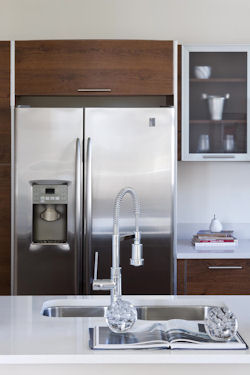 condos are delivered move-in ready. All of the 288 residences feature floor-to-ceiling, sliding glass doors, spacious balconies, large walk-in closets and stainless steel appliances.
They already have Berber carpeting in the bedrooms, porcelain tile in the living and dining areas, and marble tile in the bathrooms, saving the buyer thousands of additional post-closing dollars.
Spacious Condos Affordably Priced
A variety of brand new condos, ranging from 730 to 1,117 sq. ft., are available and can be closed on immediately. Prices start at only $161,900 for a one-bedroom condo and from $230,900 for two bedrooms.
Although not currently released by the developer, even larger two- and three-bedroom condos exist. Prices provided upon request. And, if you are buying your condo as an investment, you may select an already-rented condo with an existing rent-paying tenant.
Financing Available
Although this property is not yet Fannie Mae approved, there are two preferred lenders willing to finance a purchase. For buyers with credit ratings of 750 or better, Regions may loan up to 90%, and up to 80% loans with 660 or better.
One Last Perk
Condo Hotel Center clients are being offered one additional incentive. Four selected units have been made available, not only completely finished, but completely furnished too, including a 42- inch flat screen TV in the living room area. The additional savings are valued at roughly $16,000.
Eligible condos for this promotion include the following:
#219, 1 bedroom + den, 2nd floor, 779 sq. ft., $185,900
#417, 1 bedroom, 1.5 bath, 4th floor, 824 sq. ft., $211,900
#236, 2 bedrooms, 2 baths, 2nd floor, 1,117 sq. ft., $247,900
#239, 2 bedrooms, 2 baths, 2nd floor, 1,117 sq. ft., $246,900
Request a Free Data Sheet
I've put together a detailed data sheet that will give you lots more condo details and photos of City Palms. It's free for the asking, but you do need to supply your name and contact information in accordance with the seller's requirements.
Request the City Palms data sheet here.
As always, thank you for your interest in the properties we showcase here at Condo Hotel Center. Please feel free to pass our Property Alerts along to friends. And, if there's a specific type of property you're seeking, I encourage you to contact us, as we have a wealth of information and data that we're happy to share.
Lastly, if you learn of any new condominium developments in Florida, please drop us a line. We pursue every lead, always keeping our eyes open for quality condo opportunities to share with our Property Alert subscribers. Thank you.
Have a nice day.
Joel Greene
Licensed Real Estate Broker
Condo Hotel Center
1368 NW 165th Ave.
Pembroke Pines, FL 33028
(954) 450-1929
Joel@CondoHotelCenter.com
www.CondoHotelCenter.com
www.CondoHotelsDubai.com
www.WorldClassCondoHotels.com
www.CondoHotelsBahamas.com
www.CentralAmericaSecondHomes.com
www.DominicanRepublicVacationHomes.com
Want to know more about me? Click below:
//www.condohotelcenter.com/joel-greene.html

Follow us on Facebook.
© Copyright 2011 Condo Hotel Center
*All rights reserved. No portion of this Property Alert may be reproduced, exhibited or distributed without the express written permission of Condo Hotel Center. Although Condo Hotel Center believes the information contained in this Property Alert to be accurate and complete, Condo Hotel Center can make no such guarantee.