CALISTOGA RANCH – NAPA VALLEY VACATION HOMES
Fractional Ownership Opportunity
September 30, 2005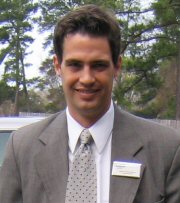 Hello, it's Henry Perfilio from Condo Hotel Center, and I have an interesting fractional to tell you about today
While fractionals are a small but growing part of our business, they are the hottest trend in second home ownership. The industry has gone from $500 million in sales to $1.5 billion in just the last 36 months.
The public has recognized this product as "the answer" to luxury vacation ownership – owning a piece of a multi-million dollar home in the most desirable locations in the world complete with five-star amenities and services, good appreciation potential, and no maintenance responsibilities.
Until now, Condo Hotel Center's primary focus has been, as its name suggests, condo hotels. However, fractionals, also called private residence clubs, have exploded so strongly onto the scene that we now want to make these investment and "lifestyle" opportunities available to you as well.
For those people who wish to use their second home no more than a couple weeks or months of the year, fractionals are an ideal alternative to a conventional home purchase. A professional company handles all the maintenance and upkeep issues, and because you're essentially sharing ownership with others, the price is a fraction of the total cost of the home.
Now, to have the opportunity to offer a "lifestyle" built around the whole wine experience is a dream come true. So join me today on a trip to California's wine country.
Calistoga Ranch
Calistoga Ranch is located in prestigious upper Napa Valley, California, just 90 minutes from the San Francisco Bay Area. Stately oaks, Cabernet vineyards, rushing streams and historic Lake Lommel grace its 157 acres. The small five-star resort has been designed with the feel of a vintner's sprawling estate.
In keeping with the rich heritage of the Napa Valley, Calistoga Ranch is a place where you can experience the wine country lifestyle, a culture of fine wine, world-class cuisine, beautiful natural surroundings and close friends.
Opened in May 2004, the resort features 47 guest lodges rented on a nightly basis from $450 to $1,025. But now visitors have an opportunity to become more than an occasional guest. They can have partial ownership in a home in Calistoga Ranch through its private residence club.
Membership in the club ensures a minimum of 14 days use per year at any of the Ranch's 27 elegant Owner Lodges. You can pre-reserve two one-week stays at the beginning of each year, plus take advantage of an unlimited number of additional weeks on a space-available basis. Each home is only sold to 10 owners so that after all owners reserve their 14 guaranteed days, another 225 days of the year are available for spontaneous use. Come as often as you want and stay as long as you want, subject to the Club rules for making reservations.
The Owners Lodges
At Calistoga Ranch, the Owner Lodges are sprinkled throughout the hillside and forested canyons. They are a collection of luxurious bungalows connected by a series of decks, trellised walkways and expansive outdoor living areas. They consist of 2,400 sq. ft. with two bedrooms and two baths and are lavishly furnished.
The master bedroom features a bath that opens to an outdoor shower and garden. There is an expansive gourmet kitchen with wine storage, an indoor living room and an outdoor living room, complete with outdoor fireplace.
The placement of each lodge is unique, depending on the varied topography of each site. Some lodges appear to float over streams, while others are protected under a canopy of native oak trees, and some are elevated high into stands of pines.
The Lakehouse
Part of the charm of Calistoga Ranch is its award-winning restaurant. The Lakehouse offers gourmet American cuisine that embraces organic ingredients from the farms in Napa Valley and Northern California, and pairs them with varied wines of local vintners as well as the best of France, Italy and the rest of the world.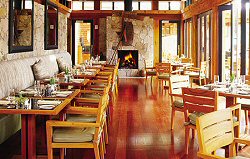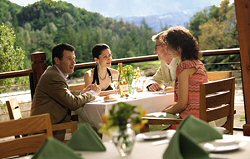 The Lakehouse restaurant is known for its gourmet fare as well as its extensive wine list.
Whether you choose to dine indoors or outdoors on the terrace, The Lakehouse offers spectacular views of the quiet woodlands and lake. Its open-beam ceilings and canopy of amber lights make it an intimate and relaxing setting. Since only members, their invited guests, and hotel patrons are ever permitted on the Lakehouse guest list, the mood here pleases the most private of individuals.
If you prefer to stay in, home catering is offered. You may also arrange to have a chef come to your lodge to create a romantic dinner or lavish party, or to host a personal culinary lesson for you and your friends.
Sharing In the Vinntner's Art
One of the finest amenities that sets Calistoga Ranch apart from other resorts is the on-site private vineyard. You can take informative tours of the vineyard and wine-related facilities.
But perhaps the most rewarding experience is to become fully immersed in the wine culture by playing viticulturist for a day. You can learn the art of pruning, harvesting, crushing, bottling and corking select wines from Nils and Kirk Venge, the creators of the exclusive private label of Calistoga Ranch.
An on-site wine cave hidden in the hillside features a tasting room and is ideal for wine pairing dinners. You'll have access to personal wine lockers where you can store your favorite vintages.
Designed to allow owners to experience Napa as privileged insiders, Calistoga Ranch has a Vintner Program. It features a series of social events in which the most reputable names of the local wine industry come to the resort to mingle, hold wine tastings and talk about the year's harvest. Calistoga Ranch boasts 26 vintner partners who participate, including the famed Robert Mondovi and the highly sought-after Grace Family.
The Bathhouse Spa & Fitness Center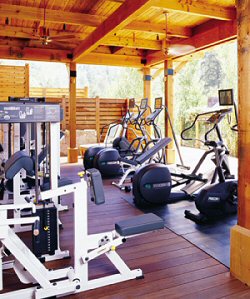 Calistoga is a natural home of thermal waters and mud baths. Nestled among majestic oaks, the Bathhouse Spa brings back to life the historic Calistoga tradition of "taking the waters."
The Bathhouse offers a full complement of wellness services from all types of massage treatments to water therapy in natural spring-fed mineral pools to yoga and tai chi classes held in a variety of tranquil settings.
An open-air fitness facility includes a selection of the latest cardiovascular and strength training equipment and allows you to take full advantage of the rejuvenating setting, looking out over peaceful Lake Lommel.
Swimming
Everywhere at Calistoga, you are treated to outstanding views of the Napa Valley and a nearby lake. The heated outdoor pool and sundeck feature dramatic views of the vineyard, oak groves and Mayacama Mountains. A poolside menu affords the opportunity to enjoy refreshments while you sunbathe.
Concierge Services & Special Events:
The on-site concierge at Calistoga Ranch takes care of all details to ensure that you have the quintessential Napa Valley experience whenever you visit. He will have your home ready for you when you arrive right down to the fireplace blazing, soft music playing and the refrigerator fully stocked with your favorite foods. "Over the top" personal service is the trademark of a private residence club.
Whether it's dinner reservations at some of the most exclusive local restaurants, special access to boutique wineries not open to the general public, a gourmet picnic, a hot-air balloon ride or a day of golf at a nearby course, the concierge can handle all arrangements.
In addition, when you're at Calistoga Ranch, there is always an assortment of fascinating events that you can attend. As an example, here are some of the exciting activities planned for October.
October 9, 2005. San Francisco Opera, Ferrari & Maserati – Ride and drive event with dinner in the Calistoga Ranch wine cave and a performance by two opera singers
October 20, 2005. Napa Valley's Finest – Winemaker's dinner at the Lakehouse restaurant featuring Chef Robert Leva & Rudd Estate wines
October 22, 2005 – Pool Terrace Oktoberfest – Enjoy German food and German tradition with Calistoga Ranch.
The Area
Calistoga Ranch is neighbored by more than 200 wineries. A favorite activity is taking a hot air balloon tour over the area. Owners can also enjoy horseback riding in the surrounding countryside and scouting for wildlife in the adjacent woodlands. Over 140 acres of land at Calistoga Ranch are dedicated to active pursuits with guided hikes available.
The nearby towns of St. Helena, Calistoga and Yountville are replete with charming restaurants, art galleries, antique shops and specialty boutiques.
Exchange Privileges
Calistoga Ranch is an Auberge Resort and therefore offers its members exchange privileges at another one of its first-class resorts.
Esperanza Resort is a luxury resort and spa in Cabo San Lucas, Mexico, located on the water at the tip of the Baja Peninsula. It features a private beach and oceanfront pool. Activities range from championship golf to sport fishing, world-class shopping, scuba diving and relaxing bay cruises.
The Club Concept
The Owner Lodges at Calistoga Ranch are owned by you and your fellow owner/members, and operated exclusively for your enjoyment. Membership operates much like that of an equity golf country club. However, instead of tee times, you reserve one of the resort's elegant Owner Lodges.
Members are not limited to the amount of time they can stay at Calistoga Ranch. If a home is available, then you can use it as often and as long as you like. There is no maximum amount of time that limits your stay, and there is no nightly cost no matter how often you visit.
You are not limited to a specific home. All owners have equal access to all homes, which helps to ensure that you will be able to visit practically whenever you want. You can reserve a lodge well in advance, or on a short-notice basis. Flexibility of use is one of the key benefits.
You can sell your membership at any time if you so desire. It is treated like any other type of real estate investment. Best of all, your ownership is carefree; the club handles all upkeep and maintenance of the Owner Lodges.
Sophisticated buyers have enthusiastically embraced this real estate concept in desirable locations ranging from Manhattan, New York to Aspen and Vail, Colorado to various beachfront and island resorts.
Representing a new way to enjoy second-home ownership, residence clubs feature highly desirable locations, luxurious residences, lavish services and five-star amenities with none of the hassles of conventional ownership.
Pricing & Availability
At Calistoga Ranch, there will be 27 Owner Lodges in all with a maximum of 10 memberships each for a total of 270 memberships. There are currently six Owner Lodges built, another nine under construction, and twelve that will be built in the future.
Calistoga Ranch only sells memberships as the homes are built. Therefore, available now are memberships in the First Offering. A total of only eight remain! They have been selling with lightning speed. The developer expects these eight memberships to be gone within the next 30 days, considering the rapid pace of sales thus far. After these eight are sold, no new memberships will be available until the next phase of Owner Lodges has been built.
The current price for membership is $425,000 with annual fees at $10,109 per year. Prices for the Second Offering are expected to be in the $450,000 range. Projected prices at sell-out will be approximately $500,000. Demand for this product is high and should bode well for resale and overall appreciation.
As an additional perk for Condo Hotel Center clients, the developer is offering an incentive on the last eight memberships in this First Offering. Buyers will receive a $10,000 credit good for any of the amenities at the resort, spa and restaurant. To qualify for the credit, the contract must be closed by Dec. 31, 2005.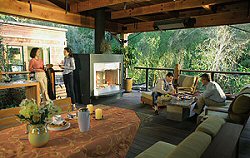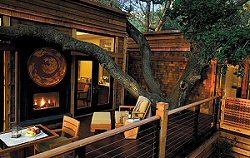 The resort is also offering a 100% refundable deposit policy. Therefore, a $10,000 deposit will hold your unit for 45 days if you want to come view the property.
Data Sheet on Calistoga Ranch Available
Having been in the restaurant business for so many years, the idea of a "wine resort" is incredibly appealing to me personally and I know it will be a once-in-a-lifetime opportunity to my fellow wine aficionados (and those who have always wanted to know more about wine).
Furthermore, the luxury of a multi-million dollar home with none of the second-home maintenance issues, inclusive of five-star services and amenities, total flexibility of scheduling, appreciation potential and the chance to pursue your physical and intellectual interests all combined make this an incredible vacation home opportunity.
I've put together a very detailed data sheet on this property. It has LOTS of additional information. (I really did my homework on this one!)
To receive it, in accordance with the developer's requirements, we ask that you provide your name and contact information. Please understand that if you request this data sheet, you will be registered with Calistoga Ranch as a client of Condo Hotel Center, a licensed real estate broker.
Request the Calistoga Ranch Data Sheet here.
WRAP-UP
This is my first fractional offering. In the coming months, I hope to bring you many more opportunities to buy into this lifestyle product — the private residence club. It's exhilarating for me to be at the forefront of such an exciting trend in luxury vacation ownership, and I look foward to sharing with you the information I gather on new properties.
Most of these resorts are exclusive, small and intimate. Often they are sold out before most people learn that they even exist. It is my objective to make sure that the clients of Condo Hotel Center are among the first to hear about these investments.
Thank you for welcoming me to Condo Hotel Center.
Joel Greene
Licensed Real Estate Broker
Condo Hotel Center
1368 NW 165th Ave.
Pembroke Pines, FL 33028
(954) 450-1929
Joel@CondoHotelCenter.com
www.CondoHotelCenter.com
www.CondoHotelsDubai.com
www.WorldClassCondoHotels.com
www.CondoHotelsBahamas.com 
www.CentralAmericaSecondHomes.com
www.DominicanRepublicVacationHomes.com
Want to know more about me? Click below:
//www.condohotelcenter.com/joel-greene.html
Follow us on Facebook.