Just Released, New Dubai Condo Hotel
Burjside Terrace in the Downtown Burj Dubai District
July 8, 2008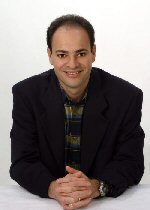 Joel Greene here from Condo Hotel Center. I know you like to be kept apprised of new property releases in Dubai.
This morning, I received preliminary information on our first new property in the Business Bay (financial center) area of Dubai in two years. The location is in the Boulevard District in Downtown Burj Dubai, very close to the epic-sized Dubai Mall.
It is being developed by Damac Properties, the largest private developer in the U.A.E. You may remember the name Damac Properties, as we have in the past promoted two of their Dubai condominium projects, the Lincoln Park at Dubailand and the very luxurious Damac Heights located at the Dubai Marina.
Damac's newest project, however, is not a condominium like these others. It is something new for this award-winning, luxury lifestyle developer: a five-star quality, serviced apartment building with on-site property management, or what we typically refer to here as a condo hotel.
Luxurious Accommodations at Burjside Terrace Burjside Terrace will be an upscale serviced apartment building in the Burj Dubai District. It will have 57 floors of retail and residential units on top of four floors of parking and a magnificent lobby.
Burjside Terrace will allow you to live there all year round or, if you like, place your apartment into the rental program and receive a very healthy share of the rent revenue.
While I'm still expecting more details about the building's services and more pictures of the interior of the apartments soon after the launch, I wanted to get this out to you now while you can take advantage of some early buying opportunities.
Besides, take one look at this architectural beauty, and you'll see why buyer demand could be overwhelming. Who wouldn't want to call this address home!
Building Features As a five-star quality property, Burjside Terrace will offer a full complement of amenities including:
• Temperature-controlled swimming pools with a dazzling view of landscaped roof garden & Burj Dubai District
• Premium fully-equipped health club, gymnasium &, sauna
• Outdoor jogging track
• Elevated juice bar/restaurant, coffee lounge
• Children's game room and outdoor play area
• Indoor game area/activity center
• Multi-purpose function hall
Get in Early Damac Properties is only releasing the individual apartments on the 9th and 10th floors and half and full floors on the 11th through the 15th floors at this time.
The official launch of this project is Wednesday, July 9, 2008 but discounted prices are offered for those who are prepared to act quickly. Between now and Friday, July 11, 2008 the following discounts are available to Condo Hotel Center customers:
• Full Floor: 12% Off List Price
• Half Floor: 10% Off List Price
• Individual Unit: 5% Off List Price
Additionally, if you buy before July 11, 2008, you will have special permitted usage of all of the building's elevators. After the 11th, owners and their guests can only use the stairs. (OK, I'm kidding, but that would make for one extraordinary incentive to buy now, huh?)
Seriously, we are collecting Expression of Interest forms with a refundable deposit as below:
• Full Floor: AED 500,000, approximately $136,240
• Half Floor: AED 300,000, approximately $81,744
• Single Unit: AED 50,000, approximately $13,624
A First-Class Property With 460 apartments in total, each individual floor of Burjside Terrace will contain five studio units, two one-bedroom units, one two-bedroom unit, and one three-bedroom unit. All units are sold fully furnished to a five-star quality.
The apartments range in size from 448 square feet for a studio unit to 1,815 square feet for a large three-bedroom unit. They range in price from approximately $671,389 to $2,630,000.
Interested in Reserving an Apartment? There will be an official launch party for Burjside Terrace in the Jumeirah Beach Hotel in Dubai at 8 p.m. on July 9, 2008, but if you cannot be present, as would apply to most foreign investors, you can still make your purchase. I can provide you the Expression of Interest Form now that can be completed and submitted to the developer by e-mail or fax.
Of course, I may be jumping the gun a bit. If you have an interest in learning more about this project, I suggest that you request our data sheet. It will summarize all the details currently available on this property.
Request the Burjside Terrace data sheet here.
Invest in Dynamic Dubai If you've wanted to invest in Dubai real estate for a while but were waiting for a chance to get in early on a project, when prices are lowest and unit selection is greatest, Burjside Terrace may be for you. It will be a top-notch, luxury property with a professionally managed rental program, making it the right kind of opportunity for international investors.
As always, thank you for your interest in the Dubai properties we showcase at Condo Hotel Center. Have a great day!
Joel Greene
Licensed Real Estate Broker
Condo Hotel Center
1368 NW 165th Ave.
Pembroke Pines, FL 33028
(954) 450-1929
Joel@CondoHotelCenter.com
www.CondoHotelCenter.com
www.CondoHotelsDubai.com
www.WorldClassCondoHotels.com
www.CondoHotelsBahamas.com
www.CentralAmericaSecondHomes.com
www.DominicanRepublicVacationHomes.com
Want to know more about me? Click below: //www.condohotelcenter.com/joel-greene.html
* Copyright infringement is taken seriously by Condo Hotel Center and will be prosecuted. © Copyright 2010 Condo Hotel Center