Five-star Condo Hotel in Dubai
Under $200,000
The Bridge at Dubai Sports City – Just Released!
May 8, 2007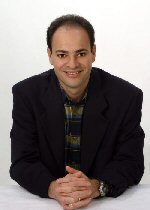 Hello, Joel Greene here from Condo Hotel Center. I just recently attended the annual Condo Hotel Symposium held in Orlando for developers.
Since part of my mission in writing these Property Alerts is to give you information on the latest condo hotel trends and industry forecasts, I thought, before telling you about this week's featured property, I'd take a moment to highlight the top 10 key points made by the speakers.
1. Well-run condo hotels embrace the individual unit owners as partners, providing them with the right amenities and services, communicating with them, and treating them fairly when it comes to revenue splits and expenses.
2. Condo hotels differ from traditional condominium complexes by offering a "resort feel." They've got an excitement and an energy that, combined with superior amenities and services, give them that vacation atmosphere.
3. Condo hotels offer a vacation lifestyle, a hassle-free, upscale alternative to traditional second homes and should not be sold as investments.
4. More condo hotels are developing unique selling propositions to help them stand out from the competition, such as championship golf courses, indoor water parks, private beaches, casinos or marinas.
5. Expect to see more mixed-use developments in the future. These hybrid properties offer some combination of condo hotel units, traditional condos, commercial space, retail space, and entertainment venues to provide an all-inclusive, enticing package to owners and visitors.
6. Leasebacks are becoming more common as a buyer incentive. The developer commits to pay the unit owner a set rental fee for the first year or two of operation. Presumably, after that point, the hotel will be established and able to achieve occupancy levels to generate adequate revenue for unit owners.
7. Buyer demand for condo hotels in 2007 is less than it was in 2006 and 2005, which is consistent with the rest of the real estate market in the U.S. However, hospitality experts view this as a small blip in this maturing product cycle, with expectations that demand will surge again as real estate in general rebounds, as the 70 million plus baby boomers near retirement and begin searching for second homes, and investors look for alternatives to the stock market.
8. Condo hotels are gaining popularity among foreign consumers. These buyers want to own U.S., Central American or Caribbean real estate, use it once or twice a year and not be concerned with the potential problems (renters, maintenance, etc.) that often come with owning traditional vacation home. Plus, thanks to the weak dollar, property prices seem "cheap" to them when compared to home.
9. In the U.S., Florida and Las Vegas will continue to lead in condo hotel development. Soon to begin experiencing condo hotel growth will be the West Coast of the United States (California) and the Eastern Seaboard. On an international scale, the next big push is going to be in Central America, specifically Mexico, Costa Rica and Panama, and the Caribbean including the Bahamas, the Dominican Republic, and other small island nations.
10. For buyers interested primarily in condo hotels for real estate investment as opposed to vacation homes, the hottest market in the world is Dubai, UAE.
It's point #10 that brings me to today's featured condo hotel, The Bridge in Dubai Sports City. If you've been waiting for the right opportunity to jump in and participate in Dubai's astonishing growth, this could be it: a five-star property, centrally located, first-release pricing and specially discounted units for Condo Hotel Center buyers. Sound good? Then read on for the details.
The Bridge at Dubai Sports City
The Bridge will be an eye-catching five-star, world-class condo hotel. At 28 stories tall, it will offer stunning views of Dubai Sports City, especially its lovely canals and its immense main stadium (you'll have a bird's eye view of all the action). More on Dubai Sports City in a minute.
The Bridge will be a mix of condo hotel units, luxury residential apartments, and flexible commercial units. It will comprise two back-to-back curved buildings joined by a central shaft and finished in shimmering blue tones. Inside, the lobby and main reception area will be clad in granite and marble, with common areas on upper floors featuring beautiful, high-quality finishes.
Five-star Amenities
The Bridge will be a state-of-the-art designed building developed by The First Group, a UK company. It will have all the features and services that you'd expect from a five-star luxury development such as:
Full-service spa
Children's pool area
Temperature controlled rooftop "sky pool"
Fully-equipped health club and gym
Restaurants
Retail stores
Beautiful fixtures and fittings throughout
Wireless internet throughout
24-hour concierge services
Valet parking
Quality Features in Each Unit
The condo hotel units will be accessed via their own private VIP entrance. They'll have their own balconies. They'll be fully furnished with high-quality, modern furniture and finishes, floor-to-ceiling glass for panoramic views, and the latest electronics like plasma TV's.
Owners of The Bridge will place their condo hotel unit in a managed rental program and share in the revenue it generates. They may also choose to use their unit up to 30 days per year.
A Developer with an Excellent Track Record
The Bridge's developer is The First Group, a British real estate company with more than 20 years in successful residential, commercial and resort development. The firm has specialized in overseas investment property in emerging markets including Cyprus, Hungary, Eastern Europe, Asia, the Far East and Spain.
The Bridge is actually The First Group's second development in Dubai Sports City. The first, The Diamond condo hotel (pictured right), was released about six months ago and is now sold out. Early purchasers have already seen more than 25% appreciation.
The First Group now has a permanent base in Dubai where it is concentrating on high-quality investment property in Dubai and the Northern Emirates.
Mixed-Use Building
The Bridge will be more than a condo hotel. It will be a mixed-use development combining a variety of offerings. Here is the floor breakdown:
Floors 1-5: commercial space condos (for sale to investors)
Floors 6-11: commercial rental space
Floors 12-23: condo hotel units
Floors 24-27: signature residential apartments, not eligible for the rental program
Floor 28: health club, roof-top swimming pool, gym and spa
Groundbreaking and excavation work for The Bridge is expected to start in August 2007. The development will be complete by mid-2009.
Specially Priced Units for Condo Hotel Center Clients
Probably the best thing about luxury condo hotels in Dubai is the prices. They're three to four times lower than what you'd pay for a comparable condo hotel unit in the U.S.
At The Bridge, you'll have a choice of executive studios, one-bedroom and two-bedroom suites. The units range in size from 527 square feet to 1,027 square feet. The price range being quoted to the general public is $180,941 to $382,756.
However, because of Condo Hotel Center's relationship with the developers, we've been able to negotiate to have 11 specially selected, lesser priced units, reserved exclusively for Condo Hotel Center clients until midnight on May 18, 2007.
A few of these units start at $169,633-$177,432. That's an $11,308 savings off the least expensive units currently being offered to the general public! There are significant savings on the larger units as well. These specially-priced units are available on a first come, first served basis.
Alternative Ownership Option at The Bridge
If owning a condo hotel unit at The Bridge doesn't float your boat, and you are strictly interested in an investment in Dubai, there is another alternative.
Known as a SOLO© (Serviced Office Leaseback Opportunity), individual buyers can purchase office space in The Bridge. Like a condo hotel unit, the office space will be part of the managed rental program.
This unique concept, coupled with the insatiable demand for commercial office space in Dubai, offers a unique investment opportunity in commercial real estate. With current office occupancy levels standing at 100% across Dubai, commercial space is at a premium and demand will further increase due to the massive anticipated growth in the region. The SOLO program offers investors the potential of substantial capital growth and a sustainable rising income stream.
More Facts and Figures on The Bridge
Want to learn more about The Bridge? We've prepared a very detailed data sheet that will give you the facts you need to make an informed decision on whether this condo hotel or SOLO program is right for you. To receive it, you'll need to provide your name and address in accordance with the developer's requirements.
Request The Bridge data sheet here.
Then, read on to learn more about exciting Dubai and what makes investing in this emerging emirate so appealing.
Why Dubai
Dubai, probably more than any other destination, represents a country with an unlimited capacity for growth. It's like the government there – and the ruling family – has decided that nothing succeeds like excess.
It also represents a unique transformation in the Persian Gulf, an oil-rich location whose rulers are thinking ahead to a time when its economy can no longer be fueled by its oil reserves. Their vision is to invest in travel and tourism. And that vision is coming to life with unbelievable speed.
Dubai is the fastest growing city in the world. For the past three years its economy's growth rate has exceeded 16%, beating that of China at 8%, acknowledged to be one of the fastest growing economies in the world. There are more heavy building cranes in Dubai than anywhere else in the world.
Just about every foreign airline already flies to Dubai, where the expatriate community is also growing, almost exponentially. This is truly a global city with 180 different nations represented here.
Some would describe the place as Las Vegas without the casinos, and they might just be right. Hotels are architectural icons, and there are huge luxury residential developments, most of which are sold out before "sand" is broken.
Dubai has the world's only seven-star hotel, the Burj Al-Arab, which also boasts the world's tallest atrium. Rooms run $2,000 to $16,000 per night but come with special touches like a 16 page "pillow menu." The hotel is usually booked solid months in advance.
Want to go snow skiing in the desert? No problem. The world's largest indoor ski resort is located in the world's second largest shopping mall.
Currently under construction is the Burj Dubai, which will be the world's largest tower. It will be over 160 stores high, but the exact height is a secret because the developers don't want competitors to one-up them.
Even the country's airline, Emirates, is part of the over-the-top approach to everything. Its first-class, non-stop service from New York's JFK Airport provides passengers with extra-wide seats inside their own louvered-door pods. Each passenger gets his own large flat screen TV with 500 channels of on-demand programming and a personal mini-bar. And, when passengers want to eat, they just pick up their phone and call "room service."
The audacity of the city's rulers is breathtaking. Running out of coastline to build luxury homes? Construct vast artificial islands with 90 square miles of new beachfront.
The Palm Islands are the world's three largest man-made islands, which are being built on the coast of Dubai. Built in the shape of date palm trees, the islands will support more than 60 luxury hotels, 4,000 exclusive residential villas, 1,000 unique water homes, 5,000 shoreline apartments, marinas, water theme parks, restaurants, shopping malls, sports facilities, health spas, cinemas and various dive sites.
The World is yet another example of Dubai creativity. It is a collection of 300 man-made islands shaped into the continents of the world, located off the coast of Dubai. It too will offer private homes, luxury resorts and community islands. Already Rod Stewart, David Beckham and Pamela Anderson are said to be building homes there. Tiger Woods has reserved his lot too, and he has signed a deal to design his first golf course nearby.
Dubai, World-Class Tourist Destination
Dubai lies on the south-eastern shore of the Persian Gulf near the strait of Hormuz, strategically located at the cross roads of Europe, Africa, the Middle East and Asia, making it a gateway to over 1.5 billion consumers.
Over the past decade, the number of visitors to Dubai has grown from 1.08 million to 5.4 million, representing an annual growth of 16%. This growth rate is more than triple the world tourism growth rate over the same period. In fact, the last five years alone witnessed a 54% growth in the numbers of tourists visiting Dubai.
Forecasting 200,000 visitors a day, Dubai is being designed to attract and accommodate 15 million visitors a year from 2010 onwards.
Dubailand, Disney on Steroids
Much of the growth of Dubai has been centered on a "city" called Dubailand. What is Dubailand? Disney World on steroids in the desert!
By any name, though, it's a doozie of a development: a master-planned, full-featured city for tourism, entertainment and leisure. It is being built to secure Dubai as a premier travel destination for the entire world!
Spanning 107 square miles, the venture is expected to cost $20 billion. It will include 45 mega projects and 200 sub projects. It will be more than twice the size of all of the Disneyland/Disney World resorts put together, currently the largest collection of theme parks and attractions in the world.
And the plans for Dubailand keep expanding. Just last week, U.S.-based Universal Studios announced it would develop its own theme park within Dubailand at a cost of $2.2 billion.
The first of four phases comprising the development of Dubailand will be completed in early 2008. Completion of the final phases will extend to 2020.
Dubai Sports City
The various projects being built in Dubailand have been categorized into six immense themed zones, each of which focuses on a different aspect of the Dubailand experience. The zones, referred to as "worlds," include:
Attractions and Entertainment World
Leisure and Vacation World
Retail and Entertainment World
Downtown
Eco-tourism World
Sports and Outdoor World
Now stay with me here. Let's talk just about Sports and Outdoor World. Here's what this World will include:
Dubai Autodrome (already built)
Extreme Sports World
Golf World
The Plantation Equestrian & Polo Club
Dubai Sports City
It is in Dubai Sports City, a $1.9 billion development, that The Bridge condo hotel will be located. Dubai Sports City is under construction and should be complete in 2011. It will contain a combination of sports, lifestyle, leisure and entertainment developments. Permit me to give you a few more stats on Dubai Sports City.
Designed to attract professional athletes and world-class athletic competitions, it will encompass the following venues:
Stadiums – Various stadiums for international sports and mega-events. A dedicated cricket stadium, capacity 30,000 spectators; an outdoor multipurpose stadium for football and rugby, capacity 60,000 spectators; an indoor multi-purpose stadium for basketball and volleyball, capacity 10,000 spectators; and a dedicated hockey stadium, capacity 10,000 spectators.
Sports Academies – The Manchester United Soccer Schools, Butch Harmon School of Golf, David Lloyd (Leisure, Spa, and Tennis Academies), and the International Global Cricket Academy.
Training Facilities – Multi-sport training facilities including gymnasiums, Olympic pools, and a state-of-the-art sports rehabilitation center.
Golf Course – 18-hole Ernie Els golf course being designed in association with Nicklaus Design.
Residences – Various residential communities and high-rise buildings offering spectacular views of the surrounding golf course, stadiums and canals.
Commercial – The biggest brands, franchises and contemporary icons from the business, hospitality, entertainment and sports training worlds will all be represented in Dubai Sports City.
Let me summarize. Dubai Sports City is the centerpiece of Sports and Outdoor World, one of the six main Worlds in Dubailand, the world-class tourist destination in the exciting emirate, Dubai. And The Bridge condo hotel will be located in the heart of it all!
Pretty amazing stuff, wouldn't you say? And The Bridge at Dubai Sports City offers an opportunity to be a part of this dynamic region's growth and excitement.
If you've ever thought to yourself, "Gee, if only I'd bought property in Orlando when Disney World was just being built…" well, this is that same kind of exceptional opportunity!
Again, if you want to learn more about The Bridge, we've prepared a detailed data sheet that will give you the facts you need to make an informed decision on whether this condo hotel is right for you.
Request The Bridge data sheet here.
Wrap Up
I hope you enjoyed learning about The Bridge at Dubai Sports City and Dubai itself, destined to become not only the financial center of the Middle East but also the newest, most opulent resort destination in the world.
If you know anyone else who might be interested in participating in the emerging growth of Dubai via a condo hotel purchase, I encourage you to pass along this Property Alert to them. The Bridge offers a unique opportunity to purchase a first-release condo hotel at first-tier pricing. They can also subscribe here to begin receiving future Property Alerts.
As always, we thank you for making Condo Hotel Center your information source for condo hotel news from around the U.S. and the world.
Joel Greene
Licensed Real Estate Broker
Condo Hotel Center
1368 NW 165th Ave.
Pembroke Pines, FL  33028
(954) 450-1929
Joel@CondoHotelCenter.com
www.CondoHotelCenter.com
www.CondoHotelsDubai.com
www.WorldClassCondoHotels.com
www.CondoHotelsBahamas.com
www.CentralAmericaSecondHomes.com
www.DominicanRepublicVacationHomes.com
Want to know more about me? Click below:
//www.condohotelcenter.com/joel-greene.html
* Copyright infringement is taken seriously by Condo Hotel Center and will be prosecuted.
© Copyright 2010 Condo Hotel Center. *All rights reserved. No portion of this Property Alert may be reproduced, exhibited or distributed without the express written permission of Condo Hotel Center. Although Condo Hotel Center believes the information contained in this Property Alert to be accurate and complete, Condo Hotel Center can make no such guarantee.