The Blue Resort Hotel Condominium at Doral, Miami, Florida
Golfer's Dream: Pre-construction Opportunity
January 30, 2006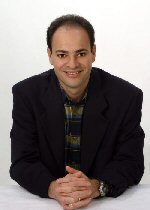 We were all kids once with dreams of shooting the buzzer beater from half-court, diving for the touchdown pass to win the Super Bowl as time ran off the clock, or hitting a grand slam in the World Series in the bottom of the ninth to win it all.
My favorite sports dream went something like this. (Insert dreamlike music here. Go on, play along.)
Updated: January 30, 2006, 10:45 AM ET
Associated Press
Tiger Outduels Joel for Doral, No. 1 Titles
MIAMI, FL– Tiger Woods Returned to No. 1 in the World Sunday. Joel Greene Made Him Earn It.
Greene lipped out his chip on 18 that would have forced a playoff.
In a titanic battle on the Blue Monster before a sellout crowd, Woods made a 30-foot birdie putt on the 17th, then held his breath as the resilient Greene nearly chipped in for birdie on the final hole. After four hours of dramatic shifts in momentum and thunderous cheers, Woods ended a spectacular duel with a 6-foot par putt.
That gave him a 6-under 66 for a one-shot victory in the Ford Championship at Doral, putting Woods back at No. 1 in the world ranking for the first time since September.
"What a day," Woods said in utter relief. "If you're not nervous on a day like this, you're not alive. I played the best game of my life, and I just couldn't shake Joel Greene of Condo Hotel Center. I knew he was a super realtor, but WOW, that old man can golf!"
Okay, so maybe Tiger wouldn't have given Condo Hotel Center that shameless plug, and maybe it was Phil Mickelson who really had this "titanic battle," but the bottom line is this: what the New York Yankees are to the World Series and what Vince Lombardi is to the Super Bowl, the Doral's Blue Monster in Miami is to golf.
Why all the talk about this legendary golf course? Because now you can buy your very own vacation home adjacent to Doral's Blue Monster.
In spring 2006, construction will begin on a 240-room, hotel condo, The Blue at Doral. It will include 15 three-story buildings on 17.65 acres, on land that is adjacent to the 12th and 13th fairways of the famed Blue Course. This is a once-in-a-lifetime opportunity to own a home at one of the most famous golf and spa resorts in the world.
A Hotel Condo Resort for Golfers
Just as Pebble Beach brings to mind the best of what California golf has to offer, the storied Blue Monster at Miami's Doral Golf Resort & Spa is surely Florida's crown jewel and the Rolls Royce of courses.
Now you can own a spectacular residence situated directly on this most famous of courses and enjoy the best of urban, tropical resort, and country club pursuits.
Plenty of Amenities & Services
This place will have it all! When you're not out on the links, you'll be able to enjoy the comforts of a luxurious clubhouse. The proposed amenities include:
Spa
Health Club/Gym
Upscale restaurant overlooking the golf course
Bar/lounge
Resort-style swimming pool with food and bar service
Private cabanas
Theater
Billiard room
Available Services:
24-hour room service
Concierge services
In-room chefs
In-room massages
Hotel Condo Residence Features
Every unit at The Blue at Doral will feature views of the golf course. You can expect four-star furnishings and finishings throughout with lots of special touches such as:
Balconies overlooking the golf course
Granite countertops
42″ LCD plasma screen TV
Marble baths
Stainless steel appliances
Microwave, refrigerator, stovetop
High-speed Internet access
In-room fax/copy machine
Owners' private storage
Safety deposit box
Entertainment system with DVD/CD and video games
It's the Golf That Sets This Hotel Condominium Apart
Home of the Ford Championship at Doral, the Blue Monster has hosted the prestigious PGA Tour event for the past 40 years. In fact, virtually every great name in golf has had a moment of glorious personal triumph on this world-class track. And because the PGA Tour's annual stop at Doral Golf Resort will join the World Golf Championship series in 2007, that puts it behind only the majors and The Players Championship in the game's hierarchy.
It also means an annual dose of my "good buddy" Tiger Woods as well as Vijay Singh, Phil Mickelson, Ernie Els, Retief Goosen and Sergio Garcia.
Originally designed by Dick Wilson, and later restored by Raymond Floyd, golfers won't find a more challenging or spectacular golf course. At 7,125 yards from the tournament tees, and with a series of strategically placed bunkers, both length and finesse are needed to score well on this historic course. The Blue Monster features long fairways, undulating green, a deep Bermuda rough and a unique assortment of water hazards. The famous 18th hole, with its signature fountain, was ranked by GOLF Magazine as one of the Top 100 Holes in the World.
And More Golf
The Blue Monster may be the most famous of the Doral's golf courses, but it certainly isn't the only one. This resort actually has five outstanding 18-hole courses. Playing these courses is considered to be the ultimate golfing experience. Since there are a variety of courses to choose from, every conceivable kind of challenge is available.
Great White Course – Designed by Greg Norman, the 148-acre Great White Course has a desert-style layout that blends strategically demanding fairways, tightly packed coquina sand, thousands of palm trees and 222 Scottish-style pot bunkers. Water is a factor on 14 of its 18 holes. (See picture right.)
Red Course – This 6,146 yard course is tailor made for women and hosts the Office Depot, an LPGA event. Designed by Robert von Hagge, it forces golfers to use strategy and shot placement rather than driving for show. Featuring 14 water holes with fairways winding around serene lakes, the course provides breathtaking beauty and exhilarating challenges without intimidating length.
Silver Course – Originally designed by Bruce Devlin and Robert Von Hagge, it was more recently redesigned by golf legend Jerry Pate to include narrow, rolling fairways, raised tee-boxes, and elevated greens. Water comes into play on 16 holes, which include a diverse mix of long and short, par 3 and par 4 layouts. The course also features a signature 14th hole island green.
Gold Course – Raymond Floyd recently redesigned the Gold Course to follow a traditional Florida layout, incorporating gently contoured greens, strategic bunkering and water surrounding 16 holes. The course features narrow, tree-lined fairways and finishes with a dramatic par 4 island green on the 18th hole.
The Resort Offers More Than Golf
When you buy at The Blue, you'll have the opportunity to receive a Blue View Sport Membership at The Doral Golf Resort and Spa, one of the premier vacation destinations in the United States.
Situated on an impressive 650 tropical acres in Miami, it has much more than just five championship golf courses.
It has the acclaimed Jim McLean Golf School, which uses video and swing computers to analyze and improve technique, and the famed Arthur Ashe Tennis Center with four hard courts and seven clay courts.
Yes, the Doral is best known as a golfer's paradise, but it is also famous for its 148,000 sq. ft. spa. Guests can choose from over 100 spa services including massage, hydro treatments, skin care, wraps and nutrition planning. The 1,200 sq. ft. fitness center has an indoor running track, indoor and outdoor pools, and daily fitness classes, from aerobics to Thai Chi.
The Blue Lagoon water park features three tiers of pools intertwined with a huge rock façade. A 125-foot long waterslide winds through this mountainous formation while a refreshing waterfall tumbles endlessly into one of the pools. Adults will appreciate the nearby hot tubs.
Kids love Camp Doral, where they can learn to play golf and tennis, go fishing or play in the pool all day. A full-court, outdoor basketball court, outdoor pool table and video game room are also available.
The Doral has nine retail stores on site, including the country's largest pro shop (4,400 square feet); the Greg Norman Collection, the Spa Boutique, the pro shop in the Arthur Ashe Tennis Center, the Silver course pro shop, the Doral Signature Shop, White Palms, The Bungalow Shop and S.J. Sterns.
Food is another resort specialty with five different restaurants to choose from. The Windows on the Green is a giant outdoor patio, overlooking the Blue Monster course. You can bet many a debt has been settled while calculating scorecards over a tropical drink and a burger.
With its big screen TVs, the Champions Sports Bar in the main clubhouse is a perfect spot to watch a game. The Atrium, located in the spa, features a healthy menu. The Terrazza Restaurant and Café is a cyber café, and the Bungalou's Bar & Grill in the Blue Lagoon pool complex complete Doral's dining options.
As you can see, this resort has something for everyone in the family.
Buyer Incentive
The owners of The Blue will have an opportunity to get a one-year "Blue View Sport Membership." This means, when in residence, you'll be able to enjoy all of the amenities of The Doral Golf Resort & Spa including:
Preferred pricing and golf privileges on all five championship courses
Three-day advance tee time reservations
Complimentary tennis privileges with seven day court reservations
Exclusive access to the Spa at Doral including complimentary use of the state-of-the-art fitness center and participation in all aerobic and specialty classes
Preferred pricing: 20% on food and beverages, 15% on spa services and retail purchases
Complimentary valet parking
Owner guests are eligible for preferred room rates at The Blue at Doral
Social events for adults and children
After the first year, owners who wish to continue their membership won't have to pay an initiation fee, just the monthly dues.
A Central Location
The complaint about many golf resorts, like Pebble Beach in California and Pinehurst in North Carolina, is that they are in the middle of nowhere. That's not the case with Doral. Doral is the model of convenience.
It's only five minutes from Miami International Airport, the Dolphin Mall and Miami International Mall.
It's just 20 minutes to downtown Miami and to one of the world's best beaches, South Beach, which is lined with snazzy restaurants, elegant shops, and a fantastic collection of clubs and bars. Doral truly has an amazingly central location considering its tremendous size.
Doral Welcomes Visitors from All Over the World
As I've said many times before, a condo hotel will only be successful if it would be successful as just a hotel. This one certainly has all of the essential elements.
Corporations from the U.S. and abroad often descend upon Doral for its golf, spa, entertainment and meeting space, all conveniently located side by side. The resort offers more than 100,000 sq. ft. of flexible conference rooms and two grand ballrooms. One of the ballrooms was built just this year and will be ideal for attracting large-scale affairs which will help fill hotel rooms.
Doral is also near the home offices of major companies such as Carnival Cruise Lines, Ryder, and Strategic Command as well as the campus of Florida International University, all of which bring thousands of visitors to the area for meetings and events.
Of course, it is the Doral's golf courses and the tournaments hosted at the resort that bring people from all over the world. Duffers sojourn from Germany, France, England, and as far away as Japan to toil on one of the property's five courses and soak up the omnipresent sunshine.
The History of the Doral
Doral was the vision of Doris and Alfred Kaskel, who combined parts of their first names to form the resort on what was considered useless swampland west of Miami, starting in 1959. It opened in 1962 with the Blue, Red and par-3 golf courses.
As the resort's popularity grew, thanks in part to the PGA event that began in 1962, the Kaskels added a tennis center in 1970, hiring tennis great Arthur Ashe as its director.
In 1987 the spa was added. And in 1993, over $30 million was invested in upgrades and redesigns on all five golf courses. Over the years, Doral has changed and expanded to keep up with the competitive world of golfing destinations. Because of its sheer size, Doral is one of a kind. The Kaskels had tremendous foresight to buy up the many acres of swampland that today are prime, centrally located Miami real estate.
There are no more beaches being built. The same holds true for golf courses in metropolitan areas. There will never be another Doral. It is 650 acres. You don't find this much available land near major cities like Miami. In fact the trend is to do away with some golf courses because they are costly to maintain and because the land has become so valuable.
While they can tear down buildings on the ocean in Miami Beach to make way for new properties, you could never assemble 650 acres and do another Doral.
Big Name Developer, Architect & Designer
The developer of The Blue is the Kaufman Organization which has built more than 30,000 residential units in southern Florida, selling out some two dozen prestigious developments throughout Miami-Dade and Broward Counties.
Fugleberg Koch Architects, Inc. of Maitland, Florida is The Blue's architect. Established in 1963, its hotel and resort work ranks among the national leaders. Typically, over $100 million in a variety of assignments are underway at any given time. It has completed $400 million in themed resorts for Walt Disney World alone.
The designer for The Blue is The Howard Design Group, a name synonymous with luxury hotels, resorts, and fine residential properties. Its projects include the Ritz Carlton and Grand Bay, Coconut Grove; the Hyatt in Coral Gables; and both Turnberry Isle and Williams Island in Miami.
Franchise Decision to Come
The Kaufman Organization is talking with one of the big names in the business, but a decision has not yet been reached, and will not be disclosed. As I've always said, the more information a developer can share with you during pre-construction sales, the more you will typically have to pay for your unit. In this case, securing your unit early, before a brand name is attached with this project, could save you a lot.
Relaxed Living Restrictions
Unlike many of Miami's other condo hotels which restrict use to 30 or 60 days per year, you can live in your Blue condo hotel unit for up to six continuous months. Become a snowbird. Spend the fall and winter months in Florida. Go back up north for the spring and summer and place your condo in the Blue's rental program while you're gone.
Construction Schedule, Unit Types & Prices
Construction on The Blue will begin spring 2006 and is expected to be complete in 2008. Available are studio, one-bedroom and three-bedroom units. Prices range from the upper $400's to $1.5 million.
To reserve a hotel condo unit at The Blue, a 10% deposit is due now at contract and an additional 10% deposit is due in spring 2006 at commencement of construction.
More Information Available
I've put together a data sheet to summarize the details of The Blue at Doral. In accordance with developer requirements, we ask that you provide your full name and contact information in order to receive it. By requesting this data sheet, you will be registered as a client of Condo Hotel Center's should you decide to purchase a unit.
Request The Blue at Doral data sheet here.
The Blue, Destined to Be a Monster Success
Of the five golf courses at Doral, The Blue Monster is the last one to offer a home ownership opportunity at this beautiful resort. Therefore, this is your final chance to buy a piece of this legendary fairway and lifestyle.
You may not have 35,000 people cheering you on when you make your final buying decisions, but if you're a (miniature) golfer like I am, this one sounds like a hole in one!
New Listings
Just a quick note before I sign off. We've added two new condo hotels listings to our website and also one traditional condominium property. The condominium is a deviation from our typical condo hotel listing, however, it is a Trump property in South Florida, and we know that many of you who wanted to buy into the Trump condo hotel in Ft. Lauderdale were shut out, so we decided to include this information. If any of these properties interest you, just click on the links below for more details:
Trump Hollywood – 40-story glass tower in Hollywood, FL . Prices start at $1.5 million.
Eight Rivers – Ski resort on Snowshoe Mountain, West Virginia. Prices start at $169,900.
Again, you can request our data sheet on The Blue at Doral here.
Make it a great week!
Joel Greene
Broker-Associate
Condo Hotel Center A Division of Sheldon Greene & Assoc., Inc.
Licensed Real Estate Broker
1368 NW 165th Ave.
Pembroke Pines, FL 33028
(954) 450-1929
Info@CondoHotelCenter.com
www.CondoHotelCenter.com
www.CondoHotelsDubai.com
www.WorldClassCondoHotels.com
www.CondoHotelsBahamas.com
www.CentralAmericaSecondHomes.com
www.DominicanRepublicVacationHomes.com
Want to know more about me? Click below: //www.condohotelcenter.com/joel-greene.html
© Copyright 2010 Condo Hotel Center.
*All rights reserved. No portion of this Property Alert may be reproduced, exhibited or distributed without the express written permission of Condo Hotel Center. Although Condo Hotel Center believes the information contained in this Property N Alert to be accurate and complete, Condo Hotel Center can make no such guarantee. Condo Hotel licensed real estate broker and is not the developer of The Blue Resort Hotel Condominium.