Blue World, A Cruise Ship & Condo Hotel All in One
Own Part of a Yacht and Cruise the World
January 31, 2020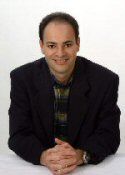 Hello. Joel Greene here from Condo Hotel Center.
If you've been reading my Property Alerts for a while, then you know my family and I love going on cruises. The onboard amenities, shows, food and interesting ports of call — all spectacular.
So when I heard about a cruise ship condo hotel, I was intrigued. Here's how it works. You purchase a residence aboard a luxury ship that continually travels the world. Live on board full-time or visit periodically throughout the year.
When you're not cruising, you can place your residence in the ship's rental program to generate revenue that offsets your costs of ownership. Everything is handled for you. It's a private yacht and hassle-free vacation home all in one!
Read on for details.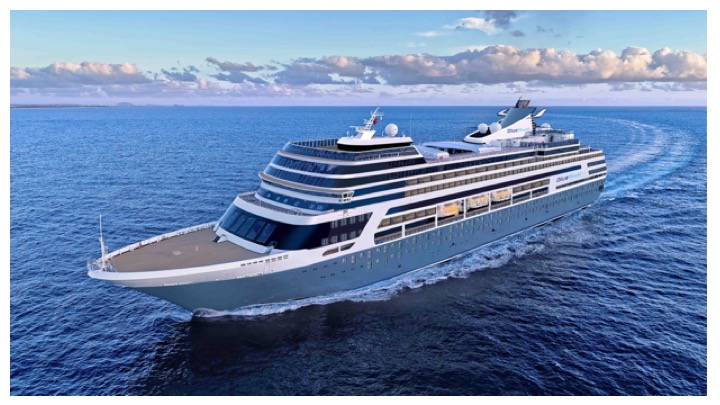 Smooth Sailing on the Blue World
Imagine owning a luxury vacation home aboard a private cruise ship. It's a home that takes you around the globe, allowing you to wake up to new scenery outside your private balcony every few days. That's what Blue World Voyages is offering.
The developer will convert an existing 900-passenger ship into a 350-cabin vessel, of which 40 are spacious residences sold to individual owners and 310 cabins are retained by the developer to be rented out to guests. Once it is refitted to its new capacity, it will be able to accommodate up to 100 owners and 425 cruise passengers.
Owners of Blue World will be able to use their floating vacation home whenever they'd like and place it in the rental program when they're not onboard. The revenue their residence generates will help offset the costs of ownership.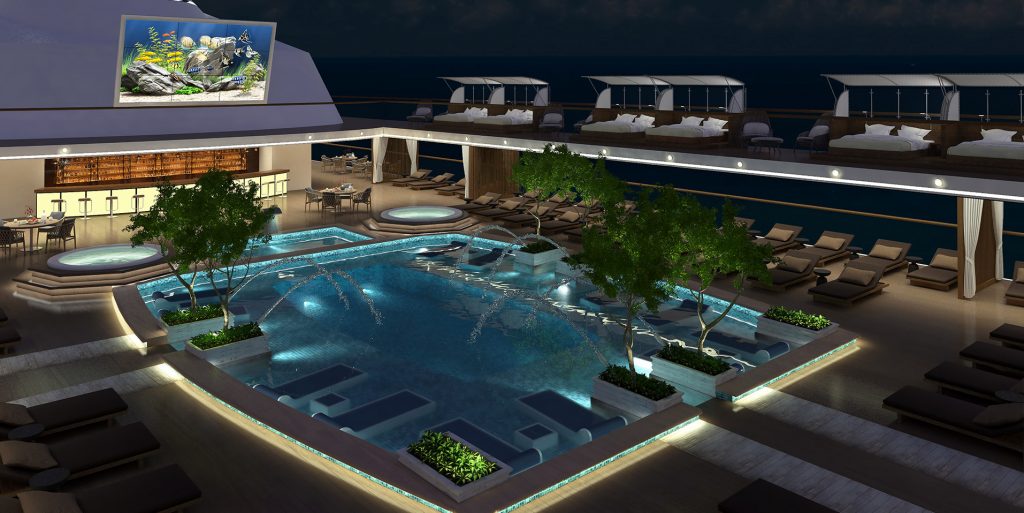 Blue World will travel continuously, stopping at various destinations in the Mediterranean, Europe, and South America.
The Onboard Experience
Blue World will be a floating resort with plenty of amenities. It will have 12 decks, with the top two decks reserved for the residents and their own open deck terrace, lounge, bar and concierge service.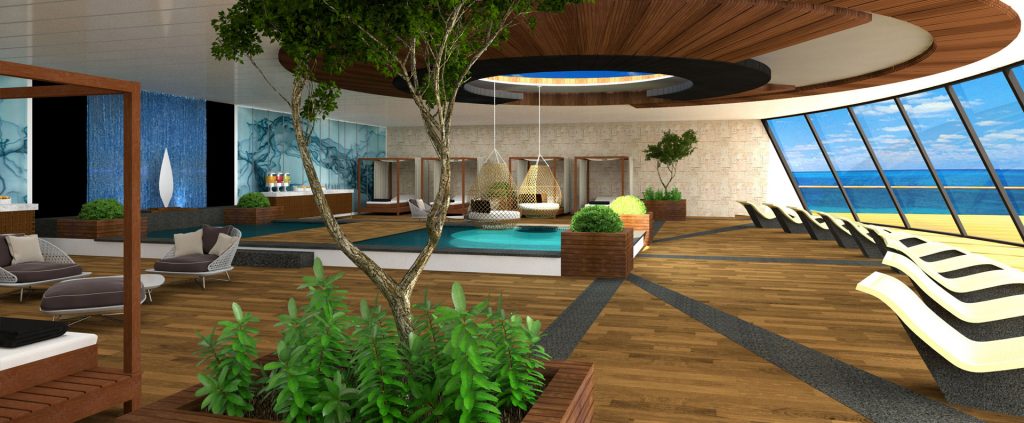 Other amenities that will be open to everyone will include:
4 signature restaurants
Wine- and food-pairing lounge and juice bar
Cooking demonstration kitchens
Functional training gym, fitness equipment, bike fitting station, batting cages and golf and soccer simulators
State-of-the-art yoga, fitness classes, spinning and TRX studios
Hank Haney onboard state-of-the-art golf school
Full-service spa and wellness facility
Sea-water lap pool complete with cabanas
Educational programs, cultural learning guest lectures
Onboard shows, events and evening entertainment
Casino (limited to tables)
High-speed Wi-Fi
Locally guided shore excursions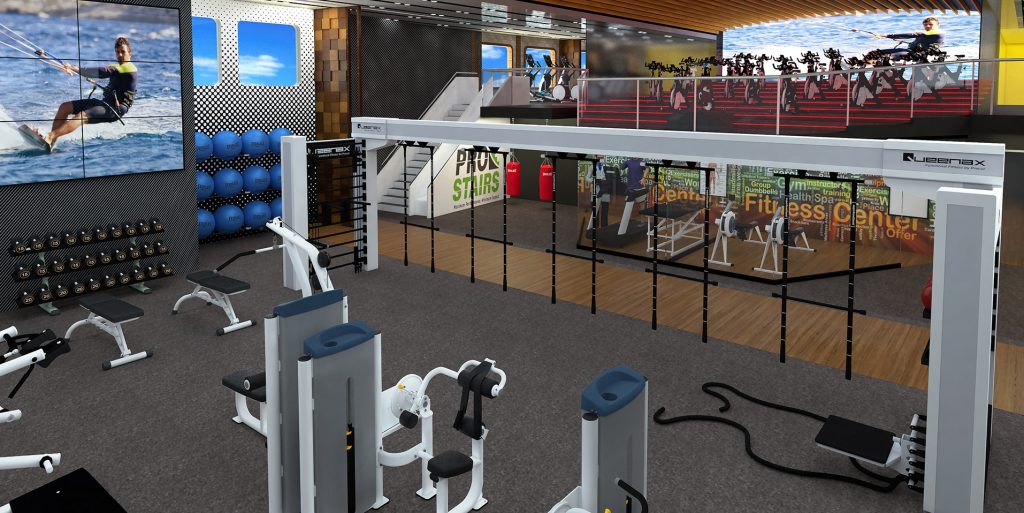 The onboard services are what you'd expect at any upscale hotel or resort:
Personal concierge services
Daily housekeeping
24-hour butler service
24-hour room service
24-hour medical staff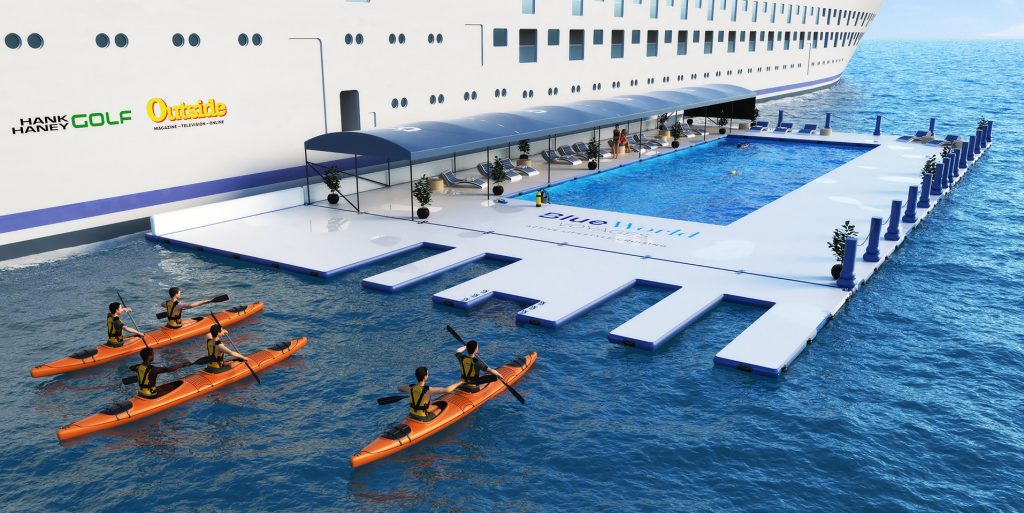 The Onboard Residences
Owners of Blue World will have their choice of two design styles: classical and contemporary. The residences are being professionally designed by Juan Poggi Design known for its fresh, creative approach and Tomas Tillberg Design International, one of the most respected names in maritime design.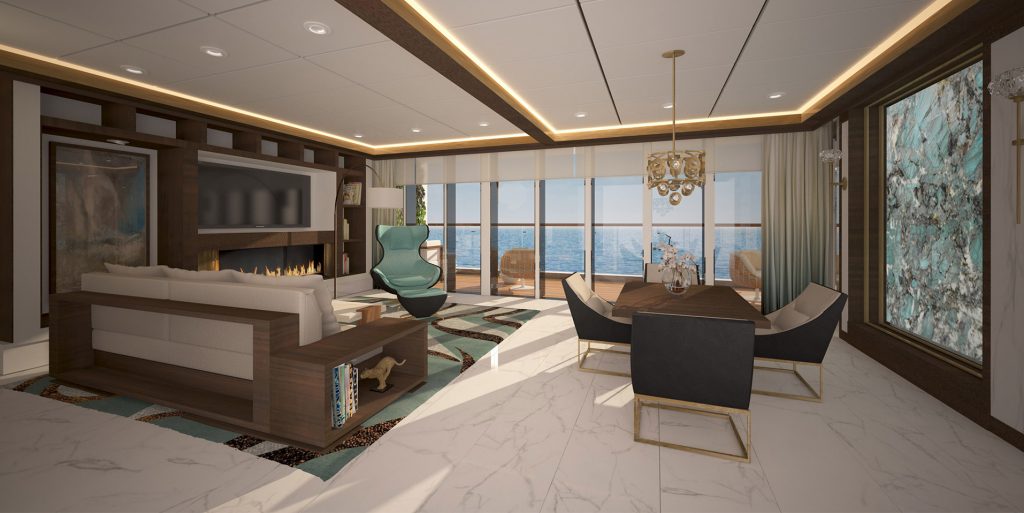 Blue World will have two types of residences:
1 bed/2 bath residences with balcony, 850 sq. ft. – From $2,350,000
2 bed/2.5 baths split-level, duplex residences with balcony, 1,200 sq. ft. – From $3,350,000
Construction on the ship is scheduled to begin mid-2020 and to be complete for its maiden voyage by fall 2021.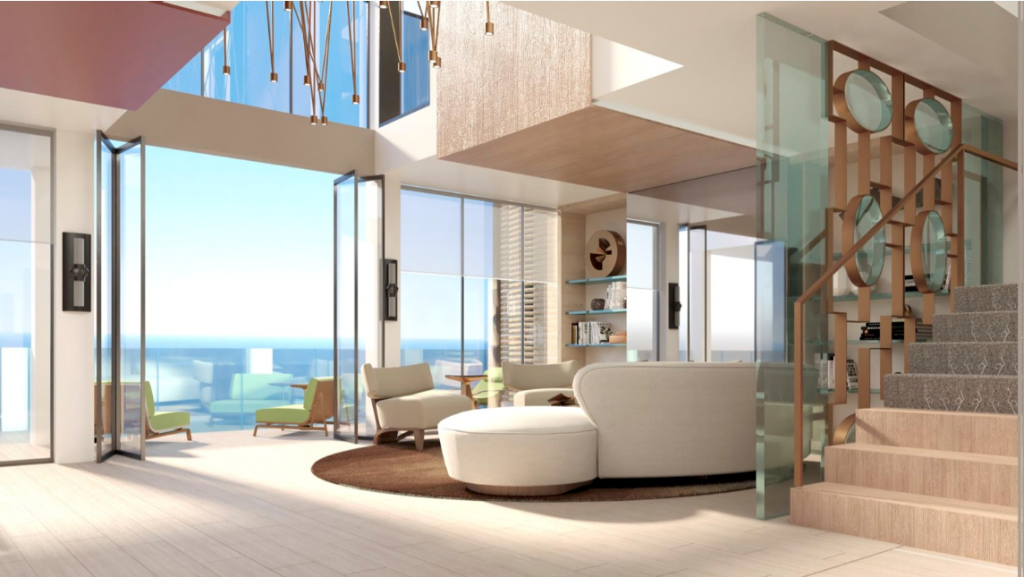 All residences will be delivered turnkey. All furniture, wall coverings, floor coverings, décor, silverware, linens, comforters, blankets, pillows and towels are included in the price of the residences. All you have to do is bring your toothbrush!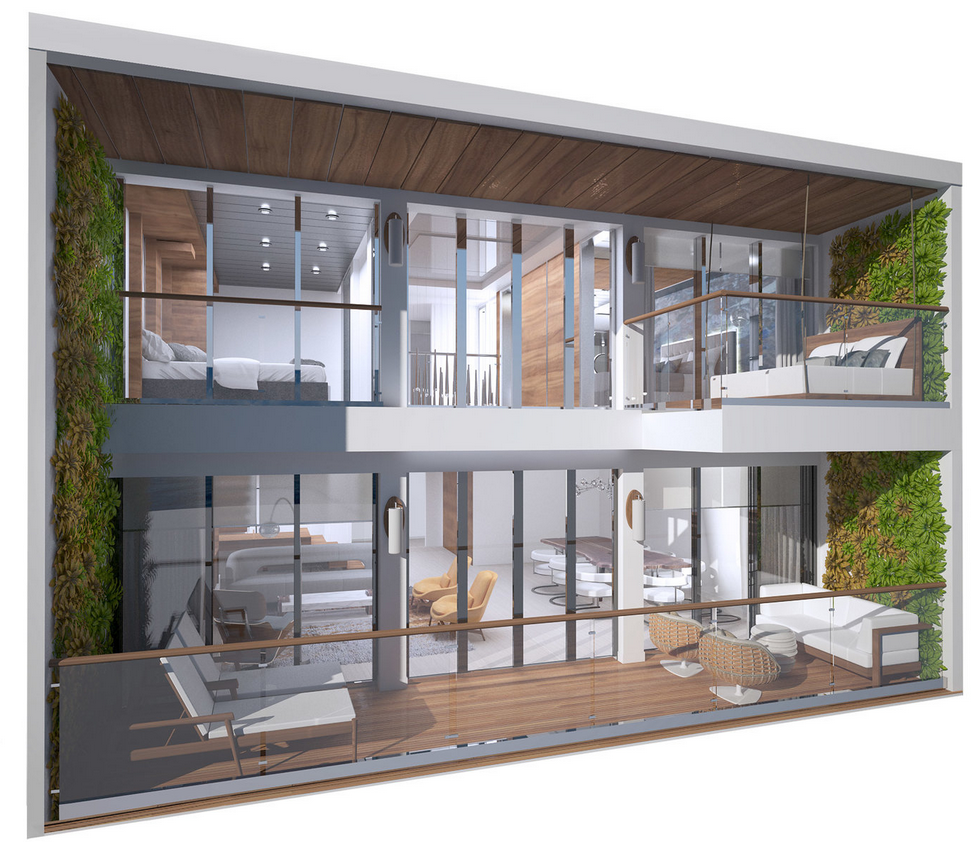 Want to know more? I've got plenty of additional details and photos in my data sheet, which you can request below.
Request the Blue World Voyages data sheet here.
Hassle-free Owner-ship
Living in South Florida, I've often toyed with the idea of getting a boat but knew I didn't have the time to properly maintain one. What's nice about Blue World Voyages is you get to own and enjoy a private ship without the hassle of caring for it.
Again, feel free to request the Blue World Voyages data sheet for more information. Or let me know what type of vacation home you're seeking, and I'll get back to you with some recommendations.
Have a nice day.
Joel Greene
Licensed Real Estate Broker
Condo Hotel Center
1368 NW 165th Ave.
Pembroke Pines, FL 33028
(954) 450-1929
Joel@CondoHotelCenter.com
www.CondoHotelCenter.com
Want to know more about me? Click below:
//www.condohotelcenter.com/joel-greene.html
© Condo Hotel Center. All rights reserved. No portion of this Property Alert newsletter may be reproduced, exhibited or distributed without the express written permission of Condo Hotel Center. Condo Hotel Center takes copyright infringement seriously. Violators will be prosecuted to the fullest extent of the law.
Although Condo Hotel Center believes the information contained in this Property Alert newsletter to be accurate and complete, Condo Hotel Center can make no such guarantee. All features and descriptions are subject to change.
Please speak with your personal legal and financial advisors to determine whether this property is suitable for your objectives.
If you'd rather not receive updates from Condo Hotel Center, simply click to unsubscribe.