Blue Hyatt Residences
Golfer's Delight in Doral, Florida
August 19, 2011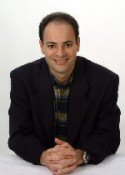 Joel Greene here from Condo Hotel Center.  Today's Property Alert is for golf lovers or anyone who's ever dreamed of a home overlooking the sprawling green fairways of a championship golf course.
The property I'm featuring is a condo hotel with not one, not two, but FIVE amazing golf courses.  It is located in the exclusive community of Doral, a suburb of Miami.
It's been on our radar for several years, but now the prices for these golf course residences have been adjusted to today's market levels, making them surprisingly affordable.  First, here's a little history on the property.  As with nearly all real estate for sale today, there's a back story.
Back in 2005, we at Condo Hotel Center were working with a prominent Miami developer who told us of his plans to build a four-star condo hotel along the fairway of The Blue Monster at Doral, one of the most prestigious golf courses in the country.  At the time, condo hotels were the hottest commodity in real estate.  So combining the condo hotel concept with the famed Blue Monster at Doral seemed like a hole in one.
My July 2005 notes from our original conversation said the developer was planning to build plantation-style homes directly on the Blue Monster 12th hole.  Prices were to range from the upper $400,000s to almost $1.5 million.
Considering that much smaller condo hotel suites on the ocean were already hitting the $600,000s and beyond, this sounded like a well priced and attractive condo hotel option.  Pre-construction sales began in 2006 and soon thereafter, prices soared like a John Daly tee shot and peaked as follows:
 2006 Prices
Studios, 700 sq. ft., $574,000-$595,000
1 bed/2 bath, 1,064 sq. ft., $760,000-$780,000
3 bed/4 bath, 2,000 sq. ft., $1,448,000-$1,488,000
Before construction was completed, the recession hit, the real estate market came to a halt and this developer, like so many others, ran into financial problems. He ultimately lost the property to the lender.
Once the lender took over and cleared the title, a rather lengthy process, they added the Hyatt franchise, hired new management, and began selling the individual suites a couple of months ago at market-adjusted prices.  That brings us current and the new prices are a good part of the reason why we are featuring this property.  Here are today's prices:
Current Prices
Studios, 704 sq. ft. + 137 sq. ft. Balcony, $155,000-$205,000
1 Bedroom/ 2 Baths, 1,083 sq. ft. + 140 sq. ft. Balcony, $245,000-$312,000
3 Bedrooms/4 Baths, 2,101 sq. ft. + 411 sq. ft. Balcony, $450,000-$690,000
Today, for what would have passed for a down payment on your purchase in 2006, you can own a studio unit outright!
Blue Hyatt Residences
The 17-acre, self-contained resort in Doral, Florida is located among some of the most famous golf courses in the United States, just minutes from Miami International Airport. The lush, tropically-landscaped property includes a 16,000 sq. ft. clubhouse and 15 three-story villas, each with 16 condo hotel residences.
The fully-furnished residences have Asian-inspired interiors and a sophisticated décor. They come with large Plasma TVs, fully-equipped kitchens with stainless steel appliances and Italian cabinetry.  Bathrooms are equipped with marble baths, rain showers and a stand-alone jetted tub.  But the best feature of each home is the terrace where you can enjoy views of golf fairways as far as the eye can see.
Golf at the TPC Blue Monster
Home of the World Golf Championships, the TPC Blue Monster has hosted the prestigious PGA Tour event for the past 47 years. In fact, virtually every great name in golf has had a moment of glorious personal triumph on this world-class track.
Originally designed by Dick Wilson, and later updated by hall-of-famer Raymond Floyd, golfers won't find a more challenging or spectacular golf course. At 7,244 yards from the tournament tees, and with a series of strategically placed bunkers, both length and finesse are needed to score well on this historic course.
The Blue Monster features long fairways, undulating green, a deep Bermuda rough and a unique assortment of water hazards.  The famous 18th hole, with its signature fountain, was ranked by GOLF Magazine as one of the Top 100 Holes in the World.
And More Golf
The Blue Monster may be the most famous of the Doral's golf courses, but it certainly isn't the only one.  This resort has four outstanding 18-hole courses onsite and a fifth just 1.5 miles away. Playing these courses is considered to be the ultimate golfing experience.
Great White Course – A Greg Norman Signature Course, the 7,171-yard, par-72 Great White is the only course of its kind in the Southeastern U.S. that uses coquina ( crushed shells) as the primary design element on every hole. Norman blended strategically demanding fairways with hundreds of palm trees.
Red Course – This 6,058-yard course forces golfers to use strategy and shot placement rather than driving for show. Featuring 14 water holes with fairways winding around several lakes, the course provides breathtaking beauty and exhilarating challenges without intimidating length.
Jim McLean Signature Silver Course – This 7,105-yard premier course is unique because it presents a variety of challenges that includes three of the toughest starting holes in golf, a series of phenomenal par 3's, and The Bermuda Triangle of the 13th through 15th holes.
Gold Course – PGA Tour legend Raymond Floyd recently redesigned this 6,609-yard course to follow a traditional Florida layout, incorporating gently contoured greens, strategic bunkering and water surrounding 16 holes. The course features narrow, tree-lined fairways and finishes with a dramatic par-4 island green on the 18th hole.
Plenty of Amenities & Services
While it's the five golf courses at this property that get most of the attention, Blue Hyatt Residences has plenty more to offer:
Heated freshwater swimming pool with cabanas
Hot tub and sun deck
Poolside Bar and Grill
5300 Chop House Fine Dining & Lounge
5300 Chop House Bar
24-hour fitness center with weights and cardio equipment
Spa Azul full-service spa featuring all-natural products from Italy
Gift shop
Hotel Services:
Concierge
24-hour room service
24-hour security
Business center
3,500 square feet of conference/banquet space
Valet parking
Housekeeping and turndown service available
Shuttle service available upon request
Doral, Miami's Playground
There's no place hotter than Miami. From South Beach to the Miami Heat to Art Basel, Blue Hyatt Residences puts you right in the heart of one of Miami's most sought-after destination neighborhoods. Doral is Miami's life and leisure playground.
Surrounded by a myriad of parks, shopping, restaurants, world-class golf, a bustling business district and just minutes from Miami International Airport, it's no wonder Doral ranks No. 2 on Forbes' list of "Top 25 Towns To Live Well."
The Blue is only five minutes from Miami International Airport and to the Dolphin Mall, 15 minutes to Downtown Miami, and 20 minutes to the ocean and to exciting South Beach with its many restaurants, shops, clubs and bars.
Ownership Perks
Owners of the condo hotel residences at Blue Hyatt Residences will have the option of placing their units in the voluntary hotel rental program managed by Hyatt.  They'll also have the option to participate in the Hyatt Vacation Club, which allows members to exchange their time for other Hyatt properties or any of 2,500 resorts worldwide through Interval International.
In addition, residence owners will have access to membership in surrounding golf and resort facilities, as well as membership in the international Nikki Beach Club with its beachfront location in nearby South Beach and popular locales around the world including Cabo San Lucas, Las Vegas and more.
Want to know more?  I've put together a detailed data sheet on Blue Hyatt Residences.  To receive it, you'll just need to provide your name and contact information, per the developer's requirements.  Click below:
Request the Blue Hyatt Residences data sheet here.
Thank you for your interest in the properties we showcase here at Condo Hotel Center.  Please feel free to check out some of our other Condo and Condo Hotel Featured Properties here and pass along this Property Alert to anyone you know who might be interested.
Have a nice day.
Joel Greene
Licensed Real Estate Broker
Condo Hotel Center
1368 NW 165th Ave.
Pembroke Pines, FL 33028
(954) 450-1929
Joel@CondoHotelCenter.com
www.CondoHotelCenter.com
www.CondoHotelsDubai.com
www.WorldClassCondoHotels.com
www.CondoHotelsBahamas.com
www.CentralAmericaSecondHomes.com
www.DominicanRepublicVacationHomes.com
Want to know more about me? Click below:
//www.condohotelcenter.com/joel-greene.html

Follow us on Facebook.
© Copyright 2011 Condo Hotel Center
*All rights reserved. No portion of this Property Alert may be reproduced, exhibited or distributed without the express written permission of Condo Hotel Center. Although Condo Hotel Center believes the information contained in this Property Alert to be accurate and complete, Condo Hotel Center can make no such guarantee.