Beachwalk Combines Condos with Condo Hotels, Hallandale, FL
The Mixed-Use Concept Gains Traction
November 14, 2012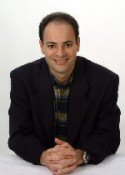 Hello. Joel Greene here from Condo Hotel Center. As I mention from time to time, I'm father to identical twin girls, Haley and Lindsay, both age 14 (because that's how the twin thing works).
The past two years my girls played in a recreational soccer league and each year they won the championship. They enjoyed the practices and games and did reasonably well. So I was surprised when this year they decided not to play soccer again. Instead they wanted to try volleyball.
At first, I was resistant. I was thinking like a purist. Stick with the one sport you know and like. But the girls managed to convince me that they should try a new sport to learn new skills, try new things, and make new friends. After all, variety is the spice of life.
It was hard to argue with their logic, so volleyball became the new flavor-of-the-month. I'll tell you how that worked out at the end of this Property Alert.
By now, you're probably wondering what my daughters' sports choices have to do with today's featured property. Well, the concept of mixing things up can be applied to real estate.
For years, The Related Group specialized in developing luxury residential rental properties, specifically condo high-rises. In recent years, however, it's moved from building just multi-family properties to multi-faceted projects.
Mixed-use properties that combine multiple elements such as dining, retail, marinas, office space or maybe an exclusive club are the wave of the future. And with that, I'd like to introduce you to The Related Group's newest development project.
Beachwalk by Pininfarina
Currently in pre-construction stage, Beachwalk by Pininfarina will be a stunning development in Hallandale Beach, Florida, which is midway between Miami Beach and Ft. Lauderdale Beach. It will feature a 21st century design with a mixed-use composition. It will offer condo residences for year-round owners, condo hotel units for vacationers, and a spectacular beach club they all can enjoy.
Beachwalk will consist of one, 33-story building on the Intracoastal Waterway plus a separate oceanfront beach club directly on the sand. The condo and condo hotel building will overlook the Intracoastal Waterway and the ocean. Beachwalk is being developed by The Related Group, one of Florida's premier builders. In total, the building will have 300 residential units. Here's how that breaks down: 84 will be decorator-ready condo residences; 216 will be beautifully finished and fully-furnished condo hotel units.
The separate beach club will be a three-story building right on the beach. It will have a pool and restaurants. Transportation will be available to shuttle guests between Beachwalk and the beach club.
Quality Amenities and Features
As a mixed-use property, Beachwalk will include many resort-like amenities including:
Infinity-edge pool overlooking the Intracoastal Waterway
Beachwalk Bar and Grill
State-of-the-art, fully-equipped fitness center
Exclusive 34th floor amenities deck with private cabanas and infinity-edge pool overlooking the ocean
Exclusive beach club, pool and restaurants on the ocean
Room service
24-hour complimentary valet parking
24-hour attended security
The condo hotel units will be delivered fully furnished. The condo residences will come decorator ready. They'll all have the following features:
Wide private terraces with glass railings for unobstructed views
Intracoastal Waterway views; direct ocean views in select residences
Floor-to-ceiling sliding glass doors and windows
Advanced technology "Smart Building" pre-wiring for internet, etc.
Italian cabinetry in kitchens and bathrooms
Imported stone counter tops
A Premier Developer, The Related Group
Since its inception more than 30 years ago, The Related Group has built and/or managed more than 80,000 apartments and condominium residences. The firm has a development portfolio worth more than $10 billion.
You may recognize the names of some of the company's other projects that I've featured in previous Property Alerts including 1100 Millecento, MyBrickell, Icon Bay and Apogee Beach.
The Related Group has cultivated a reputation for design excellence and innovative partnerships as they have become the nation's largest residential developer. In Beachwalk, they have brought together the world's best urbanists, architects, interior designers and real estate minds, raising the bar for the standard of livable design.
The interior designer for the common areas at Beachwalk and the private beach club is Pininfarina, a design firm dating back to 1930, associated with the best avant garde car and product designs. Their name is inscribed in every Ferrari, Masserati, Rolls-Royce and Alfa Romeo and they're known for cutting-edge industrial and interior design.
Where Exactly Is Hallandale Beach
Hallandale Beach is conveniently located between Fort Lauderdale and Miami Beach. It offers easy access to the Fort Lauderdale and Miami International Airports, Port Everglades, Port of Miami, and I-95. It is a community of 31,000 year-round residents, which increases to an estimated 41,000 during the winter season.
Beachwalk is just steps from the beautiful beaches of the Atlantic Ocean. Enjoy world-class dining and shopping at Bal Harbour Shoppes, Aventura and Las Olas Boulevard. It's also close to museums and theaters.
The Village at Gulfstream, a 1,000,000 sq. ft. new development, just opened within a few minutes of Beachwalk's front door. It has outdoor cafes and fine dining restaurants, unique shops and sidewalk boutiques, bustling nightlife and entertainment, casinos and thoroughbred horse racing. Also nearby is Mardi Gras Gaming, which offers dog racing action six months a year.
First-tier Pricing
Because Beachwalk has just begun taking reservations for its to-be-built development, prices are at first-tier pre-construction rates.
The three main types of units are:
Condo Hotel Units: 2 bedrooms, 2 baths, $390,900-$515,900
Condo Residences: 2 bedrooms, 2 baths, $400,000-$530,000
Condo Residences: 3 bedrooms, 3 baths, $540,000-$725,000
Only 10% is required at this time to reserve a unit. Additional payments are required at various benchmarks in the construction process over the next three years. The developer is working on getting a preferred lender for this project but does not have one at this time.
Want more information? I'm happy to share my detailed data sheet. You'll just need to provide your name and contact information as required by the developer:
Request the Beachwalk data sheet.
Mixed Results for the New Sport
Thank you for your interest in Beachwalk, the exciting mixed-use property to be built in Hallandale Beach. If you have questions about this property or others we feature, please contact me any time. You can also feel free to forward this Property Alert to friends you think might find it of interest.
As for my daughters' attempt to mix up their sports activities, I must report mixed results. After losing their volleyball matches 10 consecutive weeks, they carried their 0-10 record into the final match of the season, a sort of volleyball playoff competition, last Friday.
Much to everyone's disbelief, my girls' team won two out of three straight sets. You've never seen a 1-10 team carry on more. You'd have thought they achieved total world domination.
Overall, it was a good experience, if not a victorious one. I can't wait to see what sport they want to try next year!
And, in the meantime, I'll keep my ear to the ground for more great properties to share with you.
Joel Greene
Licensed Real Estate Broker
Condo Hotel Center
1368 NW 165th Ave.
Pembroke Pines, FL 33028
(954) 450-1929
Joel@CondoHotelCenter.com
www.CondoHotelCenter.com
www.CondoHotelsDubai.com
www.WorldClassCondoHotels.com
www.CondoHotelsBahamas.com 
www.CentralAmericaSecondHomes.com
www.DominicanRepublicVacationHomes.com
Want to know more about me? Click below:
//www.condohotelcenter.com/joel-greene.html
Follow us on Facebook.
© Copyright 2012 Condo Hotel Center
*All rights reserved. No portion of this Property Alert may be reproduced, exhibited or distributed without the express written permission of Condo Hotel Center. Although Condo Hotel Center believes the information contained in this Property Alert to be accurate and complete, Condo Hotel Center can make no such guarantee.