Beachside at Umm al-Quwain
Pre-release Pricing, New Project in the United Arab Emirates Pre-release Prices From $139,000
July 25, 2007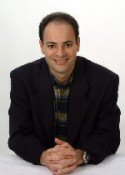 Hello. Joel Greene here from Condo Hotel Center. Ever participated in a camel race before? Neither have I.
But if you invest in today's exciting condo hotel opportunity, you could have that chance. Or, you could just allow the camel racers and spectators to rent out your condo hotel unit. The good news is they tend to be a lot less rowdy than NASCAR fans!
The new property that I have for you today involves a bit of a race as well, a race to get one of the specially-priced condo hotel units. This property has not yet been released to the general public. But because of our prior relationship with the developer, Condo Hotel Center has been given an exclusive inventory of 10 units, which we are allowed to offer our clients at pre-release, first-tier prices.
The condo hotel is in Umm al-Quwain, a lesser-known United Arab Emirate, very close to Dubai. Everyone has heard of Dubai, as it's constantly in the news for one thing or another, and all the news has been very positive.
But, while there is no natural coastline left in Dubai for development, the property I'm going to tell you about today has a beautiful oceanfront and marina, and they will have serviced apartments, (what we refer to as condo hotel units), with a professional management company to rent them out for you.
White Bay, A Massive New Community
White Bay will be a massive resort-style community project costing nearly $2.5 billion. It will span over 19 million square feet along the natural shoreline.
It will encompass a marina, town center, hotels, shopping, cafes, restaurants, and entertainment venues. It will also have approximately 8,000 leasehold waterfront villas, park-view villas, terraced condominiums, mid-rise apartments and townhouses, with no building exceeding 15 stories.
Beachside at Umm al-Quwain
Beachside at Umm al-Quwain is part of the White Bay project and is the first phase of the development's master plan.
As part of a gated community, and just a stone's throw from the beach, Beachside will encompass three six-story buildings, each with 88 fully furnished, contemporary designed, condo hotel units in a resort environment.
Beachside at Umm al-Quwain offers prospective buyers an opportunity to own a vacation home in a secluded unspoiled area. It will provide a more tranquil pace of life than that of the hectic metropolis of Dubai.
Imagine a place where lagoons rich with mangroves and birdlife surround you, weekends are spent on white coral beaches, and boats sail by on crystal clear waters. Beachside at Umm al-Quwain is the perfect retreat to get away from it all.
Each six-story pool and seaside building, will have its own private swimming pool, Jacuzzi and sauna. Your unit will be rented out for you by the professional hotel management.
Condo Hotel Unit Features
All units will be finished to very high standards, from superior fixtures and fittings to quality electronics like plasma TVs, providing a deluxe lifestyle. The units will be delivered to you ready for immediate occupancy or rental.
They'll be fully furnished in contemporary style, with tiled interiors, fitted kitchens, including stone bench tops, electric oven, and dishwasher; complete bathrooms with vanity area; party-size terraces with fantastic pool and ocean views from the third floor and higher.
Get In at Pre-launch Prices, Exclusive Inventory for CHC Buyers
You now have an exciting opportunity to get in at the very earliest pre-construction pricing. This property is not officially on the market yet. But because of our relationship with the developer, having worked on some of their previous properties, Condo Hotel Center has been offered an exclusive pre-launch inventory.
That is, 10 of the first condo hotel units of the total 264, have been set aside only for our clients until August 4, 2007, the development's official launch date. After the launch date has arrived, the new unit prices at Beachside will be significantly higher.
Exclusive Pre Launch Inventory for Condo Hotel Center Clients Available only until midnight August 4, 2007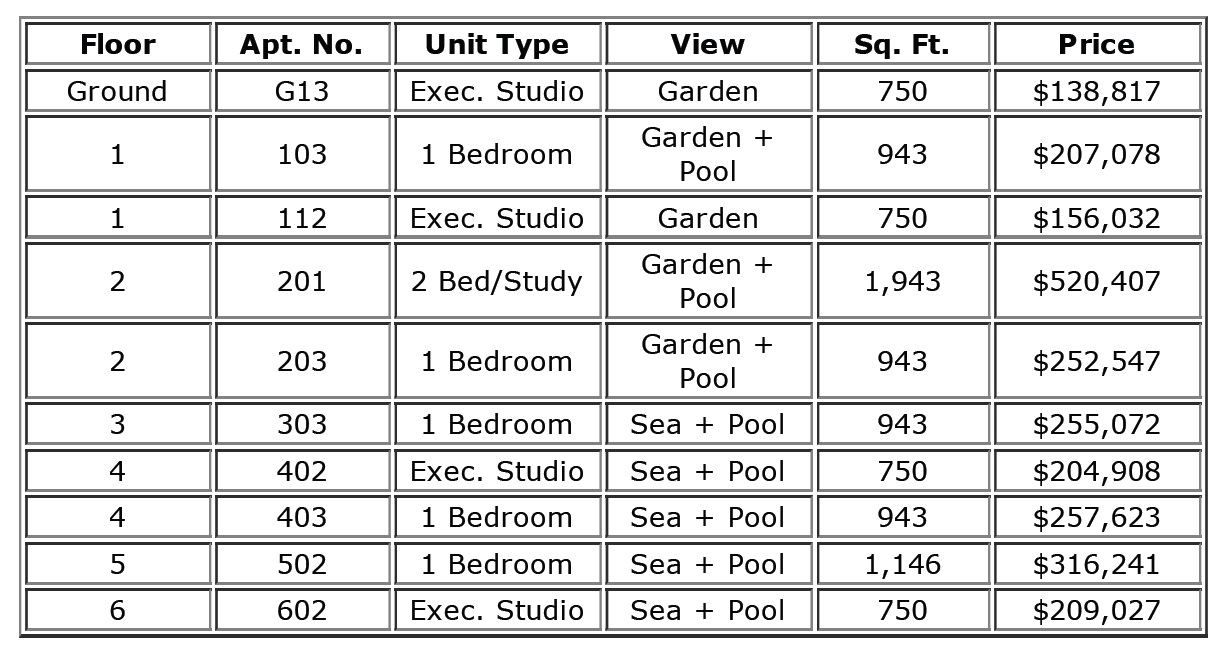 Beachside at Umm al-Quwain is being built in 10 phases. Phase one is scheduled to begin in the third quarter of 2007 with a completion date for the end of 2008 (subject to change). The entire resort should be complete by 2012.
Nearby Activities
When you buy a condo hotel, you want to be sure it's in a popular area where there's plenty to do, if not for yourself, then as a means to ensure solid occupancy levels.
At Beachside at Umm al-Quwain, you won't have to go far for entertainment, as this gated community resort has a 190-berth marina and harbor with a water sports center, health center, waterfront and lakeside retail outlets, restaurants, spas and resident beaches.
Within a short drive of the resort more action and adventure awaits. Water sports, horse riding and camel riding are available at Umm al-Quwain Marine Club. Also close by, you'll find opportunities to sky dive, fly a micro-light aircraft, be a spectator at camel races and motor sports, and participate in paint ball and target shooting.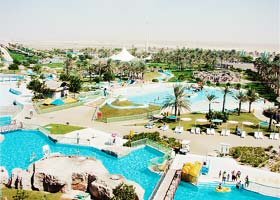 Nearby is Dreamland Aqua Park, (pictured right), one of the largest water parks in the world. A huge entertainment complex, it offers more than 30 rides and attractions, a souk for shopping, and plenty of restaurants and fast-food outlets. It is the ideal family destination.
Located along the coast near Umm al-Quwain is Al Dur Island, the famous archaeological site with the remains of a once important town of the region dating a little over 2,000 years ago. Impressive tombs, stone houses, glassware and large storage jars from Egypt and Syria have been unearthed with successive excavations. Okay, I admit storage jars are not the most interesting thing, but they are 2,000 years old. Leave a watermelon in your refrigerator for two months and see how interesting it gets. Then imagine checking on it again in say 1,999 years and 10 months. Now do I have your interest?
Where Exactly Is Umm al-Quwain?
Umm al-Quwain is one of the seven emirates in the UAE. It is the least populated. Located about 40 minutes northeast of Dubai, along the coast of the Arabian Gulf, it lies between Dubai and Ras Al Khaimah.
It has easy access to three international airports – Dubai, Sharjah and Ras Al Khaimah – which makes it an ideal holiday location and a new destination resort in the UAE.
Umm al-Quwain is now set for a $10 billion development program with the addition of new roads, buildings, parks and amenities.
Room Demand Generators
With very little natural coastline left in Dubai and affordable beachfront property becoming a thing of the past, local and international property investors and beach lovers alike are turning their sights to the unspoiled shores of arguably one of the most beautiful of the seven emirates in the UAE, Umm al-Quwain.
International property specialists are looking at Umm al-Quwain as the next Dubai and are comparing the prospect of purchasing property there to that of buying property in Dubai 15 years ago. That sounds Umm Umm good to me!
A Reputable Developer
Beachside at Umm al-Quwain is a co-development between The First Group and Emirates Sunland Group. The Sunland Group is an Australian development company based in Surfers Paradise, Queensland. They are the developers of the Palazzo Versace Hotel Resort and Q1 Tower in Queensland, Australia's tallest residential tower.
The First Group is a British-owned specialist real estate developer, with an impressive record of more than 20 years in successful residential, commercial and resort property development and sales of over $1 billion to date. They have a permanent base in Dubai, where they are concentrating on high-quality investment property in Dubai and the Northern Emirates.
Their first five-star condo hotel development in Dubai Sports City, The Diamond, is already sold out, and their second property, The Bridge, is nearing sell out as well at a rapid pace.
In fact, The Bridge has been selling faster than every other Dubai project we at Condo Hotel Center have offered to date, so we know that this developer puts out great projects, has a loyal following, and demand for their inventory is strong. This bodes very well for the people that get into their projects at the earliest possible time.
Why Buy Now?
In any emerging market, it is those investors who have the foresight and advance opportunity to buy early, at the pre-launch stages, who see the greatest appreciation. So even though Umm al-Quwain is not well known yet, the potential here is huge.
Also, as I referenced earlier, the developer has given Condo Hotel Center 10 exclusive pre-launch, high-quality units to offer you. This "first bite of the cherry" is normally reserved for their existing owners who have purchased at their other developments and for friends of the sheiks.
By next month, the condo hotel's inventory will be released to the open market at higher starting prices. However, these 10 units are at the very first-tier pricing until August 4, 2007, the official launch date for the property.
Request Our Data Sheet for More Information
If this preliminary information about Beachside at Umm al-Quwain has sparked your interest, I'd like to offer you more details. Simply, click the link below, supply your full name, mailing address and phone number, as per developer requirements, and you will immediately receive our comprehensive data sheet.
Data sheet for Beachside at Umm al-Quwain
After reviewing the data sheet, if you decide that you'd like to proceed, I'd be delighted to assist you with the necessary forms and instructions.
A Day at the Races
With just 10 condo hotel units in this pre-launch offering for Umm al-Quwain, you can understand my reference to this being a bit of a race. Those buyers who obtain one of these first few units, have the best potential for future appreciation of their investment.
Of course, like the thousands of buyers who were among the first to invest in Dubai, you have to first get over the hump of buying in a new, relatively unknown location.
I do hope that you will take advantage of this opportunity, and that I will hear back from you soon. On your mark. Get set. Go!
As always, thank you for your interest in news from Condo Hotel Center. Be sure to tell your friends and fellow camel racers to subscribe here, //condohotelcenter.com/subscribe.html, as we're always trying to add to our Property Alert family.
Have a great day!
Joel Greene
Licensed Real Estate Broker
Condo Hotel Center
1368 NW 165th Ave.
Pembroke Pines, FL 33028
(954) 450-1929
Joel@CondoHotelCenter.com
www.CondoHotelCenter.com
www.CondoHotelsDubai.com
www.WorldClassCondoHotels.com
www.CondoHotelsBahamas.com
www.CentralAmericaSecondHomes.com
www.DominicanRepublicVacationHomes.com
Want to know more about me? Click below: //www.condohotelcenter.com/joel-greene.html