PRICE HIKE COMING AT ATLANTIC VILLAGE HOTEL & MARINA
Over 70% of Units Sold in Dania's First Condo Hotel
September 30, 2004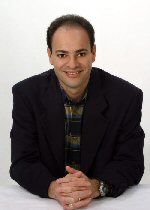 Hello.  Joel Greene here from Condo Hotel Center.
One of my objectives in writing these Property Alerts is to apprise you of upcoming price increases so that you can get in under the wire, so to speak. I have one of those situations today, and it is at one of my favorite properties, The Atlantic Village & Marina, in Dania, just on the southern fringe of Ft. Lauderdale.
In this case actually, the price increase has already occurred. However, because of our long-standing relationship with the project's developer, buyers from Condo Hotel Center can still purchase units at the old prices until tomorrow, Saturday, Oct. 2, 2004 at 5:00p.m.
Those of you who've subscribed to my Property Alerts for a while will remember my first write-up about the The Atlantic Village back in June. So let me give you the price hike information now, and then I'll go back and review the details about this development.
Price Increase on the Most Popular A & B Models
All Unit A Deluxe models which have been priced from $315,000-$329,000 are now priced at $345,000-$359,000. The Unit A Deluxes are 480.8 sq. ft. with one-bedroom, one-bath and no kitchen. They are fully furnished. There are 18 Unit A Deluxe's left, primarily on floors 2 and 3 of this 8-story building.
All Unit B Junior Suites which have been priced from $358,000-$372,000 are now priced at $395,000-$409,000. The Unit B Juniors are 555.5 sq. ft. with one-bedroom, one-bath with kitchen. They too are fully furnished. There are 24 B-units left, primarily on floors 2, 3, and 4.
As I said, in reality, the price increase has already occurred. In fact, if you go to the website for The Atlantic Village & Marina, www.avhm.net, you will see the higher pricing has already been implemented. However, as a reader of Condo Hotel Center's Property Alerts, you still have a chance to get in at the old prices. Now let me give you some of the background on this great property.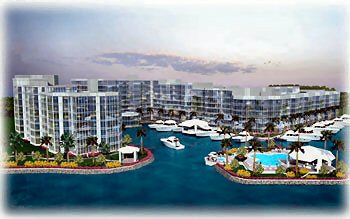 The Property
The Atlantic Village Hotel & Marina will be located on a 10-acre site surrounded by water. It will have a large, deep-water marina. It sits right on a river that leads to the intracoastal, which puts you boaters just 30 minutes away from smooth sailing on the Atlantic Ocean by way of Port Everglades.
The condo hotel will contain an actual island where guests will enjoy a Mickey Mouse-shaped pool and tiki lounge while watching boats cruise in and out of the marina.
Atlantic Village will consist of 349, five-star units, an 80-private boat slip marina and a 125,000 sq. ft. Class-A office building with over 1,000 parking spaces in two garages to accommodate the hotels and offices.
Of the 349 condo hotel units, already 245 have been sold, even though the property has only been on the market since early this year. Construction will begin summer of 2005 and should be completed in summer 2007.
Guest Amenities
The Atlantic Village will have impressive amenities including:
A European spa
Magnificent porte-cochere entry
Beautiful lobby and common areas decorated by award-winning designers
Heated swimming pools and Jacuzzi
Tennis courts
Poolside café and bar
Private pool cabanas
Indoor and outdoor gourmet dining
Elegant private reception areas
20,000 square feet of ballroom and conference facilities
A 1,200 sq. ft. business center
World-class concierge service
24-hour room service
24-hour doorman
24-hour housekeeping services
For the Investment-Minded Buyer
Everything from the water, the location and the supporting structure will contribute to the condo hotel's success. I should mention that this property is being built primarily for the investor who wants a piece of a thriving hotel, not so much for someone who wants a condo hotel as a second home.
The owner, a master promoter who remains your 50% partner once he has sold out all of the units, will make this hotel a huge success and wants as many units in the rental program as possible to ensure it.
A hotel management company has not yet been chosen. However, as a five-star property, the developer is determined to get the best available, and is currently considering companies like Hilton, Fairmont, Starwood and Intercontinental among others. A final decision should be coming shortly.
Who Is This Developer?
Bayard's family started Spec's Music stores in 1948 and built it up to over 80 stores before selling out their interest to Camelot Records five years ago. Bayard, an investment banker, now approaching 50 began working with his family's retail chain from the age of 18. As a music producer, Bayard enjoyed a string of hit records with Capital/EMI records in Los Angeles and Bayard with his wife Elizabeth have launched some of South Beach's most famous night clubs and restaurants.
Bayard said to me, "I'm committed to making this hotel successful. I want it to run 99.9% occupied all year round. I want this hotel to have people waiting to get into the #1 hotel in the Southeast." Not a bad partner to have minding the store when you own a unit. You just gotta love his enthusiasm!
Designed to Be an Eye-Catcher
The Atlantic Village was designed by two of Miami's best architect companies, Sieger-Suarez, in a joint effort with EGS2. Together, they are responsible for practically creating the skyline of the beaches of South Florida with their architectural innovations. Portifino, Trump Ocean Grande, The Murano Grande, ICON, Pinnacle, Hidden Bay, and Ocean One, Two and Three to name just a few of their most notable design projects.
When completed approximately three years from now, the Atlantic Village condo hotel will be a $100 million project (not including the office building) and will be a hip, upscale, quality hotel with a feel that is similar to a Four Seasons.
In Good Company
The Atlantic Village will be in good company. The site is adjacent to a 388-room Wyndham Hotel and is across the street from the 250-room Sheraton Design Center of The Americas, right along I-95, South Florida's most important North-South highway. With the addition of Atlantic Village to the market, all three properties will benefit. Each can now bring larger conferences to their facilities, knowing that there are more first-class rooms in the immediate area to accommodate their overflow guests.
What a Location!
Within minutes of the property is the entrance to the Ft. Lauderdale/Hollywood International Airport which brings in 55,000-58,000 people every single day. Atlantic Village is also just 30 minutes from Miami International Airport.
Along with the very popular Design Center of the Americas adjacent to the Sheraton, Atlantic Village is close to many area attractions, including the elegant shops on Las Olas Boulevard and in the Galleria Mall, the Broward County Convention Center and its Center for the Performing Arts, Pro Player Stadium (Go Dolphins!), Bass Pro Shops with its 160,000 sq. ft. of outdoor sports equipment, and its namesake, the Atlantic Ocean.
Atlantic Village is just minutes from Port Everglades, the largest cruise port in South Florida which almost 6,000 ships a year call home. Often, cruise passengers will package their cruise with a visit to the South Florida area and a stay in a local hotel before or after their voyage.
If you like a little nightlife, try your luck at the brand new Indian-owned Seminole Hard Rock Hotel & Casino, only five minutes from Atlantic Village. This 500-room Mediterranean-style tower, on nearly 100 acres, features a colossal 130,000 square-foot casino and a soon-to-be Downtown Disney-type entertainment complex.
The Seminole Hard Rock is the closest thing to Las Vegas-style entertainment in south Florida. Visitors will soon have even more options when Seminole Paradise debuts this year. The 300,000 sq. ft. retail area will boast more than 30 shops, 11 restaurants and 11 nightclubs, a 5,600-seat concert venue and an amphitheater.
How Do You Get One?
At this point, it only takes a $2,500 cancelable reservation to get your unit. 10% of the purchase price, inclusive of the $2,500, will be due at contract in about four to five months, and an additional 10% will be due roughly six months later when permits are issued and construction begins. A scheduled completion for the project is summer 2007.
One Last Perk
Here is the one thing that this property offers that no other does–the right to assign your contract. This is highly unusual and potentially very valuable to you as a buyer. For a $10,000 fee, the developer will allow you to assign your contract to another buyer.
Therefore, you can buy now at pre-construction prices and do any of the following:
Hold short-term and make a nice quick profit once prices have increased by assigning your contract to another buyer
Hold long-term for more appreciation and a bigger profit
Hold indefinitely and enjoy being part of "the #1 hotel in the Southeast" while receiving a very healthy rental income
A Final Word on the Price Increase
If you want more information, I've put together a data sheet with the facts and figures on this condo hotel. Just reply to this e-mail and I'll send it right out to you. However, you'll want to keep in mind that the discounted price that we can offer you ends tomorrow, Saturday, at 5:00 p.m.
If you are interested in this property but these particular units are not what you're looking for, be sure to contact me. I have availability of other units not affected by this price increase and can provide you the details upon request.
Just one more thing, the increase in price on the A and B units at this time will not be the last. The developer has currently sold out 70% of the project which translates to $68 million worth of condo hotel units. When he sells 15 to 20 more units, taking the totals up to $80 million, he will likely have another 5% increase across the board.
There may be even more price hikes before they sell out completely; that is not yet determined. Nevertheless, those of you who jump on one of the remaining A or B units will likely see 15% or better appreciation, long before even putting up your first 10% deposit.
Feel Free To Pass Along These Property Alerts As always, thank you for your interest in news from Condo Hotel Center. Please feel free to share this newsletter with friends whom you think might enjoy it. They can sign up for themselves on our web site at www.condohotelcenter.com.
If you no longer wish to receive our Property Alerts, just reply to this email and write "unsubscribe" in the subject line.
Joel Greene
Broker-Associate
Condo Hotel Center A division of Sheldon Greene & Assoc., Inc.
1368 NW 165th Ave.
Pembroke Pines, FL 33028
(954) 450-1929
Info@CondoHotelCenter.com
www.CondoHotelCenter.com
www.CondoHotelsDubai.com
www.WorldClassCondoHotels.com
www.CondoHotelsBahamas.com
www.CentralAmericaSecondHomes.com
www.DominicanRepublicVacationHomes.com
Want to know more about me? Click below: //www.condohotelcenter.com/joel-greene.html