ATLANTIC VILLAGE HOTEL & MARINA
Dania's First Condo Hotel Promises to be a Winner
June 28, 2004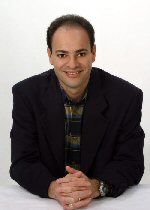 Joel Greene here to tell you about an exciting, new and very reasonably priced, South Florida condo hotel.
This past Saturday I had lunch with Bayard Spector, the developer of the Atlantic Village Hotel & Marina.  When built, it will be the first condo hotel in Dania, just on the southern fringe of Ft. Lauderdale.  After a two-hour meeting and a half-hour golf cart tour (South Florida's version of the Disney monorail), I came away with an understanding of his vision and was totally impressed with his master plan for this 10-acre site.  The question is, Where should I start?
The Project The Atlantic Village Hotel & Marina is surrounded by water.  This is not surprising, considering Ft. Lauderdale is known as the "Venice of the America's" for its more than 300 miles of navigable waterways and seven miles of sparkling beaches.
Atlantic Village will have a large, deep-water marina.  It sits right on a river that leads to the intracoastal, which puts you boaters just 30 minutes away from smooth sailing on the Atlantic Ocean by way of Port Everglades.
The condo hotel will even contain an actual island where guests will enjoy a Mickey Mouse-shaped pool and tiki lounge, while watching boats cruise in and out of the marina and the planes coming in for a landing at nearby Ft. Lauderdale International Airport.
Atlantic Village will consist of 349, five-star units, an 80-private boat slip marina and a 125,000 sq. ft. Class-A office building with over 1,000 parking spaces in two garages to accommodate the hotels and offices.  But that is just the beginning.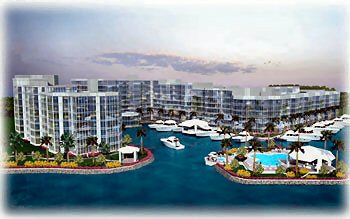 Built for Success
The average hotel structure devotes 20% of its total square footage to the supporting structure of the guest rooms.  This would include lobby space, meeting and banquet facilities, restaurants, parking, pools, lounges, etc.  Basically, anything that helps to fill the hotel rooms with guests.
That means a building with 200,000 sq. ft. of guest rooms would typically have a total of about 240,000 sq. ft. in the entire structure.  However, by comparison, the Atlantic Village condo hotel will have only 183,000 net salable space, but gross sq. footage of over 617,000 sq. ft!  The extra space will be devoted to guest amenities including:
A European spa
Magnificent porte-cochere entry
Beautiful lobby and common areas decorated by award-winning designers
Heated swimming pools and Jacuzzi
Tennis courts
Poolside café and bar
Private pool cabanas
Indoor and outdoor gourmet dining
Elegant private reception areas
20,000 square feet of ballroom and conference facilities
A 1,200 sq. ft. business center
World-class concierge service
24-hour room service
24-hour doorman
24-hour housekeeping services
And if that's not enough, a water taxi will take you right from the hotel directly to the beach.
For the Investment-Minded Buyer
Everything from the water, the location and the supporting structure will contribute to the condo hotel's success.  And on that subject, I should mention that this property is being built primarily for the investor who wants a piece of a thriving hotel, not so much for someone who wants a condo hotel as a second home.
The owner, a master promoter who remains your 50% partner once he has sold out all of the units, will make this hotel a huge success and wants as many units in the rental program as possible to ensure it.
Who Is This Developer?
Bayard's family started Spec's Music stores in 1948 and built it up to over 80 stores before selling out their interest to Camelot Records five years ago. Bayard, an investment banker, now approaching 50 began working with his family's retail chain from the age of 18. As a music producer, Bayard enjoyed a string of hit records with Capital/EMI records in Los Angeles and  Bayard with  his wife Elizabeth have launched some of South Beach's most famous night clubs and restaurants.
Bayard has an "in" with a long list of the "A-Crowd," including many celebrities in the music world and sports figures (not to mention one very dynamic realtor!). You'll probably see them at Bayard's owner parties, wine and cheese parties and cocktail parties. Lots of parties which you will be welcome to attend, even when someone else is renting your unit. That's good, no?
Bayard said to me, "I'm committed to making this hotel successful. I want it to run 99.9% occupied all year round. I want this hotel to have people waiting to get into the #1 hotel in the Southeast." Not a bad partner to have minding the store when you own a unit. You just gotta love his enthusiasm!
Designed to Be an Eye-Catcher
The Atlantic Village was designed by two of Miami's best architect companies, Sieger-Suarez, in a joint effort with EGS2.  Together, they are responsible for practically creating the skyline of the beaches of South Florida with their architectural innovations.  Portifino, Trump Ocean Grande, The Murano Grande, ICON, Pinnacle, Hidden Bay, and Ocean One, Two and Three are just a few of their most notable design projects.
When completed approximately three years from now, Atlantic Village condo hotel will be a $100 million project (not including the office building) and will be a hip, upscale, quality hotel with a feel that is similar to a Four Seasons.
Before building the hotel, Bayard will build the marina and island pool area.  Therefore, he has not yet prioritized getting a hotel management company lined up.  However, as a five-star property, he is determined to get the best available, and is currently considering companies like Hilton, Starwood and Intercontinental among others.
In Good Company
The location of this property is sensational!  It is adjacent to a 388-room Wyndham Hotel and is across the street from the 250-room Sheraton Design Center of The Americas, right along I-95, South Florida's most important North-South highway.  With the addition of Atlantic Village to the market, all three properties will benefit.  Each can now bring larger conferences to their facilities, knowing that there are more first-class rooms in the immediate area to accommodate their overflow guests.
What a Location!
Within minutes of the property is the entrance to the Ft. Lauderdale/Hollywood International Airport which brings in 55,000-58,000 people every single day.  In 2003, Ft. Lauderdale/Hollywood International Airport reported the best year in its history, welcoming more than 17 million visitors.  It was one of only four U.S. airports that expanded its number of daily flights.  Atlantic Village is also just 30 minutes from Miami International Airport.
Along with the very popular Design Center of the Americas adjacent to the Sheraton, Atlantic Village is close to many area attractions, including the elegant shops on Las Olas Boulevard and in the Galleria Mall, the Broward County Convention Center and its Center for the Performing Arts, Pro Player Stadium (Go Dolphins!) and Bass Pro Shops with its 160,000 sq. ft. of outdoor sports equipment.  Best of all, Atlantic Village is only 10 minutes to its namesake, the Atlantic Ocean, as well as downtown Fort Lauderdale.
Atlantic Village is just minutes from Port Everglades, the largest cruise port in South Florida. Unbeknownst to many people, Port Everglades is one of South Florida's strongest economic engines.  Almost 6,000 ships a year call at Port Everglades giving it a reputation as the "world's premier cruise port."
Often, cruise passengers will package their cruise with a visit to the South Florida area before or after their voyage.  The Atlantic Village's incredible location, practically kissing the Fort Lauderdale-Hollywood International Airport, and being just minutes away from Port Everglades is bound to make the Atlantic Village a convenient stopover point.
If you like a little nightlife, try your luck at the brand new Indian owned Seminole Hard Rock Hotel & Casino, only five minutes from Atlantic Village.  This 500-room Mediterranean-style tower, on nearly 100 acres, features a colossal 130,000 square-foot casino and a soon-to-be world famous Downtown Disney-type entertainment complex.
The Seminole Hard Rock is the closest thing to Las Vegas-style entertainment in south Florida.  Measured in glitz and glamour, the hotel rivals just about anything on Las Vegas' famous strip.  To be sure, there is nothing else like it in the Sunshine State.
By fall, visitors will have even more options when Seminole Paradise debuts. The 300,000 sq. ft. retail area will boast more than 30 shops, 11 restaurants and 11 nightclubs, a 5,600-seat concert venue and an amphitheater where Seminoles will reprise one of the few entertainments that drew paying customers when tribal members were too poor to afford shoes: alligator wrestling.  (Trust me; if you've never seen alligator wrestling, you haven't lived!).
Condo Hotel Unit Pricing
The bad news is that all 80 boat slips are sold out already.  The good news is that Bayard purchased his land for $4 million and sold out his boat slips for $8 million.  What this means to him is that his cost to develop the property is far less than most developers, as he has zero land costs when he builds.  What does this mean to you?  Prices that are far less than most other projects and with more amenities for you to enjoy.
Studio units at Atlantic Village condo hotel will start at only $263,000.  One- and two- bedroom units are available too from $360,000 to $646,000.  All units will have a furniture and fixtures package costing about $40,000 built into the purchase price.  The package will include:
Floor to ceiling glass
Elaborate bathrooms with separate shower and bath, bidet (and by night) and  two vanity sinks
A choice of a king or two double beds
Owner's closet
In-room safe
42″ Plasma TVs (That alone is worth the price of admission!)
Now granted, this is not oceanfront property, but where else can you get a piece of a five-star property, with all these amenities and this much upside potential for this little?  The answer is nowhere else in South Florida!
A Big Seller
With only a park bench advertisement and a single ad in a local condo magazine, this development has sold out 100% of their boats slips, about 40% of their condo units, and they have a waiting list for office space, all in the first 90 days.  At this pace, they will probably sell out their remaining condo hotel units in another three to four months.  And after 60 more units are sold, they are planning a 15% price increase with more to follow as they sell out the project.
How Do You Get One?
At this point, it only takes a $2,500 cancelable reservation to get your unit.  10% of the purchase price, inclusive of the $2,500, will be due at contract in about four to five months, and an additional 10% will be due when permits are issued and construction begins about six to eight months later.  A scheduled completion for the project is summer 2007.
One Last Perk
Here is the one thing that this property offers that no other does–the right to assign your contract.  This is highly unusual and potentially very valuable to you as a buyer.  For a $10,000 fee, the developer will allow you to assign your contract to another buyer.  Therefore, you can buy now at pre-construction prices and do any of the following:
Hold short-term and make a nice quick profit once prices have increased by assigning your contract to another buyer
Hold long-term for more appreciation and a bigger profit
Hold indefinitely and enjoy being part of "the #1 hotel in the Southeast" while receiving a very healthy rental income
Data Sheet Available
If you want more information, I've put together a data sheet with the facts and figures on this condo hotel.  Just reply to this email and I'll send it right out to you.  You'll be glad to know the data sheet is a lot briefer than my write-up here.  Sorry to go on for so long, but as you can see, I am genuinely enthused about this new condo hotel.  And once I get going on something I like..
As always, thank you for your interest in news from Condo Hotel Center.  Please feel free to pass this newsletter to friends whom you think might enjoy it.  They can sign up for themselves on our web site at www.condohotelcenter.com.
If you no longer wish to receive our Property Alerts, just reply to this email and write "unsubscribe" in the subject line.  Keep in mind though, that after pouring my heart into a Property Alert this long, if you ask to unsubscribe I will take it personally.  Just kidding.
Joel Greene
Broker-Associate
Condo Hotel Center A division of Sheldon Greene & Assoc., Inc.
1368 NW 165th Ave.
Pembroke Pines, FL 33028
(954) 450-1929
Info@CondoHotelCenter.com
www.CondoHotelCenter.com
www.CondoHotelsDubai.com
www.WorldClassCondoHotels.com
www.CondoHotelsBahamas.com
www.CentralAmericaSecondHomes.com
www.DominicanRepublicVacationHomes.com
Want to know more about me? Click below: //www.condohotelcenter.com/joel-greene.html