THE RESIDENCES AT ATLANTIS
Additional Information on This Exciting Resort
I was early for my plane, but I almost missed the boat!
May 11, 2005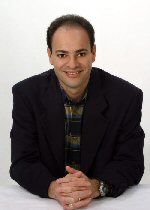 Well I'm just back from Atlantis in the Bahamas after cramming in as much fine dining, drinking, gambling, shopping, and water sliding as one can possibly do in a jam-packed 24 hours.
It's amazing that I also had time to meet with the Atlantis sales and marketing executives, walk the site, check out the existing buildings that make up Atlantis, (My feet are still burning. This place is massive!), and learn what is in store for the lucky few buyers of the Residences at Atlantis.
Since the developers were kind enough to invite me to Atlantis to show me their property, I can offer a new perspective on their future condo hotel that I did not have in my earlier pre-visit write-up. So consider this Property Alert, The Residences at Atlantis, Part II.
Bahamas Bound
I awoke early last Thursday to rush to the Fort Lauderdale Airport for my 45 minute flight to the Bahamas. The flight was delayed, so I sat there, thumbs a'blazin' on my portable Internet provider (love that toy!) as my anticipation at learning about the Residences at Atlantis kept growing.
Could have been my imagination, but I sensed there was an excitement generated by everyone buzzing around that gate. Who wouldn't be thrilled to be headed to the beautiful Bahamas on a cloudless May day!
Getting There
Driving through Nassau on our way to Paradise Island is a scary proposition. It takes some getting used to the fact that everybody is NOT driving on the wrong side of the road. Nonetheless, you can't help but jump every time you come around a curve and see traffic coming at you on the right.
We drove through some very wealthy areas. Some of the homes that we passed were every bit as large and impressive as the ones you might see on South Florida's Intracoastal Waterway.
There is definitely money on this island. (More on this later.) But at the same time, there were some areas we passed where you would expect to see chickens running through the front yard. Such a diverse lifestyle offers a whole lot of charm and intrigue.
We drove through the Bay Street market place. It is as diverse as the island's residences, and a whole lot of fun. Shockingly festive colors, costumed locals, restaurants sporting Bahamian specialties, (Love them conch fritters!) shop after shop, selling everything from wood carvings, puka bead necklaces, knock-off purses and t-shirts (4 for $10) to diamonds, gold and $25,000 Rolexes. (Sorry, Jackie, maybe my next visit, but at least I did get you a really cool t-shirt.)
In fact, because buying your jewelry in the Bahamas is duty free, and prices are often 20% cheaper than in the U.S. to begin with, this is a fancy watch and jewelry haven and a real shopper's delight!
So anyway, we get the hotel in our sights as we approach it from Nassau. You can't help but be in awe at the size of this place. And the two Royal Towers connected by the palatial "Michael Jordan" suite (called this because it's Michael's favorite when he frequents the resort) is only the beginning of this monster property. Those supersized Las Vegas resorts have nothing over Atlantis. And there is more coming!
More Coming
This brings me back to the Residences at Atlantis. I've already told you of their plans for a new $200 million, 500-room, five-star condo hotel and a 600-room all-suites hotel. Click here if you need to refresh your memory.
Those properties will be connected by a giant water theme park, all of which will be adjacent to the existing Hotel Atlantis. What I didn't realize is that this is just a small part of the $1 billion renovation and expansion that this property will receive.
The Kerzner Organization owns 550 of the 800 acres that comprise the whole of Paradise Island. Sol Kerzner, president, plans to keep adding more attractions and new features to the existing properties to keep people coming back year after year, just like Disney has done for so long. And why wouldn't they? Next to Disney, Atlantis is the most recognized resort in North America!
Swim with the Dolphins
For starters, Atlantis is adding a dolphin attraction in which visitors will be able to swim and interact with the smiling mammals, much like Sea World's renowned Discovery Cove in Orlando.
The dolphin attraction will be built next to the condo hotel and will feature a long lazy river for innner-tube floating. Both the dolphin atttraction and lazy river will draw visitors to Atlantis to "check it out."
More Shopping
To go back to the fantastic shopping in Nassau for a moment, soon that won't be the only game in town. Already under works is Marina Village, a 65,000 sq ft. village of shopping and restaurants located on nearby Atlantis-owned property. Just take the hotel's free shuttle and shop to your heart's content.
And here's part of the genius that will go into the renting of the new condo hotel units. Unlike visitors (not the actual guests) to Atlantis who have been stopped from visiting the spectacular pools and slides in the property, the water theme park and Dolphin Encounter will be open (for a fee) to the public.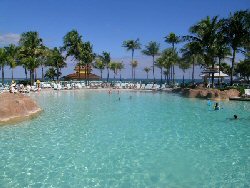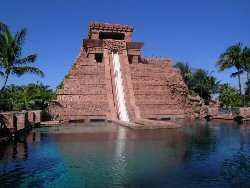 Atlantis' enormous pools and spectacular slides attract visitors from all over the world.
On a typical weekend in Nassau, over 11,000 cruise passengers dock a stone's throw from Atlantis. 40% of them come to visit the property. Now that there will be lots more to see and more to do, how many of them do you think will want to return with their families on their next trip after their cruise? What fantastic publicity. As an owner of a condo hotel unit, you gotta love that!
Money on the Island
I took a brief tour of the whole Atlantis community. For starters, Atlantis has its own time share project called Harborside. Phase 1 is 99% sold out, and the weekly prices are not your typical time shares.
If you have ever toured a $10,000-$20,000 Disney time share, can you imagine paying as much as $40,000-$50,000 per week? Well they are here!
I also viewed Atlantis' Ocean Club Golf Course, where they will be building a future 88-unit condo addition. These new condos will each go for prices of $1-$2.5 million. They require 60% cash down. And they are already sold out!
The Ocean Club golf course homes, going for a mere $5-$15 million, are built on lots that cost $1.5-$1.6 million. You're in good company here, as they have attracted the likes of Barry Bonds and Michael Jordan to build their mansions in the neighborhood. There is even one home there that is an amazing 40,000 sq. ft. (Their monthly A/C bill probably looks like the GNP for a small country.)
And here's my point: I referred to "almost missing the boat" before, and let me tell you why. When you look at the rest of the real estate on this oceanside island, the price for the condo hotel units is cheap by comparison. They will be in very high demand not only now, but when it comes time to resell. There are no other condo hotels in the Bahamas at this time, and even if there was, Atlantis is truly one-of-a-kind.
Will it Cover Your Expenses?
I am frequently asked whether the revenue a condo hotel unit generates will cover its costs. This is difficult to answer. In the case of The Residences at Atlantis, the developer is a public company selling this property out of a sales office in Florida, and they must, therefore, follow strict SEC guidelines not to sell the "investment" but rather just the "real estate and the lifestyle." And we abide by their approach.
If, however, you want to "play with the numbers," that's entirely up to you. I do know, and they can document that the occupancy at the Atlantis existing property has averaged an exceptional 82% for the past 10 years. Of course, past history doesn't guarantee the future, but it does serve as compelling evidence that this is a fantastic resort with excellent operators.
Another number made public is their 2005 seasonal rates. I believe that of the existing inventory the rates for the Imperial Club at Atlantis will come closest to the new condo hotel building. These are the concierge-level suites in the existing Royal Towers.
Mind you, these are hotel-room sized units, smaller in size than the condo hotel studio unit. These units do not have kitchens like the condo hotel units will. They are neither the same five star level or as new as the condo hotel units will be. They are simply described as being concierge-level suites, on the 17th-24th floors, offering the highest level of service, with the most luxurious appointments and harbor or water views.
Hopefully, this will give you analytical types a good idea of what one might expect in terms of rental rates at the Residence at Atlantis. They actually break down their rates by time of year as well as midweek (Sun. through Wed.) vs. weekend rates (Thurs. through Sat.) You can see all of the numbers here, but allow me to summarize some averages for you as follows:
Imperial Club High Season Low Season
Harbor View $605-$660 $410-$540 Water View $660-$720 $435-$565 1 Bedroom Regal Suite $1,075-$1,180 $720-$920 2 Bedroom Regal Suite $1,665-$1,825 $1,120-$1,350 1 Bedroom. Grand Suite $1,675-$1,850 $945-$1,470 2 Bedroom Grand Suite $2,255-$2,500 $1,339-$1,879
It's Simply a Case of Supply VS. Demand
There are only 500 condo hotel units. They will be the only units Atlantis offers that have full kitchens and washers and dryers in the rooms.
The 44 direct ocean units will only be sold as two-bedroom units. This means that no more that 456 lucky investors will get a chance to own a piece of this fantastic offshore resort.
Imagine knowing that any time you want to use it, your family can hop a short 45- minute flight from Florida and start enjoying your escape. The kids will absolutely love the pools, beach, sharks, the waterpark and swimming with the dolphins.
For us "big kids," the casinos, nightlife, restaurants and bars will provide endless ways to while away the day. Again, no more than 456 people in the world will have this chance.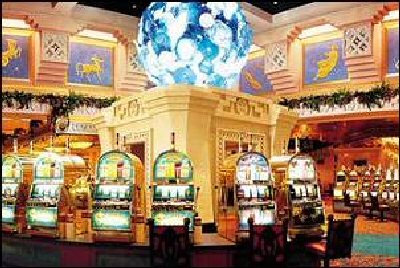 People will want this property simply because it is the world-renowned Atlantis, just the same way many people want to be one of the few that own in a prestigious Trump property. The difference here is that there is one and only one Atlantis!
Need More Reasons to Buy Atlantis?
Here are a couple more selling points to consider. There is a 10% transfer tax when you sell a Bahamas property. This is typically shared between buyer and seller, but the developer is picking up the whole tab for this for your purchase.
Timing is ideal for condo hotel buyers. The master plan for this expansion will have Marina Village, the all-suite hotel, the water theme park and the Dolphin Encounter up and operating before the condo hotels will be ready to be closed upon, so everything that will help your room get rented will be in place from day one. The construction sites, overlooking the beautiful Caribbean waters, stand ready.
Prices
I had previously reported that units will start at about $750,000. In fact, the actual prices are in now, and I'm pleased to tell you they start at quite a bit less, $700,000 to be exact. And, if you buy now, there are units available in every price and size category:
Studios range from $700,000 to $900,000
One bedrooms range from $1,100,000 to $1,600,000
Two bedrooms range from $1,800,000 to $3,400,000
So How Do You Get One?
A total of 30% cash down is required:
10% is due at contract.
10% is due 90 days later.
10% is due one year from date of signed contract.
The sooner your reservation is made, the better unit selection you will have, and the cheaper the price will be. You can certainly expect a few price increases along the way and a rather short period of time before they are over-reserved and completely sold out.
I heard a salesperson say, "Buy now, and think about it later." In this case, that is sage advice. Remember, your deposit is refundable and you have a 15-day recission period to back out even after signing the contract. Those who move quickly on this property will be sitting on a long-term investment that I believe will do exceptionally well.
More Information
I have a Data Sheet on the Residences at Atlantis. Many of you requested this Data Sheet after my first Atlantis Property Alert. I have since enhanced it with the new information garnered from my visit. It also has instructions on how to reserve your unit.
To receive it, per developer requirement, you will need to provide your complete contact information, even if you've already sent it to me on the last go-round.
Provide name/contact information to receive the Atlantis Data Sheet here.
Wrap Up
As you can tell, I am genuinely enthused about the Residences at Atlantis. It gives me great pleasure to be able to tell you, my loyal readers, about properties of this caliber. And I am delighted to be able to get you in at the earliest stage of pre-construction availability when prices are at their lowest and the selection is at its greatest.
Thank you for your interest in our Property Alerts. Please feel free to forward them to a friend. They can subscribe here if they like what they see. We're always trying to spread the exciting news about condo hotels.
As for The Residences at Atlantis, all I can say is: Don't miss the boat!
Joel Greene
Broker-Associate
Condo Hotel Center
1368 NW 165th Ave.
Pembroke Pines, FL 33028
(954) 450-1929
Info@CondoHotelCenter.com
www.CondoHotelCenter.com
www.CondoHotelsDubai.com
www.WorldClassCondoHotels.com
www.CondoHotelsBahamas.com
www.CentralAmericaSecondHomes.com
www.DominicanRepublicVacationHomes.com
Want to know more about me? Click below: //www.condohotelcenter.com/joel-greene.html