The Residences at Atlantis
New Condo Hotel Coming to Paradise Island, The Bahamas
It's definitely called "Paradise" for a reason!
May 3, 2004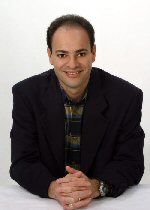 Back in January, I took the family on a short Disney Cruise to the Caribbean. Although we didn't get off the ship in Nassau, seeing hotel Atlantis' pink towers from the bow of the ship brought back terrific memories of my third wedding anniversary and the weekend vacation I took with Jackie in quieter times (prior to the birth of our twins).
Looking out over the deep blue waters, I reflected on their magnificent casino that graciously gave me $100 in my first 10 minutes, but took back $250 before we left. I remembered how amazing it was to get face-to-face with live sharks as we walked through the shark-filled glass water tunnels at their fabulous pool.
I recalled trying new foods like escargot and crème brulee for the first time in their five-star restaurant, Café Martinique. (I highly recommend that you get the food plan and eat like a king if you go there.)
Back then, I was a hotel broker, not a condo hotel specialist as I am today. I dreamed of one day getting the listing on a property as spectacular as Atlantis. Now flash forward a few years, and my dream is, in a way, about to come true.
I'm pleased to say I have been given the unique opportunity to help sell units in the Atlantis' upcoming expansion property, a magnificent condo hotel to be named The Residences at Atlantis located right next to the resort.
The developers have invited me as a representative of Condo Hotel Center to fly over to the property's site on their private jet on May 5th when I'll meet with their development team and hopefully with the Atlantis Hotel's owner, billionaire Sol Kerzner. I'm sure Sol would like to pick my brain to learn the secrets of my real estate success. (I can hear my associates snickering as I type this.)
You're probably wondering why I'm telling you about The Residences at Atlantis prior to that meeting. The reason is, by that time it may be too late for you to have full pick of all the condo hotel units (friends and family of the developers are already reserving theirs), and prices will quickly be rising in accordance with the anticipated demand.
As you know, my goal with these Property Alerts is to clue you in to new properties BEFORE the general public so that you get the best selection and pricing. So even though I don't have every detail on this property yet, I wanted to get the word out to you. I assure you nobody has more information on it than we do, even those friends and relatives of the developer who are reserving units. Read on if owning a piece of this incredible resort appeals to you.
The Residences at Atlantis
As part of a major $1 billion (yes, with a "B") renovation and expansion to this world class hotel, developers Turnberry Associates and Kerzner International Ltd. plan to build a 22-story, 500-unit, Mayan-style, condo hotel tower. The condo hotel will cost $200 million and will be five-star caliber with an emphasis on excellent craftsmanship.

The property's expansion also includes a to-be-built, 600 room all-suite hotel among many other upgrades. Both buildings will be flanked by a water theme park near the existing, signature pink Royal Towers.
In case the one golf course Atlantis already has isn't enough for you, they are going to create a new one on nearby Athol Island. A private ferry will take you there. How cool is that!
Atlantis Resort Amenities

When you stay at the five-star Residences at Atlantis, you'll be able to partake of all the fantastic amenities at Atlantis Resort.
This 2,317-room, ocean-themed destination resort features three interconnected hotel towers built around a seven-acre lagoon and a 34-acre marine environment. It is also the home to the largest casino in the Caribbean. Here's a partial list of the Resort's amenities:
50,000 sq. ft. casino
11 swimming areas – Includes kids' pools, formal pools, a seven-acre snorkeling lagoon and a river ride for tubing
Miles of beaches
Full-service spa and salon
Sports center with tennis courts, lap pool, cardio-theater, exercise classes, personal training sessions, fitness machines
Golf – 18 championship holes designed by Tom Weiskopf, clubhouse
Shops – World-class, duty-free shopping
35 restaurants
Night clubs including live music, sports bar, comedy club
Movie theater
Teen center – Kids 7-17 can hang out, dance, play Game Cube, watch DVDs, or surf the Internet
Discovery Channel Camp – Kids 4-12 can participate in adventures and explorations
Marine habitat with 34 acres of waterscape, the world's largest open-air marine habitat with over 50,000 sea animals
Library
Business center
Marina
24-hour in-room dining
Laundry
Baby-sitting
Concierge services
Three Types of Units
The Residences at Atlantis will offer several different options in condo hotel units:
Studios, 519 and 523 sq. ft. (See floorplan to right.)
One bedrooms, 974 and 1,195 sq. ft.
Two bedrooms, 1,497 and 1,718 sq. ft.
Condo Hotel Unit Features
The condo hotel units will be provided to you professionally designed and fully furnished in true five-star fashion. Among the impressive features will be:
Marble flooring
Berber carpeting
Two-tone wood
Snaidero Italian cabinetry in the kitchen
High-end electronics like plasma screens, sound system, stereo & phones
Designer finishes including framed art work, wall coverings, crown molding, etc.
Living Restrictions
The living restrictions are 90 days per year. The rest of the time, if you choose to place your unit in the rental program, the developers are confident they'll be able to keep it filled. Construction on The Residences at Atlantis is expected to begin July 2005. Construction of The Residences at Atlantis is expected to be complete by early 2008.
The Developers
Turnberry Associates is one of the largest high-rise developers in the U.S. and has been setting unprecedented standards of luxury for high-rise living for over 40 years. Turnberry developed the first high-rise condo in Las Vegas in 30 years, Turnberry Place, and is building three condo hotel towers at the MGM Grand , just off the Vegas Strip (units available in Tower III which just came on the market).
In Miami Beach, Turnberry Associates has just purchased the world-famous, 900-room Fontainebleau Hilton for $300 million. They will spend $400 million renovating the property and creating, in conjunction with their two adjacent condo hotel towers, Fontainebleau II and Fontainebleau III Ocean Club, a Las Vegas-style mega-resort property. (Fontainebleau II is sold out; Fontainebleau III Ocean Club still has availability.)
Turnberry will be teaming with Kerzner International Limited, owner of the Atlantis and a leading international developer and operator of destination resorts, casinos and luxury hotels. Together, you have two industry giants with an unmatched world of experience.
Prices
Prices are not firm yet. As I mentioned at the top of this Alert, I'm jumping the gun a bit in getting you this information. But rest assured, prices at this highly-desirable five-star resort are not for the timid. They will range from $700,000 to $3,400,000.
Required Payments
A total of 30% cash down is required:
10% is due at contract.
10% is due 90 days later.
10% is due one year from date of signed contract.
Demand For The Residences At Atlantis
A word to the wise. I expect the demand for this condo hotel to be very strong. It may very well break records. I doubt one could name another island property that has captured our interest more than the "pink one with the sharks."
Tourists, conventioneers, honeymooners, gamblers, families with kids and those without, all love this property and help contribute to its posted occupancy rates of over 85%. That's a number which is unheard of in U.S. hotels anywhere except maybe Honolulu and the Vegas Strip.
This property's very large and loyal following will jump at the chance to own a piece of the Paradise Island action. Fortunately, you are learning about this condo hotel opportunity BEFORE the customers on Atlantis' immense data base. Marketing has not yet begun to this group but promotional plans are well underway. In fact, they're designing the brochures even as I write this.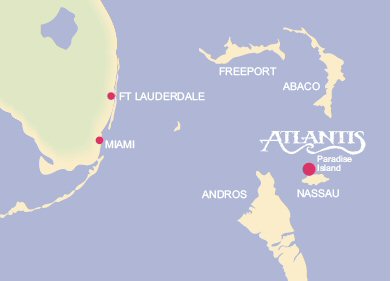 From a real estate point of view, it is unlikely that a mega-resort of this kind can be easily replicated. Hence, we look for continued appreciation in value of this one-of-a-kind resort. There is every likelihood that this resort will enjoy consistent, long-term success.
With only 493 units available, this condo hotel is likely to sell out in a few months, possibly weeks. And that's why I'm sending out this Property Alert in advance of my trip to the property's site and my meeting with the developers. You can be sure, I will be providing those of you who are interested with more details as soon as I return.
In the meantime, I have put together a preliminary Data Sheet. It covers details like rental splits, real estate taxes, maintenance costs, etc. As I mentioned, the brochures do not yet exist. To receive my Data Sheet, you'll need to provide your full contact information, in accordance with the developer's requirements.
Submit contact information here to receive the Data Sheet.
After you review my Data Sheet, let me know if you'd like to proceed with a reservation, and I'll send you the necessary paperwork and deposit instructions.
Wrap Up
As I mentioned in the beginning of this Property Alert, being given the opportunity to sell Atlantis is a dream come true for me that goes back to my anniversary visit to this resort many years ago. If owning a piece of this awesome property is a dream for you, I look forward to making it a reality.
Thank you for your interest in our Property Alerts. Know someone else who might enjoy reading them? Forward them this email and have them subscribe here.
As they say in the Bahamas, "Have a good day." They do speak English, you know.
(For additional information on The Residences at Atlantis, please see our Property Alert on The Residences at Atlantis, Part II.)
Joel Greene, Broker-Associate
Condo Hotel Center
1368 NW 165th Ave.
Pembroke Pines, FL 33028
PH: 954-450-1929
Joel@CondoHotelCenter.com
www.CondoHotelCenter.com
www.CondoHotelsDubai.com
www.WorldClassCondoHotels.com
www.CondoHotelsBahamas.com
www.CentralAmericaSecondHomes.com
www.DominicanRepublicVacationHomes.com
Want to know more about me? Click below:
//www.condohotelcenter.com/joel-greene.html
© Condo Hotel Center. All rights reserved. No portion of this data sheet may be reproduced, exhibited or distributed without the express written permission of Condo Hotel Center. Condo Hotel Center takes copyright infringement seriously. Violators will be prosecuted to the fullest extent of the law.
Although Condo Hotel Center believes the information contained in this data sheet to be accurate and complete, Condo Hotel Center can make no such guarantee. All features and descriptions are subject to change.