RESALES AVAILABLE AT
THE ATLANTIC FORT LAUDERDALE
FIVE-STAR CONDO HOTEL
November 17, 2004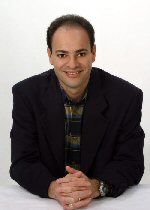 Hello, Joel Greene here. As I look at the calendar, I can hardly believe we are headed toward the holiday season, which for us South Floridians means tourist season is about to begin. When the temperature drops and the snow begins to fall, the beaches of South Florida become the world's favorite getaway.
I myself recently had an opportunity to experience a Florida getaway of sorts. Last month, one of my clients was kind enough to offer me use of his recently purchased condo hotel unit in Fort Lauderdale. It was a stunning studio unit overlooking the white sands and lapping waves of the beach at The Atlantic.
I've stayed at nice hotels before, having come a long way from my bachelor days when I was a perfectly content Motel 6 kinda guy, but I must tell you that after my weekend at The Atlantic, I am hopelessly spoiled. I have become what my wife has for many years been trying to mold me into-an aficionado of five-star, luxury hospitality. I have a newfound appreciation for "the good life," and The Atlantic is the standard by which I will judge all future hotel stays.
So, speaking from personal experience, I'd like to revisit one of my new favorite properties, The Atlantic, which although almost completely sold out by the developer, now finally has a few very desirable units available for resale.
The Atlantic, Fort Lauderdale
The Atlantic is a five-star condo hotel in Ft. Lauderdale. In fact, when it opened this past June, it was (and for the moment still is) the only five-star hotel in the entire city. It is run by Starwood Hotels & Resorts, as part of the Starwood Luxury Collection, meaning that it is in the top 10% of all of their 750 properties worldwide.
The Atlantic is a boutiquish-sized 124 units. Besides being one of the few South Florida condo hotels that is currently up and running (most are all still being planned or constructed), it is the only Ft. Lauderdale condo hotel that does not have living restrictions. That means, you can actually live in your condo as a primary residence.
It also means that the typical percentage of people participating in a condo hotel rental program, about 70%, will likely be much lower. Therefore, those owners who do participate can expect higher-than-average occupancy rates and revenue.
Here's what you get at The Atlantic. I'll I'll give you the details on the specific units that are available in a second.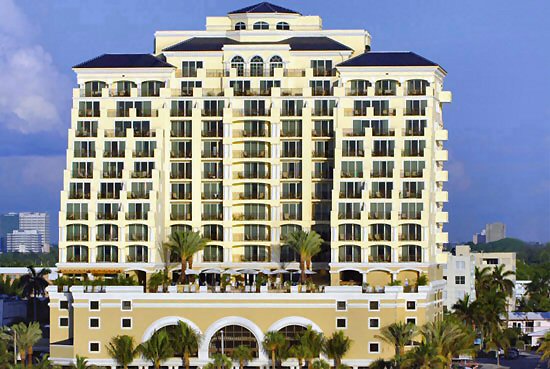 Building Features and Amenities
Beautiful porte-cochere entry
World-class concierge
24-hour doorman and valet
Magnificent lobby and common areas
Heated swimming pool with panoramic view of Atlantic Ocean
Ocean-view poolside cafe
Indoor/outdoor gourmet dining
24-hour room service
Elegant private reception areas
Boardroom and conference facilities
Housekeeping
The Spa
The Atlantic has a 7,000 sq. ft. European spa, fitness center, massage and treatment rooms. Available are all types of massages, facials and manicures. At the fitness center, there is one-on-one personal training, aerobic and strength training, yoga classes and aqua aerobics.
Residence Features
Fully-appointed furnished suites
Imported marble entry foyers
Expansive terraces
Electronic card-key security system
Hotel telephone system with pre-wiring for private line and data port
Televisions in all living rooms and bathrooms
Hurricane rated, energy efficient exterior window glazing
Owner's closet with security locks in all suites
Private storage area available
Kitchen Features
European wood cabinetry
Imported granite kitchen countertops
esigner series kitchen appliances
Refrigerator with ice maker
Ceran cooktop
Microwave
Bath Features
Designer-selected bathroom fixtures
Clear glass-enclosed shower
Marble baths
Granite vanity tops
Location
The Atlantic is within walking distance of Ft. Lauderdale's bustling cultural and arts district. In abundance are galleries, fine arts museums and performing arts venues. Shopping and entertainment, upscale boutiques, restaurants, lounges, night-spots, movie theaters and the famed Las Olas Boulevard are nearby. Sports activists will enjoy the area's wilderness trails, deep-sea fishing and yachting, and snorkeling and diving, not to mention 23 miles of beaches.
For nightlife, about 20 minutes up the road is the new Seminole Hard Rock Hotel & Casino. This 500-room hotel features a 130,000 sq. ft. casino and Las Vegas-style entertainment. Coming soon is also a 300,000 sq. ft. retail area boasting more than 30 shops, 11 restaurants and 11 nightclubs, a 5,600-seat concert venue and an amphitheater.
Fort Lauderdale
The Atlantic will be located just two blocks from the Q Club. Currently under construction, the Q Club will be a beautiful, four-star condo hotel which, by the way, just this week raised prices on most of its units by $30,000-$50,000. How's that for instant appreciation!
Near The Atlantic will also be the five-star St. Regis condo hotel, also under construction. Just across the street from The Atlantic will be the new five-star Trump Fort Lauderdale (soon to be available at pre-construction prices). These high-quality properties will lend an air of upscale sophistication to the area, pushing rates and appreciation ever higher.
In every way, Fort Lauderdale is definitely a city that's "in." Just to give you some statistics, it recently ranked #17 out of the top 180 markets in the country for home appreciation with an annual rate of 13.3%. (California cities grabbed almost all of the top spots.)
Resale Units Available
Nearly all of The Atlantic's units were sold out before construction was finished and the property opened its doors five months ago. Now we see the first resales coming on the market. Consider these three opportunities:
1) An exceptional two-bedroom unit plus living room, located on the sixth floor of the preferred south side of the building. This unit provides spectacular views of the Atlantic Ocean to the south and to the east as well as a terrific view of the downtown Fort Lauderdale area to the west.
This 2/2 unit is made up of a studio F unit of 627 sq. ft. plus 79 sq. ft. balcony and an adjacent and connecting E unit of 786 sq. ft. plus a 76 sq. ft. balcony. It has a lockout door with a separate entrance and, therefore, can be offered as a studio, a one- bedroom or a two-bedroom unit to hotel guests. This type of flexibility translates into higher occupancy rates and increased revenue.
Price: $1,275,000 with an additional $75,000 discount if it is sold as a two-bedroom unit. Individually, the studio is $565,000 and the one-bedroom unit is $710,000.
2) A 794 sq. ft. one-bedroom, one-bath with 75 sq. ft. balcony, this unit faces north, offering ocean views to the right and city views to the left.
Price: $725,000
3) A 980 sq. ft. one-bedroom, one bath unit with a 79 sq. ft. balcony, this unit has a separate foyer and huge master closet. It is located on the back half of the building far away from any street noise. It has a balcony on the north side, providing ocean, Intracoastal Waterway and city views.
Price: $825,000
If you are interested in any of these units, contact me for additional details. I am certain these units will not be on the market for long, particularly the two-bedroom with the lockout feature as it is the only one available.
If you'd like a tour, I would be glad to show you the property myself. It will give me a chance to think back and relive my one glorious weekend of five-star service and luxury amenities.
New York Times Article on Condo Hotels
About two weeks ago there was an article in The New York Times about condo hotels. Since one of my objectives with these Property Alerts is to educate, and I know many of you don't receive the newspaper, I thought I'd reprint the article here. It's a well-written piece that gives some good insights into how the condo hotel concept is spreading from resort areas to major cities. Enjoy!
Commercial Real Estate: A Room of Your Own (When the Hotel Isn't Renting It)
October 27, 2004 By Terry Pristin The New York Times
CHICAGO – Just south of the Loop, three buildings in the historic Printing House Row district that together housed a fading Hyatt Regency are being transformed into this city's newest boutique hotel. But in contrast to most other hotels, the majority of the rooms will be owned by individual investors.
Named the Morton because one of the buildings, completed in 1896, originally served as the headquarters of the Morton Salt Company, the new hotel will be operated by Kimpton Hotels and Restaurants, a San Francisco company known for upscale pet-friendly properties in urban downtowns.
But unlike other Kimpton-managed hotels, the Morton will be a condominium hotel, which means that most of its 162 rooms and suites will be owned by individuals, who will get a portion of the rental proceeds. So far, 102 units have been sold, for prices ranging from $175,000 for a single room to $480,000 for a two-bedroom suite, said Robert D. Falor, the president of the Falor Companies, which bought the property in July.
Condo hotels have been around for more than two decades, but until a few years ago, the concept was generally applied only to beach and ski resort areas. But now it is spreading to urban locations, especially in this city, where three other projects that include condo hotels are planned, including one with 227 units that is being developed by the Trump Organization on the site of the recently vacated Sun-Times building along the Chicago River.
Unlike a participant in a fractional ownership arrangement, the buyer of a condo hotel room owns the unit and is free to sell it. The hotel unit can be rented out daily, unlike a residence condo.
In recent months, Falor, which was founded here in 1983 by Mr. Falor's father, David, has been on a buying spree, acquiring nine properties for conversion to condo hotels, with five more under contract. Most of these hotels are in Florida, including the Tides, Edison and Breakwater hotels in South Beach and the Cheeca Lodge and Spa in Islamorada, but the company has also just closed on its $2.3 million purchase of a 1919 office building at the corner of State and Adams Streets, which will be gutted and turned into a condo hotel called the Century.
From January 2004 through next March, the company expects to close on $1 billion worth of condo hotels, including properties in Los Angeles, San Francisco, Washington and Boston, Mr. Falor said. "We have found there is a huge pent-up demand for this product," he said.
Urban condo hotels are being marketed to suburban residents, business travelers and other people who regularly visit a particular city but do not spend enough time there to own a pied-à-terre, which would sit empty when they were not in town. With income from a unit in a condo hotel, buyers hope to defray some of their carrying costs and perhaps make some money, either from rental income or appreciation. They may also gain some tax benefits through depreciation.
In exchange, they pay a premium over regular condo prices and agree not to decorate the space or stay in it beyond an agreed-upon number of nights.
Condo hotels are still rare enough that no one has yet calculated the number of such properties nationwide, said R. Mark Woodworth, the executive vice president of PKF Consulting, a company that specializes in hotels.
But he said that selling units to individual investors is becoming a popular form of financing hotel construction, particularly as developers find it increasingly difficult to get public subsidies for these projects. In addition, he said, the terrorist attacks three years ago were disastrous for the hotel industry and also made it difficult to build new full-service hotels. "Since 9/11," Mr. Woodworth said, "there's an element of risk that didn't exist before."
David C. Pisor, the managing partner of the Elysian Development Group, which is developing a 60-story hotel and condominium residence project near this city's Magnificent Mile shopping district, said that selling hotel units to investors would enable him to create an ultra-luxurious brand with amenities like kitchenettes concealed behind cabinets and armoires holding personal possessions that can be rolled into the room when the owner stays there.
"This will be an incredible hotel asset with no debt," said Mr. Pisor, who has sold 82 units ranging from 800 to 1,000 square feet at prices from $650,000 to $900,000. The project, at Rush and Walton Streets, will have 171 hotel rooms and 50 condominium residences.
So just how much income can a prospective hotel condo buyer expect to earn when the unit is rented out? Developers and brokers are not allowed to answer this question; if they do, they must register the property as a security subject to the regulations of the Securities and Exchange Commission.
They are also barred from pooling the hotel revenue, which means that the owner is paid only when the actual unit is occupied. Brokers who sell condo hotel units have to guard against running afoul of securities laws because if the project runs into trouble, the buyer may use that violation to break the contract, said Gary Saul, a partner in the Miami office of the law firm of Greenberg Traurig.
Joel Greene, the president of Condo Hotel Center, a brokerage firm in North Miami, Fla., that handles condo hotel sales around the country, said buyers could expect to cover most of their costs or perhaps even earn a small annual profit on their investment if the condo hotel was in a good location, had good management and was part of a strong brand. "Primarily, you focus on appreciation," Mr. Greene said.
The terms of the rental agreement vary according to the developer. Falor, for example, takes 10 percent off the top and splits the rest with the owner, who also must pay a monthly maintenance fee and the unit's share of the insurance premium and real estate taxes. Another 4 percent is deducted so that the bedspread, say, can be replaced when necessary.
Other condo hotels assess the owners as the need arises. At the Trump International Hotel at Columbus Circle in Manhattan, where all 167 hotel rooms and suites are condos, the owners recently had to pay for a $12 million upgrade.
For a one-bedroom suite facing Broadway, that worked out to about $35,000, said Douglas Russell, a vice president and director of Brown Harris Stevens Residential.
Completed in 1996, the Trump building may be the only urban condo hotel with a track record. Mr. Russell said that in 2000, a very profitable year for the hotel industry, owners of a one-bedroom suite without a mortgage had a net gain of about $35,000 from rentals; in 2002, their income dropped to about $10,000.
As for appreciation, Mr. Russell said he paid $385,000 for a 691-square-foot one-bedroom suite in 1996 and could sell it today for $585,000. During that period, however, prices in the building's residential tower have doubled. "We haven't seen quite the appreciation that the tower has," said Mr. Russell, referring to the condo hotel. "Any time you put a restriction on something, you do to some degree hold back appreciation."
Owners of Trump hotel condo units in New York are not allowed to live there full time, because that portion of the project received a 12-year tax abatement. The Trump International Hotel in Chicago, priced from $700,000 for one 608-square-foot room to $3 million for a 2,000-square-foot suite, has no such restrictions on occupancy. Buyers are charged $40,000 a room for the furniture, Mr. Russell said. The 90-story building is expected to be finished in 2007.
Even with all these new projects, Bob Waun, a vice president at Paramount Bank in Birmingham, Mich., said his bank was one of only five across the nation willing to write mortgages for buyers of hotel condo units. The rate is generally one percentage point higher than a traditional loan, he said.
But Paramount Bank is cautious, Mr. Waun said. A borrower can get only one loan in a particular project and is expected to look upon the property more as a second home than as an investment. "We like them to have some commitment to it, to go there," he said. "We don't want it to be a pure investment play." Borrowers who feel some attachment to a property are less likely to default, he said.
As a second home, however, a condo hotel may have some shortcomings. Mr. Falor was asked what would happen if the owner called at the last minute to reserve the unit. "If you call tonight, and the unit's not occupied, it's yours," he said. And if it is occupied? You are welcome to another room, he said, at "the best available rate."
Wrap Up
I hope you enjoyed reading the Times article. It's one of many that has been written lately on the subject of condo hotels. If any of the properties mentioned in the Times story interested you and you'd like more information, or you're considering any of the units available at the Atlantic, just give me a call. It is my pleasure to provide you with the facts you need to make an informed decision.
Thank you for your interest in news from Condo Hotel Center. Feel free to pass this Property Alert on to friends. They can sign up to receive their own Alerts at our website, www.CondoHotelCenter.com. We're always trying to grow our Property Alert community.
Have a great day!
Joel Green
Broker-Associate
Condo Hotel Center A division of Sheldon Greene & Assoc., Inc.
1368 NW 165th Ave.
Pembroke Pines, FL 33028
(954) 450-1929
Info@CondoHotelCenter.com
www.CondoHotelCenter.com
www.CondoHotelsDubai.com
www.WorldClassCondoHotels.com
www.CondoHotelsBahamas.com
www.CentralAmericaSecondHomes.com
www.DominicanRepublicVacationHomes.com
Want to know more about me? Click below: //www.condohotelcenter.com/joel-greene.html