Aqualea Resort, Hyatt Condo Hotel in Clearwater, FL
Special Pricing Incentives for Our Property Alert Subscribers
July 25, 2006

Hi everyone – Maria Lopez here, and I have a question for you: What's your definition of relaxation? Is it a quiet afternoon of sunbathing by the pool? Watching an inspiring sunset at dusk? Or is it building a castle on the beach with your kids, sand in your toes and wind in your hair?
Imagine a place that offers all of this – a luxurious retreat in the heart of a tropical wonderland where you can fill your days with endless activity – or simply do nothing at all. A place where your every need is catered to, and opportunities for pampering abound.
Sounds wonderful, doesn't it? If you like the idea of a private beachside paradise where everything revolves around you, then you're going to fall in love with today's property!
A Lush Tropical Paradise, The New Centerpiece of Clearwater Beach
Introducing Aqualea Resort and Residences, Clearwater's newest and most luxurious resort condo hotel. Poised along a 2,400 square foot expanse of the world-famous Clearwater Beach, FL, this breathtaking 17-story property will blend the luxury and amenities of a four-star resort with the convenience and ease of a beachfront condo. All of the resort's 250 sumptuous suites will offer stunning views of the beach and the Gulf of Mexico.
Aqualea will be managed by Hyatt Corporation, a global leader in vacation home management. With the completion of the city's new $30 million Beach Walk project, Aqualea will transform Clearwater Beach into a premier beach resort destination.
Now it's time to tell you a little more about this fine property and its wonderful location.
World-Class Luxury on White Sands
Rising majestically out of the sparkling white sands of Clearwater Beach, Aqualea embodies tropical splendor at its finest. Surrounded by lush green landscaping, the resort will allow owners and guests to enjoy four-star luxury vacationing in a spectacular beachfront setting.
Aqualea is centrally located near a variety of options for casual and fine dining, boutiques and retail shops, and endless beach entertainment and recreational activities. The resort is also just steps away from the exciting Beach Walk development project – more details on that in just a minute.
Elegant in its classic Mediterranean architecture, Aqualea will feature a distinctive tile roof and lovely porte-cochere entrance. The front lobby will feature a lavish seating area and a dazzling grand staircase.
Resort Amenities:
World-class spa facilities
35-foot wide main resort pool and patio
"Kiddie pool" with secure gated enclosure
Secluded spa pool with lounge patio
Two expansive arbors for shade and relaxation
Beach concession with towel & beverage service
Outdoor grill area
Upscale on-site restaurant
Expansive private meeting rooms
Ballroom
Business center
State-of-the-art fitness center
On-site private beach club
Secure covered parking garage
Concierge, valet and bellhop services
24-hour security with high-tech surveillance
24-hour room service
Full housekeeping services
Neptune Spa Pool If you appreciate a more intimate setting away from the excitement of a full-scale resort pool, step into the tranquility of the Neptune Spa Pool & Lounge. Set atop Aqualea's sixteenth floor, this cozy retreat will feature a therapeutic water jet system, individual hammocks with arbor shading, outdoor couches and chaise lounges and lush tropical foliage and flowers.
White Orchid Spa & Fitness Center Residents of Aqualea Resort and Residences will enjoy on-site access to the resort's relaxation and fitness retreat, White Orchid Spa & Fitness Center. An oasis of pure tranquility and relaxation, the spa includes treatments in private suites, massage services, a premier fitness facility with state-of-the-art exercise equipment, saunas and steam rooms.
White Orchid Beach Club Indulge in the magic of the beach in your own private beach club! As an owner at Aqualea, you'll have the opportunity to enjoy exclusive membership in the White Orchid Beach Club, which provides members access to private beach club facilities and a variety of personal services and privileges. The Club will offer an upscale, relaxing retreat where owners can get away from the hustle and bustle of the main resort and beach.
White Orchid Beach Club member benefits include:
Private clubroom with bar and lounge
Library and game tables
Business center with high-speed Internet and meeting room
Beachside towel and beverage service
Members-only locker rooms
Media room with theatre and surround sound system
Outdoor terrace with patio seating
Private dining room for special events
Club members will also enjoy parking privileges, special discounts on food and beverages and access to special children's activities and programs at the resort.
A City of Pristine Beaches and "Clear Waters"
Literally translated "Clear Water" from the native Indian "Pocotopaug," the city of Clearwater was named for its abundant fresh springs along the shore. This picturesque seaside community is located on the Pinellas Peninsula between the Gulf of Mexico on the west and Tampa Bay on the east.
Settled by colonists in the mid-1830s, it was not until the 1890s that Clearwater gained a reputation as a resort community. With a current population of 108,000, Clearwater is now a progressive city that's committed to enhancing residents' lives and preserving its exquisite landscape. It's known around the globe for its pristine, white sand beaches that draw millions of surf-loving visitors and tourists each year. The weather in Clearwater is outstanding, blue skies and sun most every day. The city boasts an average annual temperature of 73º.
One of the many advantages of vacationing in Clearwater is that it's incredibly easy to get to! Two major airports are located conveniently nearby: Tampa International Airport and St. Petersburg/Clearwater International Airport.
Clearwater Beach – One of America's "Top Ten" Beaches!
Clearwater Beach has emerged as the most popular beach scene on Florida's west coast. It was recently named one of "America's Top Ten Beaches" and the "Number One Activity Beach" by The Travel Channel television network.
What's more, USAToday.com readers ranked Clearwater Beach in their 2001Top 10 list of Best Beaches from Maine to Hawaii!
No doubt about it — Clearwater and its island beaches are one of Florida's most popular vacation spots. Factor that in with the city's extensive recreational opportunities and close proximity to restaurants and attractions, and it's easy to see why Clearwater is known as "the place to play in Tampa Bay!"
And now, residents and visitors alike are abuzz about the community's exciting new Beach Walk redevelopment project – a visionary plan featuring a festive beachfront village of pedestrian-friendly shops, boutiques, restaurants, water sports and public attractions. Read on for more details.

Imagine a winding beachside walkway with colorful tropical landscaping, magnificent art sculptures and a sensational view of the Gulf of Mexico. Take a refreshing morning stroll down the promenade, shop at your favorite beach boutique, enjoy the cuisine at a small seaside café, or simply sit on a bench and enjoy a famous Clearwater sunset. This is Beach Walk!
Tourism is Clearwater's number one industry, and the beach is at the center of the tourism. City and tourism officials recognized that in order to meet the expectations of visitors in the new millennium, there was a need to improve the atmosphere surrounding Clearwater's beautiful beaches. With more permanent residences going up on the beach, it was also important to preserve overnight accommodations for the millions of visitors who come back year after year.
Five years in development, Beach Walk will implement a redesigned system of roads, public parking, landscaping, public attractions, walking promenades, street-level shopping and four-star hotel developments.
Extending one-half mile, Beach Walk will transform the look and feel of south Clearwater Beach and bring new vitality to the area.
This $30 million project is designed to bring visitors closer to the beach and provide an environment that will draw new hotel, retail, entertainment and restaurant business for out-of-town visitors, residents, and day trippers.
Beach Walk is expected to set Clearwater apart as a destination for Tampa Bay, the region, and the world. In short, Beach Walk is the future of tourism in Clearwater. Construction of this project began in January 2006 and is expected to take 3 ½ years to complete. Aqualea is just steps away from this exciting new attraction, putting you smack dab in the middle of the action!
Things to Do in Clearwater
Clearwater and its island beaches are superbly situated close to a variety of recreational opportunities. Here are just a few great ways to keep busy in this dazzling tropical town!
Seaside Fun and Frolics With miles of soft ivory sand, gentle surf and sparkling waterways, Clearwater's island beaches are second to none. Clearwater Beach has been certified as a Blue Wave Beach by the Clean Beaches Council, which identifies the cleanest, safest and most environmentally-conscious beaches in the nation.
The area's other beaches, Caladesi Island, Honeymoon Island and Sand Key Park beaches also received the Blue Wave Designation.
Whether you want to work on your tan or enjoy a variety of water sports such as swimming, snorkeling, jet skiing, and boating, the world-renown shorelines of Clearwater are sure to please. Just don't forget your sunscreen!
Breathtaking Natural Sights The Gulf of Mexico and local rivers in Clearwater offer endless opportunities for glimpsing wildlife in its natural habitat. Approximately 2,600 manatees inhabit the city's springs, bays and canals, feeding on aquatic plants. Everyone's favorite, the Atlantic bottlenose dolphin, can be seen cavorting with beauty and grace. Brooker Creek Preserve's 8,500 acres are home to more than 160 bird species, 20 amphibians, 50 reptiles and 40 mammals, many of them rare or protected. Even alligators can be found in some areas (but don't get too close!). Into hiking? Experience such "untraditional" trails as the Osprey Nature Trail on Honeymoon Island where the threatened ospreys increase in numbers, or the Fred E. Marquis Pinellas Trail, the longest and most recognized urban trail in the U.S.
"See-Worthy" Activities Sail away to adventure! Home to the largest recreational fishing fleet on the West Coast of Florida, the Clearwater Marina is one of the city's major recreational hubs.
Relax under the billowing sails of a luxurious three-masted schooner, enjoy an exhilarating ride on a speedboat, even cruise the Gulf on an authentic pirate ship! The boats at the Marina offer sightseeing, sailing, speed, "hands on" marine life adventure, dining and dancing, parasailing and more.
Family Fun Clearwater is just a stone's throw away from magical Orlando, which is home to Disney World, Animal Kingdom, Universal Studios and much more. But even right in the Clearwater/Tampa area there's plenty to do:
Adventure Island – Take the kids to Tampa Bay's only outdoor water theme park and slide, soak and splash to your heart's content!
Busch Gardens, Tampa Bay – An extraordinary atmosphere filled with naturalistic animal habitats and shows, hair-raising roller coasters and other rides, and dazzling live entertainment. New this year is Sheikra, the world's fastest, tallest and largest diving roller coaster.
Big Cat Rescue – Come face-to-face with over 200 big cats and 20-plus species of exotic and endangered cats, including Asian lions, Siberian lynx, clouded leopards, tigers, caracals and more.
Clearwater Marine Aquarium – View, touch and experience bottlenose dolphins, loggerhead sea turtles, river otters, sting rays, local fish, coral reefs, mangroves and more.
Heritage Village – An open-air living history museum featuring 23 "turn-of-the century" structures, with two dating back to the Civil War era.
Dunedin Fine Art Center/David L. Mason Children's Art Museum – Includes a unique children's museum in addition to works of many local and Florida artists.
Florida Botanical Gardens – Specialty gardens featuring Florida plants, including wildlife nesting habitat, restored wetlands and natural bridges.
Meet the Team Behind Aqualea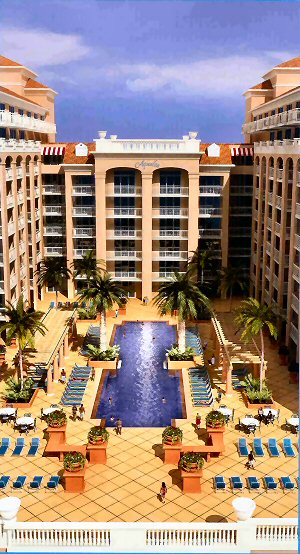 Aqualea Resort and Residences is being developed by NJR Development, LLC, headed by Neil Rauenhorst, who brings 23 years of successful development experience to the project, having created some of the most attractive residential and hotel real estate opportunities in Florida. For Aqualea, NJR has carefully selected a team of experts to design and manage what will become one of the area's top beach resorts. Managing architectural design is Nichols Brosch Wurst Wolfe & Associates, a firm internationally recognized for the creation of world-class hotels and resorts. The interiors of Aqualea are being designed by Wilson & Associates, an internationally acclaimed firm specializing in the custom designs for luxury resorts worldwide. Aqualea will be managed by Hyatt Corporation, a name synonymous with quality. Along with incredible amenities and an unsurpassed level of service, Hyatt brings decades of experience in hospitality management to the table.
Suite Features
The elegantly-appointed units at Aqualea are nothing short of spectacular. Each suite features designer furnishings and special upgrades that showcase fine craftsmanship and attention to detail, evident throughout the interior.
Ranging from 522 to 1,828 square feet, each residence also offers dramatic balcony views of the sparkling Gulf waters, the expansive beach and the surrounding area. Buyers will have the opportunity to choose from a variety of floor plans and suite styles.

Choose from studios, one- and two-bedroom condo hotel units, ranging in size from 522 to 1,828 sq. ft.
Suite amenities include:
Elegant entrance foyer with porcelain tile flooring
Spacious balconies with outdoor seating arrangements
Tastefully appointed suites with Tommy Bahama-style furniture
"Live-in ready" and outfitted with linens, silverware, plates, towels and other necessities
Custom crown moldings and trim carpentry throughout the residence
Residences smart-wired for variety of advanced technologies
Keyless entry system with controlled access
Built-in entertainment area with flat-screen television
Monitored fire sprinklers, smoke alarms and security system
Private lockable owner's storage closet
Premium stainless steel kitchen appliance package
Each suite will also feature magnificent energy-efficient picture windows and sliding glass doors overlooking the beach, resort pools and Beach Walk.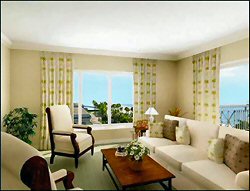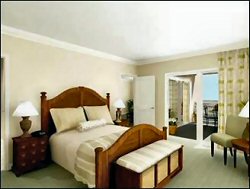 Owners may place their condo hotel units in the voluntary rental program managed by Hyatt Corporation.
Reserve Your Beachside Paradise
Construction of Aqualea began late 2006. Available are studio, one-bedroom and two-bedroom luxury condo hotel units.
Upon selecting the vacation home that's right for you, a 10% deposit is needed upon contract signing. A second 10% is due after the 15-day recission period. Closings are expected to take place when the building is complete, which is scheduled for late 2009.
Want More Information?
If you'd like to get more details about Aqualea Resort and Residences, we've prepared a data sheet that will provide you all the information you need. You'll have to give your contact information (name, address, phone, e-mail) to receive this data sheet. When you provide your information, you'll be registered with this particular property as a client of Condo Hotel Center.
Click here to request a data sheet for Aqualea Resort and Residences.
Remember, the time to grab your piece of paradise is right now – while there are still units left. Aqualea is a world-class resort that offers the ultimate in luxury living in an idyllic beachside setting. Along with the development of Beach Walk nearby, this property will set Clearwater apart as a destination for Tampa Bay, the region, and the world. Don't get left behind – make sure you're part of the exciting future of tourism in Clearwater!
Thanks for Your Interest in News From Condo Hotel Center
As always, we appreciate your business and interest in our Condo Hotel Center Property Alerts. If you know anyone else who'd like to receive our information, feel free to forward this newsletter and suggest that they, too, sign up for our Property Alerts.
A quick reminder, be sure to check out our New Listings. We are continually adding new properties.
Thank you for choosing Condo Hotel Center as your information source for all things condo hotel!
Joel Greene
Licensed Real Estate Broker
Condo Hotel Center
1368 NW 165th Ave.
Pembroke Pines, FL 33028
(954) 450-1929
Joel@CondoHotelCenter.com
www.CondoHotelCenter.com
www.CondoHotelsDubai.com
www.WorldClassCondoHotels.com
www.CondoHotelsBahamas.com 
www.CentralAmericaSecondHomes.com
www.DominicanRepublicVacationHomes.com
Want to know more about me? Click below:
//www.condohotelcenter.com/joel-greene.html
Follow us on Facebook.
* Copyright infringement is taken seriously by Condo Hotel Center and will be prosecuted.
© Copyright 2010 Condo Hotel Center. *All rights reserved. No portion of this Property Alert may be reproduced, exhibited or distributed without the express written permission of Condo Hotel Center. Although Condo Hotel Center believes the information contained in this Property Alert to be accurate and complete, Condo Hotel Center can make no such guarantee.