1 Hotel & Homes South Beach
Miami Beach Oceanfront Residences & Hotel Units
January 27, 2014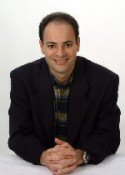 Hello.  Joel Greene here from Condo Hotel Center.
I'm just back from a wonderful vacation with my family.  We took a seven-day cruise from Miami to St. Thomas, St. Maarten and Nassau, Bahamas.
I could wax poetic about the aquamarine color of the water and the beauty of the Caribbean but you probably don't want to hear it, especially if you're looking out your window at several feet of snow.  So I'll spare you the talk of the tropics, except for one story I have to share.
On the first day of our cruise, I was with my family at the buffet line when I noticed my daughter Haley trying to subtly direct my attention to a man standing near her.  He was tall and had long hair and tattoos.  I recognized him immediately.  Haley was standing next to the lead singer of Aerosmith!  Holy cow!  Steven Tyler was on our cruise!
Haley and her twin sister Lindsay managed to position themselves so I could snap a quick surreptitious photo.  I know, tacky, tacky.  But come on.  We're talking Steven Tyler!
Then Haley, who could barely contain her excitement, got up the nerve to ask, "Are you Steven Tyler?"  He graciously answered, "Yes, but only on Tuesdays and Thursdays."  It was an odd response but the man is a legend.  If he only wants to think of himself as Steven Tyler on Tuesdays and Thursdays, who am I to argue?
There's more to this story, and a better photo of Steven, which I'll provide toward the end of this write-up (no peeking now!).  But you're probably wondering why I'm telling you all this in the midst of a Property Alert.  Well, let's just say things aren't always as they seem, not on cruise ships, and not in real estate.  And that brings me to today's property.
It's a condo in Miami Beach that I've known since I was a kid.  The Roney Palace was a resort with a condominium component opened in 1971.
Recently I heard the property was being renovated, and some new condos would come on the market.   I wasn't interested, as something originally built in the early '70s probably wouldn't be of interest to my clients.
But, as I said, some things aren't as they seem.  And the more I learned about this renovation, the more I realized this property would offer so much more than I could have imagined.  Read on for details.
A Unique Hybrid Property
The original Roney Palace will soon become the 1 Hotel & Homes South Beach.  It will be completely transformed with a $200 million refurbishing and renovation of the entire property and will become the flagship property for the first green environmental hotel brand. That brand is being created by Barry Sternlicht, the CEO of Starwood Capital Group and the visionary who developed W Hotels and launched St. Regis as a global brand.
The 1 Hotel & Homes South Beach will be a combination of first-class hotel suites and luxurious condominium residences.
Specifically, floors 2-8 will be hotel rooms.  On floors 9-17 will be 163 condos.  And those condos are what I'm able to offer you today.
The benefit of pairing the condos with a hotel is two-fold: The property will have all the services and amenities of a luxury hotel; and it will have a professionally managed hotel rental program in place.  Owners will have the option of placing their condo in that program and receiving rent revenue if they desire.
Luxury Amenities
The condos at 1 Hotel & Homes South Beach will have access to the property's outstanding amenities including:
4 swimming pools
Rooftop restaurant-pool bar with panoramic ocean and city views
Pool-deck cabanas
Signature farm-to-table restaurant with Chef Tom Colicchio
Fully equipped fitness center
Full-service spa
Hotel facilities including meeting rooms & business center
Residents will also be able to take advantage of many of the hotel's services such as:
24-hour concierge
Valet parking
24-hour in-home dining featuring signature menus
In-residence massage and fitness services, including personal training
Personal shopping and delivery services
Pre-arrival kitchen and pantry stocking
In-home natural care botanical service
Eco-conscious housekeeping and linen services
On-demand maintenance services
Catering services and event planning for private events
Tech support services for computers, entertainment centers, etc.
Exciting SoBe
The location of 1 Hotel & Homes is ideal.  It sits on world-famous Collins Avenue at the north end of South Beach, known for its Art Deco architecture, nightlife, shops and restaurants.  Additionally, the property spans 600 feet of pristine ocean shoreline, providing access to the area's spectacular beaches.
Centrally located, 1 Hotel & Homes is a short drive to major highways.  It's about 15 minutes to downtown Miami and 20 minutes to Miami International Airport and Miami's cruise ship port.
Impressive Condo Features
The individual condo residences at 1 Hotel & Homes will feature expansive layouts.  They'll have spacious balconies overlooking the Atlantic Ocean or city skyline and Brazilian porcelain flooring throughout as well as other quality finishes.
The kitchens are being custom designed with cabinetry manufactured in Italy by Italkraft and white quartz countertops. They'll come with top-of-the-line kitchen appliances by Sub Zero and Bosch.
The master baths will have floor-to-ceiling travertine with Emperador marble accent. They'll have white lacquered oak vanities with travertine counters and ample under-counter storage custom designed by Italkraft.
Condos Can Be Reserved Now
Construction on 1 Hotel & Homes began in July 2013.  It is expected to be complete by May 2014.  The hotel will open its doors in September 2014.
The condo residences are available in one-, two-, three- and four-bedroom layouts, as well as penthouses, ranging in size from 830 to 4,280 square-feet.  Prices start at $1,044,000 and go up to over $5 million for penthouses.
Condos can be reserved now with 10%, followed by 20% after the 15-day rescission period has passed.  Balance is due at closing.  Preferred lenders will be available prior to closing in 2014.
Want to know more?  Just request my detailed data sheet below for all the info. and more photos, too!
Request the 1 Hotel & Homes data sheet here.
Steven Tyler, the Rest of the Story
I mentioned in the beginning of this Property Alert, things aren't always what they seem.  What I thought would be a minor rehab of an old condo building is turning out to be an extensive $200 million renovation/construction to create the ultra-luxurious 1 Hotel & Homes.
As for Steven Tyler, things weren't what they seemed either.  On Tuesday night of our cruise, my family went to see one of the ship's most popular shows, Legends of Rock 'n Roll.  It consisted of celebrity impersonators.  And, as you have probably guessed by now, Steven Tyler was one of them.
You should have seen the look on my daughters' faces when he appeared on stage.  Nonetheless, he put on a great show, and he was kind enough to pose with us for a quick photo later that evening.
Joel Greene
Licensed Real Estate Broker
Condo Hotel Center
1368 NW 165th Ave.
Pembroke Pines, FL 33028
(954) 450-1929
Joel@CondoHotelCenter.com
www.CondoHotelCenter.com
www.CondoHotelsDubai.com
www.WorldClassCondoHotels.com
www.CondoHotelsBahamas.com 
www.CentralAmericaSecondHomes.com
www.DominicanRepublicVacationHomes.com
Want to know more about me? Click below:
//www.condohotelcenter.com/joel-greene.html
Follow us on Facebook.
© 2014, Condo Hotel Center.  All rights reserved. No portion of this Property Alert may be reproduced, exhibited or distributed without the express written permission of Condo Hotel Center.  Condo Hotel Center takes copyright infringement seriously.  Violators will be prosecuted to the fullest extent of the law.
Although Condo Hotel Center believes the information contained in this data sheet to be accurate and complete, Condo Hotel Center can make no such guarantee. All features and descriptions are subject to change.
Please speak with your personal legal and financial advisors to determine whether this property is suitable for your objectives.