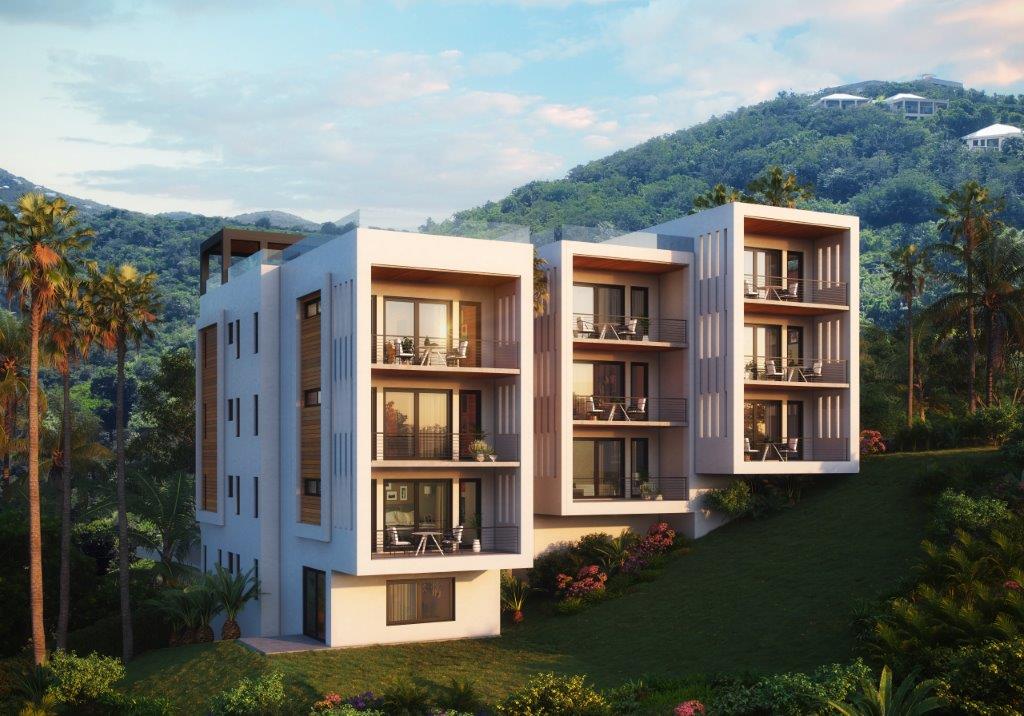 Island Sky St. John Residence Club will be a four-star quality development perched atop a hillside, overlooking the bay. It will have three connected residential buildings that contain 10 fully furnished and accessorized residences. The buildings will have two common-area rooftop lounges, one including a pool.
As a residence club, Island Sky offers fractional ownership that is far more affordable than buying a whole vacation home. Since most people only use a vacation home a few weeks a year, it can be a cost-effective option. Additionally, a residence club offers hassle-free ownership. A professional management company handles scheduling, maintenance and onsite services.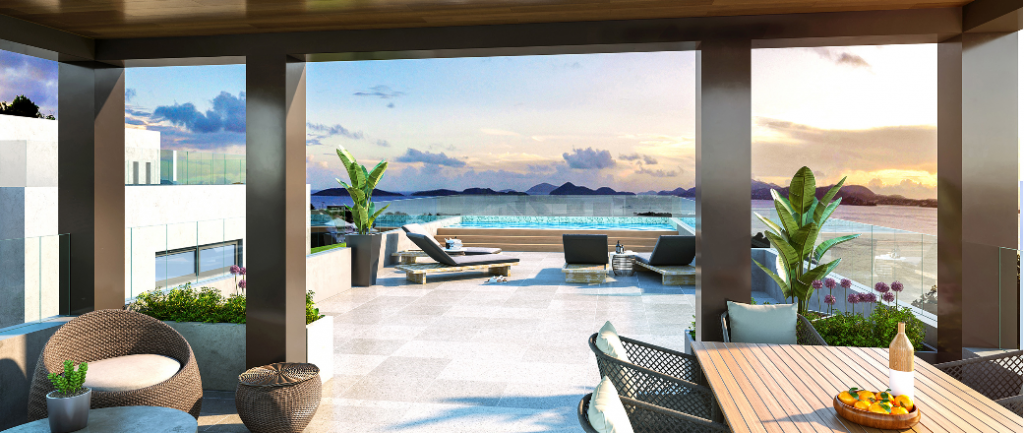 Each residence at Island Sky will face west and have a private balcony offering incredible views of the Caribbean Sea, neighboring islands and amazing island sunsets. A dedicated Island Sky St. John Club concierge will be available to help guests plan their days and adventures, including unforgettable excursions in both the U.S. and British Virgin Islands.
The way fractional ownership will work is that each year owners will be able to reserve three weeks of planned vacations in advance, and a fourth space-available week. With their confirmed reservations they can:
Use their island home or send friends/family in their place.
Place their reserved time into the rental program to receive revenue that helps offset their ownership costs.
Place their time into the Elite Alliance exchange and earn credits (valid for 2 years) to a diverse portfolio of elegant residences in 120+ exciting locations.
Additional time may also be obtained. There is no limit on usage for short-notice vacations throughout the year, pending availability.
The U.S. Virgin Islands is the only U.S. territory to be bordered by both the Atlantic and Caribbean Sea. It's comprised of three large islands – St. Croix, St. Thomas, and St. John – and about 50 small islets and cays. Their total area is 133 square miles.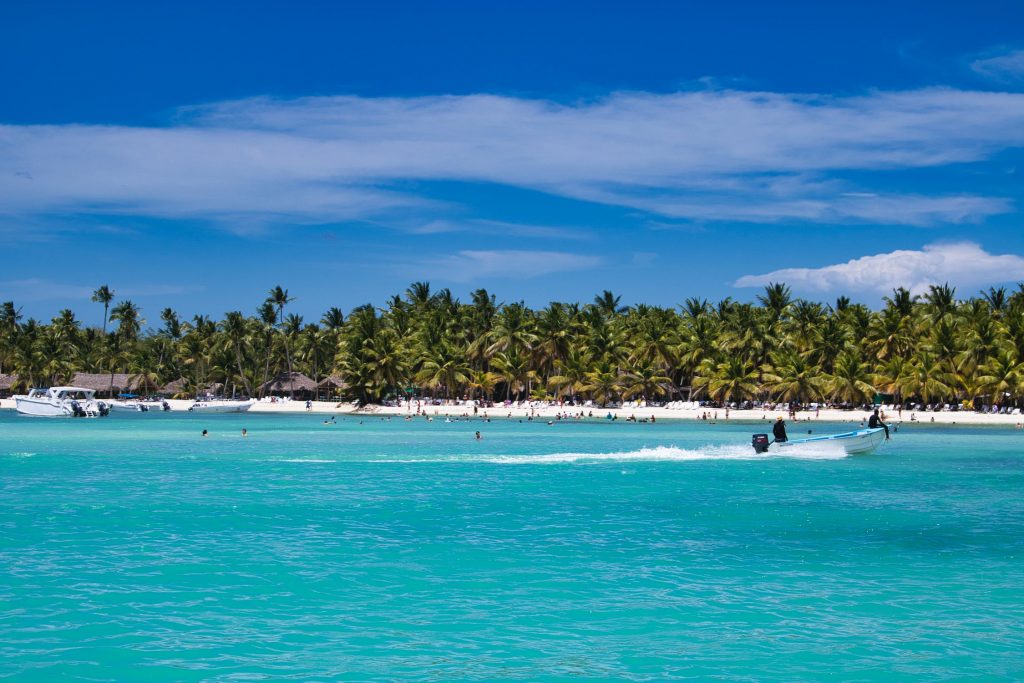 The islands are notable for their sugar-white sand beaches and unspoiled underwater and terrestrial habitats. They're ideal for diving, sailing and sport fishing.
St. John is the smallest of the islands, and approximately 60% is protected land in the Virgin Island National Park, which gives the island a reputation for a tranquil atmosphere and also makes property ownership extremely limited and valuable.
Inter-Island boat services provide ferry transportation between the U.S. and British Virgin Islands, making it easy to island hop. The geography of the islands consists of seaside cliffs, mountains with lush forest, tiny streams, arid lands and beaches.
As a United States territory, travel to the U.S. Virgin Islands does not require a passport for U.S. citizens. And many U.S. cities offer direct flights – three hours from Atlanta or Miami; five hours from Boston or Chicago. To get to St. John, visitors fly to the airport on St. Thomas and then hop a short ferry.
Construction on Island Sky Residence Club began in February 2023. Already the lower parking and utility areas are almost completion. The full development is expected to be complete by spring 2025.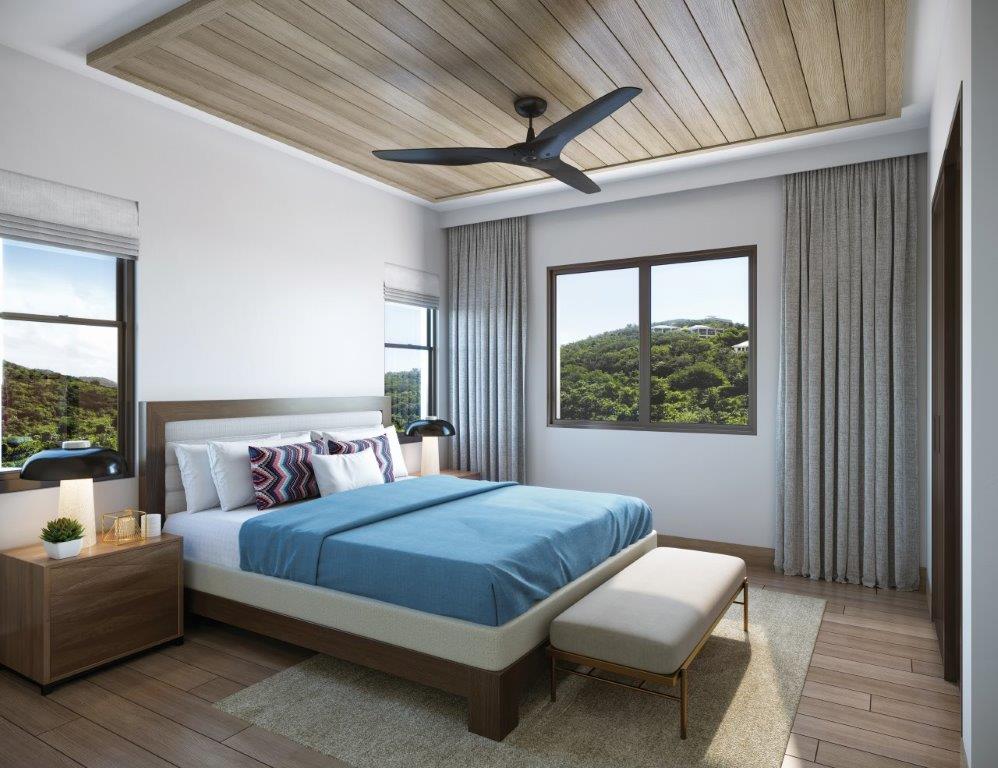 Choose from two types of residences at Island Sky:
One-bedroom unit – 716 sq. ft. plus 138 sq. ft. terrace, $190,000
Two-bedroom unit – 1,038 sq. ft. plus 138 sq. ft. terrace, $220,000
If you are interested in learning more about Island Sky St. John Residence Club, please feel free to ask specific questions or request our detailed data sheet. We will respond within 24 hours (usually much sooner). Contact Joel Greene at Joel@CondoHotelCenter.com or call (954) 450-1929.