Halcyon Palms Luxury Residences is a private gated community in the midst of a nature reserve.  Despite its tranquil surroundings, it's only a short 15-minute drive from Disney World.
The ideal second home, it offers 2,722 sq. ft., four-bedroom, four-bath or large seven-bedroom, seven-bathroom detached villas.  The villas consist of 4,308 square feet luxuriously appointed with screened private pool and Jacuzzi.  An owner's clubhouse is the focal point of the community and offers great features including:
Restaurant
Bar
Business center
Community swimming pool & deck
Fitness center
Outdoor fitness area with soccer field
Playground
Mountain bikes available for use
24/7 security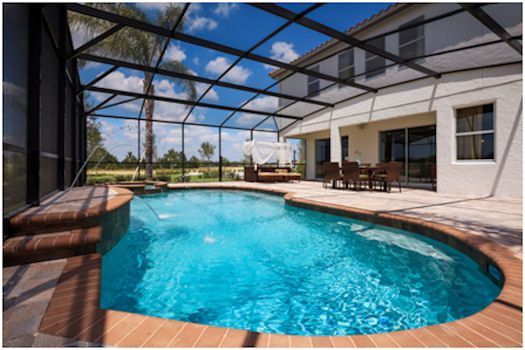 What makes Halcyon Palms Luxury Residences so unique in addition to its ultra-large villas is that buyers can purchase a villa and may use it year round.  But, if they prefer and choose to use it for six weeks or less per annum, they have another terrific option to consider.
Owners may give back their unused weeks to have the onsite management rent them out.  And, if they elect to give back 46 weeks for the developer to rent their unit, investors will receive 50% of the gross rental income (less costs) and a minimum 7% return for the first 5 years from completion and a minimum 8% for the following 5 years.
Again, this is a minimum, as the return is not capped.  If the return is higher than the minimum, owners will be paid a higher return.
If you choose to use your Florida home for more than 6 weeks the developer will reduce your return by 0.5% for any additional weeks used. The options are so flexible and unique, making this a stress free and enjoyable method of buying your vacation home.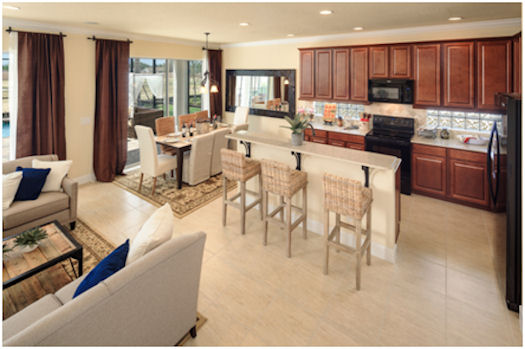 For Halcyon Palms owners, management handles all maintenance, cleaning and upkeep of the villa and the resort's amenities.  It's hassle-free, vacation home ownership!
The villas can be delivered fully furnished and decorated in a contemporary style (Please inquire about furnishing costs).  Features include a magnificent open formal lounge, spacious living area, dining area, fully-equipped kitchen, four or seven large bedrooms and a large ensuite master bathroom.
The rear of the home opens up to a covered lanai containing a large screened swimming pool and deck, Jacuzzi, and a fitted grill, making it perfect for pool parties with friends.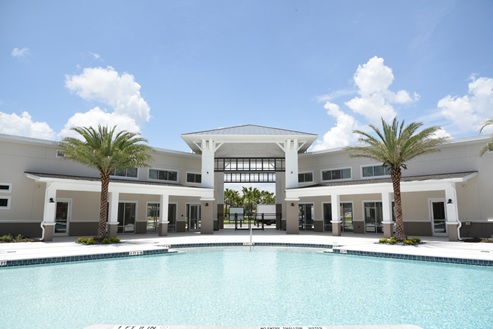 Halcyon Palms is centrally located.  It's near Orlando's many world-class attractions including Disney World, EPCOT, Hollywood Studios, Universal Studios and LegoLand.  New hotels, restaurants, shopping venues and entertainment options are regularly added to the local landscape.  Everything vacationers could want is within easy driving distance.
15 minutes to Disney World (6.5 Miles)
30 minutes or less to other Orlando theme parks
30 minutes to Orlando International Airport
60 minutes to the beaches in Cocoa, Melbourne and Daytona

60 minutes to Kennedy Space Center
As a buyer incentive, the developer is offering the option to exit on years 3 and 5 with 100% buyback and on year 10 with 150% buyback on deposit paid, if  the owner so desires.
Although we are offering whole ownership in the Halcyon Palms, there is another option. The Halcyon Palms is being developed by a UK-based company, and they are also offering the opportunity to purchase within this resort starting at $39,000. Complete details can be supplied directly by them, upon request.
Whole ownership is $429,999 (plus 4% completion costs) for the four-bedroom units and $599,000 (plus completion costs) for the seven-bedroom units, As a buyer incentive, the developer is offering an optional 150% buyback opportunity on year 10 after completion.
If you are interested in receiving more information on Halcyon Palms, please request our detailed data sheet. We will respond within 24 hours (usually much sooner). Contact Joel Greene at Joel@CondoHotelCenter.com or call (954) 450-1929.