University Bridge Residences Miami
Leaseback Program for FIU Student Housing
October 5, 2017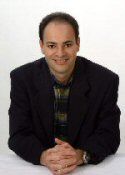 Hello. Joel Greene here from Condo Hotel Center.
The property that I'll be telling you about today has got me doing some reminiscing about my dad, Sheldon Greene. My dad was an energetic, health-conscious person. In fact, right up until the day he passed away at age 78, part of his daily routine was to jog a few miles every evening after work.
He lived next to Florida International University (FIU) and liked to jog to and around their campus. He enjoyed seeing the students and also charting the school's growth, as it was continually expanding, adding new buildings almost every year.
So when I learned of a new, residential development about to be built at FIU's doorstep, my thoughts immediately went to my dad, who would have been pleased to watch its construction as he jogged by each day. Read on for details.
Upscale Student Apartments
University Bridge Residences Miami will be a 20-story U-shaped tower overlooking a 6th floor amenities deck and swimming pool. It will have a total of 492 units ranging from studios to four-bedroom residences.
On the ground floor will be 7,200 sq. ft. of commercial space with various retail and restaurants and a designer lobby with a reception area.
What will make University Bridge Residences especially appealing to students is a pedestrian bridge that physically connects the building to the FIU campus. More on that in a minute.
Plenty of Amenities
University Bridge will offer a shared study area on each floor from levels 2-20 and Wi-Fi accessibility throughout the property.
An amazing 6th floor deck with landscaped recreational area and expansive terrace will provide an array of other amenities students will love including:
Outdoor video screen for movies or sports
Resort-style pool with beach entry and pool volleyball/lap area
BBQ and dining areas
Cabanas
Sun deck with daybeds
4,050 sq. ft. fitness center with outdoor terrace
Yoga lawn
5,500 sq. ft. indoor lounge/game room
Business center with 4 meeting rooms
The rooftop will also have amenities. They include:
1,700 sq. ft. sunset lounge area
8,000 sq. ft. outdoor terrace with BBQs, dining tables, yoga green space and performance stage
University Bridge Residences will also have a reception area and concierge in the main lobby and 24-hour security.
Condo Features
The residences at University Bridge will have unobstructed views to the south overlooking the FIU campus. Upper-level interior residences will enjoy views of the deck, pool area and the rooftop terrace.
The residences at University Bridge have been designed to maximize the space for greater student functionality:
Fully finished and furnished, rent-ready residences
Private bathroom for every bedroom
Washer and dryer included in each unit
Flat screen TV, WiFi, A/C
Content insurance included
Parking options available
Rental Demand
The need for student housing at FIU is great, and growing every year. FIU's five-year, $900-million expansion plan includes $150 million for a new 225,000 sf. engineering building that will add 350 engineering graduates per year, and a new $25 million Recreation Center opening soon.
The need for student housing at FIU will continue to increase yearly as the school population expands. Let me give you some numbers:
Total 2016 enrollment: 55,112 students
Total number of beds offered in campus dorms: 3,093
Percentage of students living in college-owned housing: 8%
Get the picture? FIU has a housing problem.
Optional Leaseback Program
Because University Bridge Residences Miami is located next to FIU, most of the residents are expected to be students. Condo owners can take advantage of a fixed annual leaseback option that ensures two years' rent at a fixed rate.
This optional program pays 8% gross, based on the purchase price.  After expenses, owner net return would be about 5.3%. After the two-year period, owners have the opportunity to rent out the unit on their own and will surely find a strong demand.
Location – the FIU Connection
University Bridge Residences will live up to its name by being directly connected to FIU via a new pedestrian bridge.
In other words, students can literally get out of bed, stroll across the bridge and be on campus headed to class in minutes. No commute or parking hassle.
When not in class, the location offers other benefits:
5 minutes to shopping and dining in the city of Doral
15 minutes to Miami International Airport
30 minutes to Miami's famed beaches
Plus all that Miami has to offer-golf, nightlife, entertainment, etc.
Construction Status & Pricing
Construction on University Bridge Residences is expected to begin in spring 2018 and to be complete by fall 2020.
The condos come in a full range of floor plans from studios to 1,100 sq. ft. four-bedroom units. They can be reserved now at pre-construction pricing ranging from $197,900 to $559,900 and financing will be available.
Want to know more? Check out my detailed data sheet which you can request below:
Request the University Bridge Residences Miami data sheet here.
Fond Memories of FIU
I mentioned in the beginning of this write-up how my dad used to like jogging on the FIU campus. But that wasn't his only connection to the school.
For many years he guest lectured to real estate classes there about hotels and motels. It was a subject on which he was a true expert.
More recently, he and I together gave presentations to the FIU Hospitality School on the subject of condo hotels. We were both always impressed with the questions the students asked us and their interest in the subject matter.
Now having the opportunity to sell condos in University Bridge Residences, which will serve FIU students, makes me feel like somehow, I've come full circle. I think my dad would be pleased.
Again, you can request the University Bridge Residences Miami data sheet for more details.
Have a sunny day!
Joel Greene
Licensed Real Estate Broker
Condo Hotel Center
1368 NW 165th Ave.
Pembroke Pines, FL 33028
(954) 450-1929
Joel@CondoHotelCenter.com
www.CondoHotelCenter.com
Want to know more about me? Click below://www.condohotelcenter.com/joel-greene.html
© Condo Hotel Center. All rights reserved. No portion of this Property Alert newsletter may be reproduced, exhibited or distributed without the express written permission of Condo Hotel Center. Condo Hotel Center takes copyright infringement seriously. Violators will be prosecuted to the fullest extent of the law.Although Condo Hotel Center believes the information contained in this Property Alert newsletter to be accurate and complete, Condo Hotel Center can make no such guarantee. All features and descriptions are subject to change.Please speak with your personal legal and financial advisors to determine whether this property is suitable for your objectives.