The Residences at Mandarin Oriental
Ultra-exclusive Condominiums
Boca Raton, Florida
August 24, 2016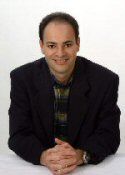 Hello. Joel Greene here from Condo Hotel Center.
Not far from where I live is the city of Boca Raton, or "Boca" as the locals call it. It's in Palm Beach County and is known for its beautiful beaches, championship golf courses and upscale shopping.
What it also has is a distinctive architectural style called Mediterranean Revival created by the architect Addison Mizner in the 1920s. The signature look is best characterized by white stucco buildings, wrought-iron balconies and accessories, and terra cotta, barrel-tile roofs.
But Mizner was more than an architect. He was an entrepreneur. In 1925 he purchased more than 1,500 acres in Boca, including two miles of beach. His dream was to create "the world's most architecturally beautiful playground" with miles of landscaped streets, golf courses, elegant shopping areas and luxurious mansions for the crème de la crème of world society. Canals lined with palm trees would create a tropical Venice.
An eccentric local fixture, Mizner could often be seen walking around town with his pet monkey, Johnnie Brown, on one shoulder and a parrot on the other.
At first, it looked like Mizner and his Boca development would be enormously successful.  But by 1926 the Florida land boom was going bust.  Mizner's plans for the perfect Venetian-style town were overly-ambitious and ill-timed.
The company went bankrupt in the late 1920s, shortly before the Great Crash.  Addison Mizner died a pauper.
Ironically though, in recent decades, much of Mizner's original vision has been realized.  His designs left an indelible mark on South Florida and continue to influence modern-day architecture.
The featured property I have for you today is being built in Addison's Mediterranean Revival architectural style and even bears Mizner's name.  Read on for details about the development, and the pet monkey too.
Via Mizner
Via Mizner will be a high-end, mixed-use property consisting of shops, restaurants and a luxury hotel tower called Mandarin Oriental, Boca Raton.  It will be the city's sole five-star hotel and South Florida's second Mandarin Oriental; the first one opened in Miami in late 2000.
In an adjacent tower connected to the hotel by a sky bridge, will be The Residences at Mandarin Oriental.  And that is what's currently for sale – 86 luxurious residences.
The Residences at Mandarin Oriental
The Residences will sit atop The Shoppes at Via Mizner, approximately 65,000 square feet of upscale shopping, dining and specialized services on the first four floors.
Owners of these residences will enjoy the following features:
Preferred access to the hotel restaurants and bars
Preferred access to The Spa at Mandarin Oriental
Resident-only lounges and gathering areas
Rooftop pool with private ocean-view cabanas
Fitness center with private instructors
Outdoor garden and relaxation area
Lobby-level wine cellar with private tasting room
In-residence dining with access to hotel catering
Private chef for dinner parties
Business center and meeting room
 24-hour concierge, doorman, valet & security
Residents will also get membership privileges to Via Mizner Golf and City Club.  The golf course, located about three miles from the property, is an existing 18-hole course that will be completely redone as a new course by an unnamed as of yet "legendary golf course designer."  The club will also have a pool, tennis courts, dining and a club house.
Mediterranean Revival Architecture
The developer for the Via Mizner mixed-use project is Penn-Florida Cos. of Boca Raton, a developer of high-profile real estate for almost 30 years.
The property will be managed by Mandarin Oriental, a global brand known for excellent service, innovative dining, holistic spas and creative design.
The architect for the property is SB Architects of San Francisco, which says its design will feature the charm and Spanish-style splendor associated with Boca's Mediterranean Revival architectural heritage founded by Addison Mizner.
Spacious Floor Plans & Terraces
The individual condos will be delivered finished and designer ready, with several designer furniture packages available if desired.  The residences will feature:
Open floor plans with expansive living areas
Generous terraces and summer kitchens
Access to Mandarin Hotel via sky bridge
Private elevator foyers for each residence
Automated "smart home technology" ready
Gourmet kitchens with European cabinetry
Wolf, Sub-Zero or comparable brand appliances
Choice of stone or wood flooring
High-end countertop finishes
The Residences at Mandarin Oriental will also offer residents the following services for a fee:
Daily housekeeping
Butler
Home care and maintenance
Pool service
In-room massage
House cars for use around Boca Raton
Dog walking
Pre-construction Pricing
Construction will begin on Via Mizner by the end of this year.  It should be complete by the end of 2018, although the residences can be reserved at pre-construction prices now.
The residences come with one to five bedrooms and range in size from 1,425 sq. ft. all the way up to an astounding 8,800 sq. ft. for the penthouse units. They will offer panoramic golf, ocean and city views. Prices start in the high $1 millions and go up to the low $5 millions.
Want to know more? I have plenty of details in my data sheet, which you can obtain by completing the short form at the link below:
Request The Residences at Mandarin Oriental data sheet here.
Monkey Business
If you recall, I started this Property Alert by telling you about Addison Mizner, the eccentric architect with the vision for Boca Raton and a pet monkey named Johnnie Brown.
Johnnie Brown died in 1927, six years before Mizner.  In fact, his death occurred on the same day Mizner learned his Boca Raton development company was going into bankruptcy.
Mizner said he was much more upset about losing Johnnie Brown than he was about the bankruptcy.  At the time, he was living in Palm Beach.  Palm Beach had a law that you could not be buried, nor could you bury a pet, on the island.
Mizner was heartbroken.  He couldn't bear the thought of being apart from his long-time furry friend.  So he used his money and influence to be granted special permission to bury Johnnie Brown next to his home in what is now the only marked burial site on the entire island of Palm Beach.
Lest you think I'm making this up, you can visit the tombstone for yourself. It lies in what is now a restaurant courtyard, just steps away from the expensive shops of Worth Avenue. It reads: "Johnnie Brown, The Human Monkey, died April 30, 1927."
As always, thank you for your interest in the properties (and primates) I feature. Once again, you can get The Residences at Mandarin Oriental data sheet here.
Have a great day!
© Condo Hotel Center. All rights reserved. No portion of this Property Alert newsletter may be reproduced, exhibited or distributed without the express written permission of Condo Hotel Center. Condo Hotel Center takes copyright infringement seriously. Violators will be prosecuted to the fullest extent of the law.
Although Condo Hotel Center believes the information contained in this Property Alert newsletter to be accurate and complete, Condo Hotel Center can make no such guarantee. All features and descriptions are subject to change.
Please speak with your personal legal and financial advisors to determine whether this property is suitable for your objectives.