Secrets Hideaway Resort in Kissimmee, Florida
"Lifestyle" Property — Prices Start at $39,900
August 15, 2016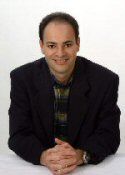 Hello, Joel Greene here from Condo Hotel Center.
Remember the '70s TV show "All in the Family?"  Even if you're too young to recall it, stay with me here because one hilarious episode immediately came to mind when I heard about today's featured property. Briefly, here's what it's about.
Edith Bunker finds a magazine on the subway and reads an ad by a husband and wife in the "Swap" section.  Edith, who is much nicer than she is smart, assumes the couple is looking for friendship and reaches out to them.
Only when the husband and wife are standing in the Bunkers' living room and openly flirting does Edith finally realize they are swingers and the swap they want to do is with Archie and Edith themselves!
Funny stuff.  That episode is a classic.  And for most of my life, it was also the extent of what I knew about swingers.  But I recently learned swinging really is "a thing" and it didn't go away in the '70s along with All in the Family.   In fact, if anything, the swinging lifestyle has gained momentum.  Who knew?
Now because my wife is on my mailing list and reads my Property Alerts, let me state clearly, "Honey, I'm not pushing for us to become swingers.  This is just a real estate investment opportunity.  I promise."
Read on for details about today's unique featured property.
Clothing Is Optional
Secrets Hideaway Resort, located just outside of Orlando in Kissimmee, is an existing, clothing-optional, lifestyle property. ("Lifestyle" is a code word for swingers, I've learned). Built in the 1970's, it has operated as a Ramada Inn for years and is now being converted into a condo hotel.
No different than any other condo hotel in terms of the hotel operational aspect, its one unique quality is that it has playrooms galore, for adventurous people looking for a little fun with like-minded individuals. "No judgment here" is the property's catch phrase.
According to the owners, lifestyle properties are not a passing fad.  They are a growing culture and a proven hotel model.  There have been wildly popular resorts for 30 years, like Hedonism, located in Jamaica, (Google it; it's a real place) and also the much newer resorts in Cancun, Mexico that have been busy since opening in 2004.
The big difference between those resorts and Secrets is that they're thousands of miles away and require expensive airline flights for international travel.  Getting to Orlando is an easy trip and no passport is required.  And unlike the clothing-optional nudist resorts in Tampa that are family-friendly (yes, truly they are), Secrets Hideaway is a playground for adults only.  You'll think you're vacationing at the Playboy Mansion!
Make New Friends
Secrets Hideaway Resortis an existing two-story, exterior corridor property.  If you prefer the privacy of an interior hallway, this is not the resort for you.
But this property is about making new friends.  At any time a balcony party can spontaneously develop and you're soon making new friends with all your neighbors.
Enjoy the Amenities
Secrets Hideaway Resort has 148 total units spread out on approximately five acres. The condo hotel amenities include the following:
2 swimming pools, including a heated pool for socializing
2 hot tubs
7 spacious cabanas
Tiki bar with food service
Club Secret nightclub
Small complimentary breakfast and dinner buffet
The property also has all the typical hotel services such as maid and poolside services, a concierge, in-room or poolside massage and 24-hour security.
Construction Status
The Secrets Hideaway Resort nightclub has been open and operating for over five years as the most popular premier lifestyle club in central Florida.  Then two years ago the hotel reopened as a lifestyle hotel, and its popularity has been growing since that time!
Renovations on the common areas and amenities began in January 2016 and are nearing completion.  What remains is remodeling all 148 of the individual condo hotel units.
All units are sold in as-is condition. But upgraded rooms will command higher rentals. You can keep your unit as-is, you can renovate it yourself, or you can have Secrets Hideaway Resort renovate it for you.
If you pick the latter option, you'll be able to choose your style from several finished, decorated units or pick out your own flooring, paint colors, cabinets, granite countertops and furniture.
Receive Income on Your Unit
Secrets Hideaway Resort is a condo hotel.  That means you can buy your unit and enjoy it when you'd like.  When you're not using it yourself, then Secrets can rent it out for you.
Now you've got an income-producing real estate property.  Owners receive 50% of the revenue their unit generates.
Just Minutes from Orlando
Secrets Hideaway Resort is located right off the Florida Turnpike in Kissimmee, FL.  It's close to all that central Florida has to offer – theme parks, beaches, shopping, restaurants and more.  And it provides easy access to other great Florida cities:
5 minutes to Orlando (about 15 minutes to Disney World)
60 minutes to Daytona Beach
90 minutes to Tampa
2 hours to Palm Beach
2 ½ hours to Jacksonville
3 Hours to Fort Lauderdale
4 hours to Miami
Prices Start at $39,900
As I mentioned, Secrets Hideaway Resort has existing hotel rooms that will be renovated to your specific tastes and budget.  The as-is price starts as low as $39,900, and the best units, in the courtyard overlooking the pool, are only $54,500.
Remodeling packages, should you choose to upgrade your unit, are approximately $13,000-$25,000 extra, depending on your selections.
Want to know more?  I've got plenty of juicy details.  Just request my data sheet below.
Something for Everyone
I have to admit I was surprised to learn of this condo hotel. But I've often said a property exists to meet every need. So why not a lifestyle vacation resort for couples to explore their sexual desires?
Whether you are a first-time nudist or an experienced lifestyle swinger (remember, no judgment here), the folks at Secrets Hideaway Resort will embrace you. Again, you can request my detailed data sheet here.
As always, thank you for reading my Property Alerts and taking interest in the properties we showcase, even those that may not be your cup of tea.
© Condo Hotel Center. All rights reserved. No portion of this Property Alert newsletter may be reproduced, exhibited or distributed without the express written permission of Condo Hotel Center. Condo Hotel Center takes copyright infringement seriously. Violators will be prosecuted to the fullest extent of the law.
Although Condo Hotel Center believes the information contained in this Property Alert newsletter to be accurate and complete, Condo Hotel Center can make no such guarantee. All features and descriptions are subject to change.
Please speak with your personal legal and financial advisors to determine whether this property is suitable for your objectives.