The Grove Resort & Spa Opens, Orlando, Florida
Condo Hotel Units Under $300K
$7,500 Toward Closing Costs
July 1, 2017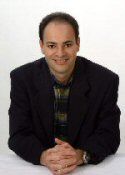 Hello, Joel Greene here from Condo Hotel Center.
Back in March 2016 I told you about a condo hotel resort under development in Orlando, Florida. Since then, I've had many clients visit the property and also buy condo hotel units there.  In fact, it's one of the most popular properties I offer.
I wanted to give you an update because a lot of construction progress has been made. The property is now open for business. Plus, the developer is currently offering $7,500 toward closing costs (which is HUGE!) and a $3,000 fly-and-buy incentive so you can check out the property this summer. Read on for details.
Orlando's Newest Condo Hotel
The Grove Resort & Spa is a 2.1 million square foot development located on scenic Lake Austin Reserve.  It has 16 interconnected buildings, each seven stories and designed in a contemporary Mediterranean style.
Its 878 condo hotel residences are spread out over 115 acres.  It also has three six-level parking decks and a soon-to-open water park featuring a Flow Rider (surf simulation machine), lazy river and lagoon pool.
The property was built in 2008 but never occupied. In the past year plus it was updated and upgraded.
The Back Story
The Grove Resort & Spa comes with some history.  Originally, the development was named Grande Palisades, and construction was completed in 2008.
All the units were pre-sold for an average of $395,000 per unit.  But before the sales were completed, the real estate market took a huge downturn.
Ultimately, no units were closed, and the building was never occupied.  The owners defaulted and the development reverted to the bank.  The bank spent millions of dollars to maintain the asset in impeccable condition.
In 2014 BTI Partners bought the construction loan and received clean title in 2015.  They then embarked on an exhaustive renovation and upgrade, spending approximately $105 million to make the property Orlando's premier resort-style condo hotel.
Open and Operating
The Grove Resort & Spa opened its doors last month, March 10, 2017, and is fully operational, although some of the amenities are still being built.
The full-service restaurant will open by September, and the water park and arcade should be ready by early 2018.
Upscale Features & Furnishings
Residence interiors will feature a blend of contemporary and island styles that honor indoor-outdoor living. Each residence will have a generous private lanai, creating a seamless backdrop of both the sea and sky.
When the renovation is complete, The Grove Resort & Spa will have amazing amenities:
Surfari water theme park
4,000 sq. ft. full bar and grill at the water park
Three large pools
Large restaurant
Full-service spa that services guests in the spa, poolside and in-room
Fitness center
Boat/fishing dock with lake water sports
Pool lounge
Impressive four-star lobby
Convenience store/deli/sundry shop
Meeting space of 7,500 sq. ft.
Arcade
When The Grove Resort's $12 million water park opens, it will have these features:
Flow Rider, a dual-sided wave simulator for surfing
Large lagoon style pool with beach entry
Interactive water play activities with water slide and large waterfall
Shallow kiddie pool
Lazy river with cascading waterfalls
Bar and grill
The Grove Resort will also offer the following services:
24-hour security
Multi-lingual hotel concierge
Valet, doormen, front desk
In-room or poolside massage
Pool-side services
Daily housekeeping
Kids activity center
Well-appointed Condos
The upgrades done by The Grove Resort's developer were to the amenities as well as the individual condo hotel units.  Of the 878 units, Phase 1 includes 184 units, which are now complete and operational. The rest will be done by early 2019.  First phase buyers will get the best prices.
The condo hotel units are delivered furnished, freshly painted and with fully-equipped kitchens.  They include:
GE stainless steel appliances
Granite kitchen and bathroom counter tops
Large bath tubs
Crown molding
Private, screened in balconies
Electronic entry-lock security system
Wireless high-speed Internet service
Current Occupancy Rates
The Grove Resort & Spa is a condo hotel. What that means is, you can use your unit when you'd like and have it rented out for you when you're not there.  You share in the revenue your unit generates, which helps offset the costs of owning a Florida vacation home.
Despite not having all its amenities online, The Grove Resort is already achieving 60% occupancy at about $170 nightly rate. That's impressive considering it wasn't yet open for the two best months of the year, January and February, and it's only been open less than 100 days!
Additionally, no marketing has been done until now. But the developer is ready to begin a $2M marketing campaign in the next quarter, and that's when that occupancy number is likely to climb.
The success the property has already had to date can be attributed to its top notch management company, Benchmark Hospitality International, which has approximately 30 luxury hotels under management across the U.S. and Virgin Islands.
Already a leader in the Orlando market, one of Benchmark's other properties is the Villas of Grand Cypress, which is currently ranked as the #1 rated hotel of 337 hotels in Orlando. It runs at 84% occupancy and has rates for two-bedroom suites ranging from $300-$600 night, depending on the season.
The developer of The Grove Resort is BTI Partners, one of Florida's leading residential real estate land owners and developers.  In business for over 25 years, it has a portfolio of over 8,000 acres of land, 17,500 residential units and over two million square feet of commercial and retail development.
Current Occupancy Rates
The Grove Resort & Spa is located within close driving distance of all Orlando has to offer.  The city is one of the most popular visitor destinations in the world. And for good reason.
It has an endless supply of attractions, shopping venues, dining options and nightlife. It also has zipline safaris, skydiving, scuba diving, hot air balloon rides, boating, fishing, museums and more.  Pretty much anything you could want to see or do exists in Orlando.
The Grove Resort is a short drive to all of these world-class theme parks:
Walt Disney World entrance          10 minutes
Magic Kingdom                                 17 minutes
Disney Hollywood Studios             19 minutes
Epcot Center                                     16 minutes
Animal Kingdom                             14 minutes
Blizzard Beach                                 15 minutes
Universal Studios                           30 minutes
Islands of Adventure                     30 minutes
SeaWorld Orlando                         30 minutes
Aquatica                                           30 minutes
Volcano Bay Water Park               30 minutes
Legoland Florida                            50 minutes
$7,500 Toward Closing Costs
The condo hotel units in the first phase of The Grove Resort & Spa are for sale now. They are all two- to three-bedroom units and 1,265 to 1,544 square feet.  Prices range from $280,900 to$344,900 for a limited time.
Now that The Grove Resort is open for business, the developer, BTI Partners, wants to accelerate sales. For that reason, they are currently offering two buyer incentives, which can be bundled together:
$3,000 Fly & Buy – Visit the property now. Buyers get $3,000 credit at closing.
$7,500 – Paid by the developer toward the buyer's closing costs.
It's not often you see buyer incentives this attractive!
If you'd like to know more about this property, I've got lots of details in my data sheet, which you can request below.
Request the Grove Resort & Spa data sheet here.
As always thank you for your interest in the properties I feature.  If you're interested in The Grove Resort & Spa or properties in Miami and other parts of Florida, I hope you'll give me a call.  It'd be my pleasure to provide you with all the facts you need to make an informed decision
Have a sunny day!
Joel Greene
Licensed Real Estate Broker
Condo Hotel Center
1368 NW 165th Ave.
Pembroke Pines, FL 33028
(954) 450-1929
Joel@CondoHotelCenter.com
www.CondoHotelCenter.com
Want to know more about me? Click below://www.condohotelcenter.com/joel-greene.html
© Condo Hotel Center. All rights reserved. No portion of this Property Alert newsletter may be reproduced, exhibited or distributed without the express written permission of Condo Hotel Center. Condo Hotel Center takes copyright infringement seriously. Violators will be prosecuted to the fullest extent of the law.Although Condo Hotel Center believes the information contained in this Property Alert newsletter to be accurate and complete, Condo Hotel Center can make no such guarantee. All features and descriptions are subject to change.Please speak with your personal legal and financial advisors to determine whether this property is suitable for your objectives.