The ​George Best Hotel in Belfast, Northern Ireland
Historical Building to Become Condo Hotel, Units from $103,000
June 22, 2017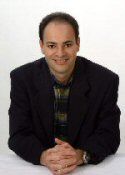 Hello. Joel Greene here from Condo Hotel Center. I heard a good Irish joke the other day and thought I'd share.
Paddy and Seamus were working in the Belfast public works department. One would dig a hole and the other would follow behind him and fill it in.
After a while, one amazed onlooker said: "Why do you dig a hole, only to have your partner follow behind and fill it up again?"
Paddy wiped his brow and sighed, "Well, I suppose it probably looks odd because we're normally a three-person team. But today the lad who plants the trees called in sick." 🙂
If you appreciate Irish humor, then you might want to consider my featured property today, which is located in Ireland. Read on for details.
Redevelopment Project – The George Best Hotel
Originally built as an office building for an insurance company in 1904, the six-story Scottish Temperance Building in Belfast, Ireland will soon be restored and renamed The
​George Best Hotel paying tribute to one of the greatest footballers (soccer players) of our time.
Signature Living Group, experts in restoring historical buildings, is investing £5.5 million, or approximately $7 million, to redevelop the property as a luxury hotel with premium amenities, while preserving much of the building's original style and details.
According to the owner of Signature Living Group, Lawrence Kenwright, "The building is currently in a state of disrepair and we will be focusing on sympathetically restoring this stunning, Scottish baronial-style landmark building back to its former glory and architectural beauty."
Upon completion, the property should be a four-star quality boutique hotel with the following amenities and services:
Restaurant
Bar
Coffee shop
Retail units
Conference room
Wedding and event space
24-hour security
24-hour room service
Concierge, valet and doorman
In addition, a museum dedicated to the legacy of George Best will exhibit never-seen-before memorabilia, souvenirs and personal mementos that will allow soccer fans to explore the world of George Best.
Best, a winger for Manchester United and the Northern Ireland national team has been described as "the greatest player to ever put on the green shirt of Northern Ireland."
Leaseback Program & Exit Strategy
The ​George Best Hotel is being developed as a condo hotel with 83 fully furnished rooms.  Each room will be sold to an individual investor who will be entered into a leaseback program offering a guaranteed rental return of:
7% NET per annum in years 1-3
8% NET in year 4
9% NET per annum in years 5-10
The only expense for buyers beyond the cost of their unit will be their legal fees.  After that, they won't have any ongoing costs. All expenses will become the developer's responsibility along with the buyers' returns, which will be paid quarterly.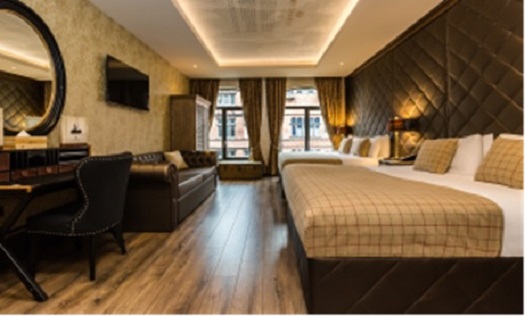 Additionally, the developer is offering an exit strategy for owners.  After year 3, the developer will buy back the unit at 106% of the purchase price, plus an additional increase of 2% per year thereafter.  In year 10, owners must sell their unit back to the developer if they haven't already done so.
A Prime Location
The ​George Best Hotel is in a city center location overlooking Belfast City Hall and accompanying gardens.
Belfast has undergone a resurgence in tourism over the past decade, and last year the city was crowned "Best UK City." With 1.4 million visitors, who contribute over £278 million to the economy and support 17,000 jobs, Belfast's growth is only just beginning. Belfast is the driving force behind Northern Ireland's economy and is a hub for international visitors as well as domestic.
The city has an eclectic vibe, with a plethora of restaurants, bars, attractions and landmarks to explore. The local council has outlined plans to increase the city's growth 100% by 2021, which will be achieved by improving transportation links, more events and refinement of the visitor experience.
Prices Start at $103,000
Prices for a single condo hotel room ​at The George Best Hotel ​range from $103,000 to $193,000. They will be delivered fully furnished and will be rented and maintained by the developer's hotel management group.
Construction on the renovation is expected to begin July 2017 and to be completed by September 2018.
Want to know more about this unique property? I have plenty of additional details in my data sheet, yours for the asking.
Request The ​George Best​ Hotel data sheet here.
My Latest Real Estate Investment
Thank you for your interest in The ​George Best Hotel, which presents a unique ownership opportunity. If a hotel in Ireland isn't your cup of tea, I'm happy to offer you properties in other locations including South Florida, where I have the most inventory.
As for my own latest investment in real estate, it wasn't of the kind I typically sell. My wife and I recently purchased burial plots. Fortunately, we're both healthy but we wanted to do the responsible thing for our children.
After meeting with the cemetery folks and concluding the purchase, Jackie and I went out to lunch at a nearby Chinese restaurant. We were feeling pretty good about having crossed an uncomfortable task off our list. That is, until we finished eating and I opened my fortune cookie. Here's what it said, (see below).

I sure hope the Chinese fortune teller doesn't know something I don't!
As always, thank you for your interest in the properties we feature. And if you're interested in The ​George Best Hotel, or any other property you find on our website, www.CondoHotelCenter.com, I hope you'll give me a call.
Joel Greene
Licensed Real Estate Broker
Condo Hotel Center
1368 NW 165th Ave.
Pembroke Pines, FL 33028
(954) 450-1929
Joel@CondoHotelCenter.com
www.CondoHotelCenter.com
Want to know more about me? Click below://www.condohotelcenter.com/joel-greene.html
Follow us on Facebook.
© Condo Hotel Center. All rights reserved. No portion of this Property Alert newsletter may be reproduced, exhibited or distributed without the express written permission of Condo Hotel Center. Condo Hotel Center takes copyright infringement seriously. Violators will be prosecuted to the fullest extent of the law.Although Condo Hotel Center believes the information contained in this Property Alert newsletter to be accurate and complete, Condo Hotel Center can make no such guarantee. All features and descriptions are subject to change.Please speak with your personal legal and financial advisors to determine whether this property is suitable for your objectives.