Ft. Lauderdale's Newest, Most Prestigious Address
100 Las Olas — Condo Residences & Hotel 
January 19, 2017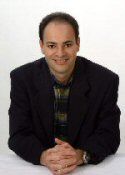 Hello.  Joel Greene here from Condo Hotel Center.
A few months ago I saw a Groupon special for a stay at the Riverside Hotel on Las Olas Blvd. in Ft. Lauderdale.  Now that Jackie and I are empty nesters and have a little bit of freedom, I thought it'd be fun for us to do a quick weekend getaway there.
As it turns out, Riverside is the only hotel on Las Olas Blvd.  It also happens to be Fort Lauderdale's oldest hotel, circa 1936.  It has historical photos gracing its hallways, and guest rooms outfitted with antique oak furnishings and ornamental palm trees.  It is filled to the brim with old Florida charm.
While Jackie and I enjoyed our stay in the historical hotel, what we liked most was spending time on Las Olas Blvd.  It's a stretch of about 10 blocks lined with palm trees, charming Mediterranean architecture, and about 120 specialty retail shops, art galleries and museums.  It also has about 30 different restaurants, most with indoor and outdoor dining.
We loved it.  So this past week, when I found out a new residential property was about to be built right on Las Olas Blvd., I knew it would be something special.  Read on for details.
A Hyatt Centric with Residences
100 Las Olas will be Fort Lauderdale's tallest building at 499 feet and 46 floors.  A mixed-use property, it will combine residences, hotel rooms, and retail space.  Specifically, 100 Las Olas will have:
121 luxury residences with private entry and amenities
A Hyatt Centric-branded, 238-guest room hotel
8,500 square feet of retail space for shops and restaurants
Elevated resort-style private pool
Day cabanas
Comfortable lounging and seating areas
1,900 sq. ft. fitness and activities center
Casual news room with comfortable seating and daily coffee/beverage service
Private Residents' Club Room with catering kitchen, bar and outdoor plaza
24-hour security
On-site property management
Hyatt Centric is a modern iteration of the Hyatt brand and a strong four-star hotel.  Owners of the residences at 100 Las Olas will have the benefit of having the hotel on site, affording them access to two restaurants and the hotel bar in the grand hotel lobby.
An Ideal Location
100 Las Olas is located in the heart of downtown Fort Lauderdale on Las Olas Blvd. with its many shops, restaurants, clubs and art galleries.
In addition, the property is near many other points of interest.
Fort Lauderdale Beach (5 to 10 minute drive)
Miami Beach (45 minute drive)
Galleria Mall (10 minute drive)
Sawgrass Mall (30 minute drive)
Broward Center for the Performing Arts (walking distance)
Nova Museum of Art (walking distance)
Museum of Discovery & Science (walking distance)
Hard Rock Hotel & Casino Hollywood (20 minute drive)
BB&T Center (25 minute drive)
American Airlines Arena (30 minute drive)
Adrienne Arsht Center for the Performing Arts (30 minute drive)
Ft. Lauderdale Hollywood Int'l Airport (10 to 15 minute drive)
Miami Int'l Airport (35 minute drive)
Port Everglades, cruise departures (10 minute drive)
South Florida Brightline Station (5 minute drive or 10 minute walk)
The Brightline, coming summer of 2017, will be the second fastest train in the country and will soon connect Miami to Orlando with stops in Fort Lauderdale and Palm Beach.  It will provide South Florida residents with easy access to Disney World, Universal Studios, Sea World and many other Orlando-area attractions.
Condo Residence Features
The residences at 100 Las Olas are being designed for modern luxury living by Bob Martin of The Decorators Unlimited.
They'll feature contemporary open-concept floor plans and gourmet kitchens ideal for entertaining.  They'll have oversized terraces with glass railings for unobstructed views of the Fort Lauderdale skyline, New River and Atlantic Ocean.
Prices Start at $800,000
Construction on 100 Las Olas is expected to begin in spring 2017 and to be completed by the end of 2019.  But the condo residences have just been put on the market and can be reserved now at first-tier pricing.
The condos come in a variety of floor plans with two and three bedrooms.  They range in size from 1,501 sq. ft. to 2,964 sq. ft.  Prices range from $800,000 to $2,270,000.
Want to know more?  Just request my detailed data sheet on 100 Las Olas at the link below.
Request the 100 Las Olas data sheet here.
We'll Be Going Back
I mentioned at the beginning that Jackie and I had stayed at The River Hotel on Las Olas Blvd.  We later found out the hotel is reported to be haunted by three ghosts: an outgoing young man who presses his face against the windows of the hotel to frighten guests, a sad little girl with a ruffled dress and curly hair who stares out the windows, and an older man in a raincoat who wanders from room to room.
I'm happy to report that Jackie and I saw no spirits lurking,  but I think nonetheless, in the future we'll stay at the new 100 Las Olas Hyatt Centric.
Again, if you could be interested in 100 Las Olas, just request my detailed data sheet.   And if there's a different Florida location or real estate investment you'd like to explore, please give me a call.  It'd be my pleasure to assist you in finding the perfect property.
Have a great day!
© Condo Hotel Center. All rights reserved. No portion of this Property Alert newsletter may be reproduced, exhibited or distributed without the express written permission of Condo Hotel Center. Condo Hotel Center takes copyright infringement seriously. Violators will be prosecuted to the fullest extent of the law.
Although Condo Hotel Center believes the information contained in this Property Alert newsletter to be accurate and complete, Condo Hotel Center can make no such guarantee. All features and descriptions are subject to change.
Please speak with your personal legal and financial advisors to determine whether this property is suitable for your objectives.