The JW Marriott is a condo hotel development that has been in the works since 2017. For a variety of reasons, the plans and construction have been placed on hold multiple times. Now the project is again moving forward.
The grounds were cleared in mid-March 2021, and construction has begun. They're already up to the 3rd floor level. The property is scheduled to open in 2024.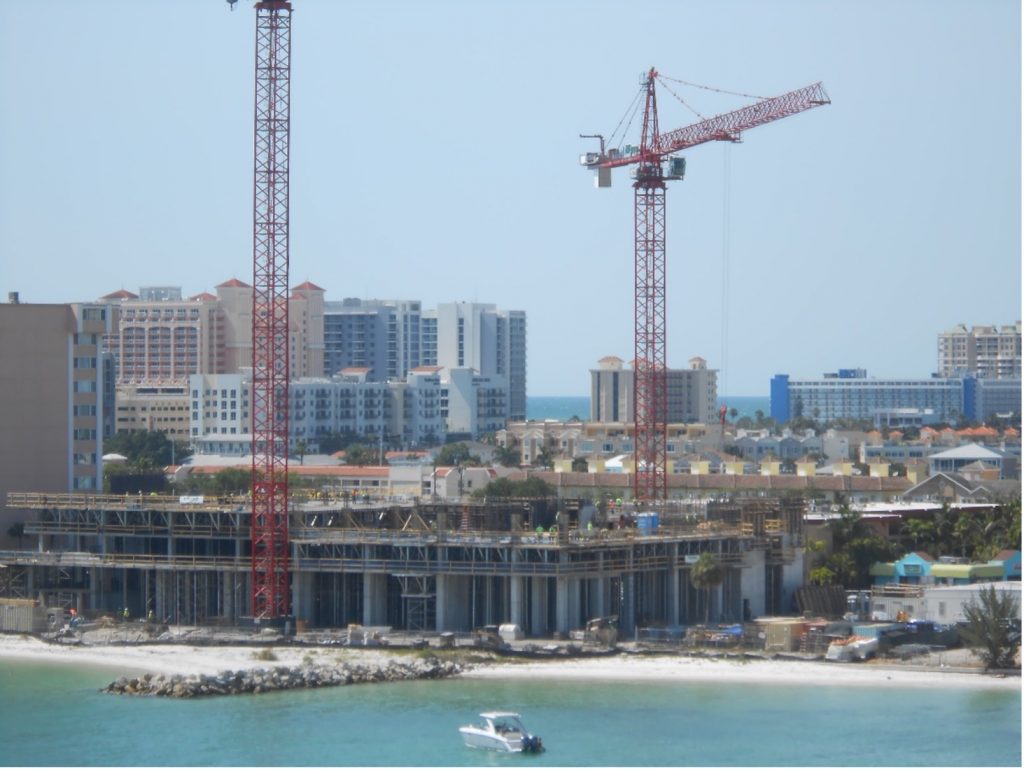 JW Marriott will be a 15-story building with only 36 one- two- and three-bedroom condo hotel units. Of those, the developer plans to hold back 6 for himself. Additional units will be traditional hotel rooms, not available for sale.
Condo Hotel Center has learned that the JW Marriott will begin selling its condo hotel units in July 2021. With only 30 units for sale, they are likely to be snatched up quickly.
If you're interested in the full history of the property to date, please see the summation below.
Original Plans
Back in May 2017, sales began for the JW Marriott, Clearwater Beach in early pre-construction. Well-rounded businessman, Uday Lele, was the developer planning to bring this project to market, intending to break ground by the end of 2017 and with a tentative completion date sometime in late 2019.
The Clearwater Beach hotel was to become the first JW Marriott Residences property in the United States and the Gulf Coast's newest luxury hotel. The Residences would comprise 36 luxury condominiums overlooking the Gulf coastline, sitting atop a 166-room JW Marriott Hotel. Residence owners would have access to all of the hotel's 5-star services and amenities.
Change of Plans
Before developer Uday Lele could break ground on his project, he was made an offer to sell the entire property to a new developer who was prepared to continue with the project. The offer was too good to say no.

The new developer, who goes by "Dr. K," decided that he wanted to build something more upscale, more luxurious and less cookie-cutter than Uday. He updated the plans with an eye toward optimal construction and future operational efficiency. The new plans would also have a design aesthetic that would be more in the standards of the JW Marriott brand. They would also maximize water views.
Working with Marriott on design and also needing to work through some approvals with the City of Clearwater, Dr. K's team made many modifications to enhance the original plan to ensure his JW Marriott would be unique, special and anything but just another hotel.
The Best Laid Plans
Near the end of 2019, Dr. K. announced "We are in the process of demolishing the existing structure, the Dream View Hotel that was owned by Uday Lele, and plan to start foundation work for the new hotel in early 2020 – very exciting!"
But as it turned out, COVID-19 put plans on hold once again.
The Final Plans
With the end of COVID in sight, Dr. K actually began construction back in March 2021. Come July, his company is taking reservations for the new and very much improved JW Marriott.
With only 30 units for sale – the rest being held by the developer or being used as traditional hotel rooms – it's certain to sell out quickly. If you want to be notified as soon as condo hotel units can be reserved, please contact Joel Greene at joel@condohotelcenter.com and provide your complete name, address and phone number. Put "JW Marriott" in the subject line. He will confirm receipt.