I'm looking for a second home in Toronto, Canada. What would you say are the benefits of buying a residence at the Trump International Hotel & Tower, Toronto?
Unlike any other property in Toronto, at Trump International Hotel & Tower you get an amazing place to live AND full access to the five-star services and amenities of the Trump International Hotel below -
including
membership to an 18,000 s.f. world-class spa located on two levels atop the hotel. Furthermore, like other real estate properties, the potential for substantial equity gains are possible. Other Trump International properties like One Central Park West in New York City have historically had substantial equity growth - setting the pace of local price appreciation and often exceeding other investment vehicles.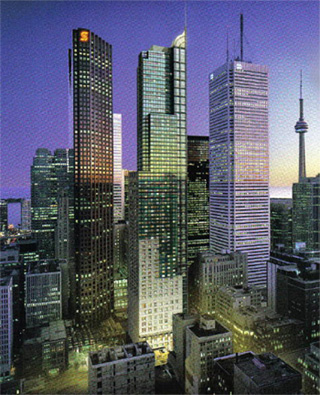 How large are the Trump Toronto hotel residences?
They start at 2,226 square feet. They are spacious, luxurious residences offering top-of-the-line fixtures, finishes and appliances, the best views in the city, and 11' to 13' standard ceiling heights. There are a maximum of just four suites per floor.
When I use my Trump Toronto condominium, will I be surrounded by hotel folks just there for the night?
Your needs for privacy and full discretion will be well respected. You'll have a separate ground-floor entrance that is for residents only. You'll also have security-card controlled, direct elevator access into your suite.
How much of a deposit is required to purchase a condo residence at Trump Toronto?
A total deposit of 20% of the purchase price is required. The deposit can be paid in full, or paid in installments as follows: 10% due upon signing of the contract offer, 5% in six months, and the remaining 5%, is due in twelve months.
I live in Florida so I would be wiring my deposit from another country. How do I know that my money is secure?
In accordance with the laws of Ontario, your deposit monies are wired directly into a designated legal trust account managed by the law offices of Harris Sheaffer LLP. As required by law, your deposits are also protected by excess deposit insurance in accordance with something called the Ontario Condominium Act.
Can I customize my condo residence at Trump International Hotel & Tower, Toronto?
Yes, most of The Residences have been designed to allow for some layout flexibility within the structural parameters of the building. A top-of-the-line finishes and appliances selection is available and owners are free to choose from the available packages.
What are the prices for The Residences at Trump International Hotel & Tower, Toronto?
The price per square foot is approximately CAD $690 to $1,200 per square foot. You'll have to do the dollar conversion based on daily exchange rates. Price differences between the various condo residences are based on a number of factors, including views, suite size, particular suite features and the floor that the suite is located on (higher floors have better views and therefore cost more).
Can you tell me about the location of Trump International Hotel & Tower, Toronto?
It is located on the SE corner of Bay & Adelaide in Toronto's Financial District, in the heart of everything great about downtown Toronto. You are within walking distance to the Entertainment District, the new Opera House, Toronto's renowned theatres, fantastic restaurants, the Harbourfront, and for sports and concert fans: the SkyDome and Air Canada Centre. The building is also planned for connection to the underground PATH system, where you'll find thousands of shops and restaurants.
Is Trump International Hotel & Tower, Toronto a Canadian development or a U.S. development?
The project is being co-developed by Toronto-based Talon International Development Inc. and New York's, The Trump Organization. The building was designed by Toronto's Zeidler Partnership Architects, and construction will be managed by Canada's EllisDon. The Trump Organization will operate and manage the hotel when the building is completed.
I have heard that Trump Hotels & Casino Resorts, Inc. has filed for bankruptcy. How does this affect Trump International Hotel & Tower, Toronto?
Trump Hotels & Casino Resorts, Inc. is a completely separate corporate entity, and is not associated with the management of Trump International Hotel & Towers. Trump Hotels & Casino Resorts, Inc. is a US-based, publicly held company that has absolutely no effect financially, or otherwise, on Donald Trump's real estate developments or holdings.
The above questions were submitted via e-mail by a visitor to www.condohotelcenter.com. The answers were prepared by Joel Greene, a licensed real estate broker with Condo Hotel Center which specializes in the sale of condo hotel units and fractional ownerships in private residence clubs.