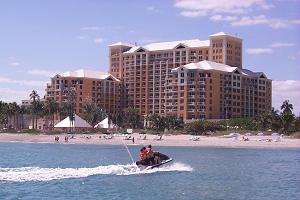 Do they have two bedroom units at the Ritz-Carlton, Key Biscayne and if so, what kind of income and expenses can I expect?
The large units at the Ritz-Carlton are one bedroom units attached to a studio lock-out unit. In effect, it is a two bedroom unit. The monthly maintenance for a one bedroom unit is currently $1,109, and the maintenance for the studio is $503, for a total of $1,612. Included in the maintenance is electric, phone, insurance for hurricane and liability, reserves for unit replacement, plus your use of the Ritz-Carlton Spa, tennis and beach club. Real estate taxes are 2% of the purchase price. Rental rates vary dramatically, but range from $160-$300 per night for a studio and from $225 - $400 per night for the one bedroom. Combined, the units could go for anywhere from $350 - $500 per night, depending on demand and the time of the year. The busiest times of the year, obviously, are the holidays, especially Christmas, 4th of July and Thanksgiving, but their strongest months are from mid-end October to Mother's Day in May. As for renting out your unit, they have two plans in place, one guaranteed and one flexible. The flexible one is most conventional. "After taking the management fee off the top (10%), the remaining 90% is split 50-50. Therefore, the balance of the revenue (45% of the total) is paid to the unit owner." The guaranteed plan says that you the unit owner will be paid $70 per day for your one bedroom unit and $50 per day for your studio unit, regardless of if it is rented, guaranteed. The problem though is that this is based on a 10-month program, not 12. So, if you want to use your unit for two months a year, this may work well for you. However, if you want to use it three months a year, the flexible plan may be your only option.
The above question was submitted via e-mail by a visitor to www.condohotelcenter.com. The answer was prepared by Joel Greene, a licensed real estate broker with Condo Hotel Center which specializes in the sale of condo hotel units and fractional ownerships in private residence clubs.