I have heard favorable comments about the condo hotels Canyon Ranch Living and the Fontainebleau III Ocean Club both in Miami Beach, Florida. Can you compare them for me so that I can determine which one better meets my needs?
Yes, while they are both going to be spectacular properties and are currently being sold at comparable prices, each has something unique to offer that distinguishes it from the other.
Let's start with Canyon Ranch Living. Canyon Ranch prides itself on its reputation for having the finest spas in America. Canyon Ranch Living, Miami Beach, will be the largest residential spa nationwide, featuring a 63,000 sq. ft. state-of-the-art spa. Spa guests will be some of the wealthiest people in the world, and money is of no object to them.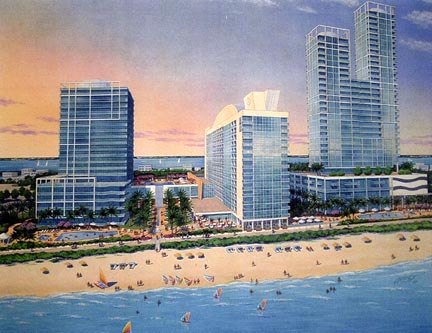 Canyon Ranch Living will feature a 63,000 sq. ft. spa, the largest residential spa in the U.S.
Unfortunately, even though construction won't be completed until 2005, the Canyon Ranch Living condo hotel units are almost all sold out. Last I checked, they had less than a dozen or so units left. So if you truly want a unit there, you'll want to move quickly or focus on resales in the future. (There are still many straight condominiums to choose from.)
For whatever it's worth, I personally think Canyon Ranch is going to be one of the best condo hotel investments in the area, and I guess a lot of other people agree with me.
The other property you mentioned, the Fontainebleau III Ocean Club, is also a personal favorite and shows great investment potential. It will be built adjacent to the Fontainebleau Hilton and the Fontainebleau II, a 230-room condo hotel that is 95% sold out already.
Fontainebleau III Ocean Club will draw on resort and convention business. Their suites will likely be rented out by Latin American and European families as well as New York mid-level corporate executives. This is a strong market. While the Fontainebleau Hilton has averaged over 70% occupancy rates over the past five years, their 67 suites have average occupancies that have at times exceeded 90% on a year-round basis.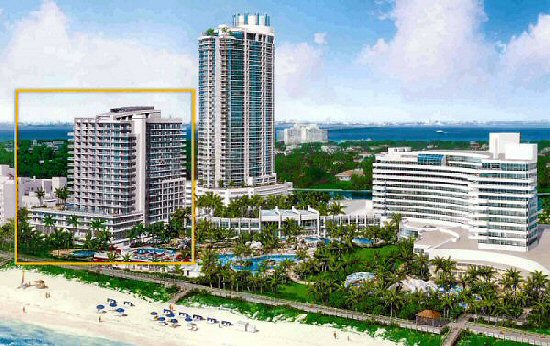 The Fontainebleau III will benefit from resort and convention business as well as the esteemed 50-year reputation of its neighbor, the Fontainebleau Hilton.
For 50+ years the Fontainebleau Hilton has been recognized world-wide as the leading, first-class hotel in Miami Beach. It also enjoys one of the finest locations of any oceanfront hotel, just across the intracoastal from many multi-million dollar estates. Factor in the Hilton reservation system and this property has success written all over it.
If it were my money to invest, it would be really hard for me to choose. Both Canyon Ranch Living and The Fontainebleau III will have so much going for them. And while they are both completely unique in terms of their hotel operations, they both have one thing in common--I would personally recommend either of these properties over any others to my clients who want Miami Beach. Only time will tell which one will do the best.
The above question(s) were submitted via e-mail by a visitor to www.condohotelcenter.com. The answer was prepared by Joel Greene, a licensed real estate broker with Condo Hotel Center which specializes in the sale of condo hotel units and fractional ownerships in private residence clubs.