As you know, I purchased a condo hotel unit at The Residences at Atlantis, and we are working with lenders on the financing and getting ready to close. We ran across the Bahamas Stamp Tax, which is 10% of the purchase price. This is a significant added expense; in our case over $100,000.
Can you tell me more about this tax and possibly, hopefully, that condo hotels are exempt from it?
I have good news and bad news for you. Let's start with the bad. Condo hotel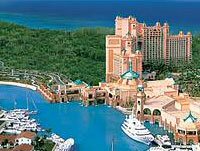 purchases are not exempt from the Bahamas Stamp Tax. Now here's the good news, which I confirmed with the development team for The Residences at Atlantis. The price of your condo hotel unit at The Residences at Atlantis already includes the 10% stamp tax. Therefore, you do not have to pay anything extra. Was that a sigh of relief I just heard? Good. Then, you'll also be glad to know that the furniture package for your unit, as for all 495 condo hotel units in the building, is also already included in the price. So, the price at which you originally reserved your unit, is in fact, the total price.
Learn more about The Residences at Atlantis here.
* The above question was submitted via e-mail by a visitor to www.CondoHotelCenter.com. The answer was prepared by Joel Greene, a licensed real estate broker with Condo Hotel Center which specializes in the sale of condo hotel units and fractional ownerships in private residence clubs.