The Fairways Hotel, England
10% Leaseback Program
Prices Start at $98,500
April 5, 2018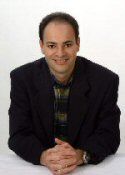 Hello, Joel Greene from Condo Hotel Center here with an old English tale.
In 1885 a Russian schooner named The Demeter found itself in the middle of a violent storm. The ship ran aground and all the crew were believed dead. But a huge black dog was seen leaping off the ship.
Legend has it, the dog swam ashore and climbed the 199 steps that led to the ruins of Whitby Abbey, once a majestic gothic castle perched high on a cliff. The dog was known to be one of the many forms into which a vampire could transform itself. Count Dracula, as written in the novel by Bram Stokers in 1897, had arrived in England.
By now you're no doubt wondering why I'm telling you about Dracula. I do have a reason. The ruins of the castle that inspired the story still exist and are located just a few miles from today's featured property. Read on to sink your teeth into the details.
Guaranteed Rental Income
The Old Golf House Hotel is a charming, stone-built property in Yorkshire, England. Although built in a beautiful 17th century style, the property actually dates back to 1862. Following an extensive two-year refurbishment beginning later this year, it will become an elegant, four-star condo hotel to be called The Fairways Hotel.
It will be a unique, fully-managed, hands-off investment in which buyers have an opportunity to purchase individual hotel suites and participate in a generous lease-back program.
They'll receive 10% of the purchase price as guaranteed rental income for 15 years, paid annually, with the first two years deducted from the purchase price. Thus buyers will have their out-of-pocket cost at purchase reduced by 20%.
Ideal for Weddings and Conferences
A popular wedding venue with 58 weddings already booked for 2018, The Fairways Hotel will become one of the area's premier hotel and conference centers. It will provide first-class leisure and business facilities including:
50-seat, award-winning restaurant
180-seat function room
Boardroom and conference room
State-of-the-art fitness facility
Set upon five acres of landscaped gardens with 9-hole pitch and putt
The Condo Hotel Units
The Fairways Hotel units come complete with all modern conveniences, an ensuite bathroom with luxury toiletries and the latest high-speed internet connection.
In the leaseback arrangement, condo hotel owners will not be responsible for: monthly property management fees, property maintenance, refurbishment, or any tenant-related issues, including vacant periods that may result in a loss of earnings. Thus, a condo hotel unit at The Fairways Hotel is a hands-off, hassle-free, income-generating asset.
Exit Strategy
Sell the unit on the open market at any given point. The new buyer inherits all terms of the initial contract.

Accept a 125% buyback option in year 10, or extend the leaseback for an additional five years, and still retain the right to receive 125% buyback in year 15.

If you extend the option for another five years, you can choose to receive a 10% return or take the net profits from room revenue, which will be split 50/50 with the operator.
Available Inventory
The Fairways Hotel will have 52 double and family-sized condo hotel units. However, 12 units will be retained by the developer, assuring buyers of the developer's commitment to maintaining the property in excellent condition and operating it at peak performance.
Prices for the condo hotel units range from $98,500 to $140,500. (Prices subject to slight fluctuations due to currency exchange rates.)
Want to know more? I have plenty of additional details on this unique opportunity in my data sheet, yours for the asking below.
As I mentioned at the top, near The Fairways Hotel are the ruins of the castle that inspired the story of Dracula. You can take a spine-chilling tour of the place complete with animated scenes, special effects and live actors if you'd like.
Again, you can request the detailed data sheet for The Fairways Hotel, or if you'd prefer a vacation home or luxury condo in Florida, I've got plenty of options to offer. Just give me a call.
Have a sunny day!
Want to know more about me? Click below:
//www.condohotelcenter.com/joel-greene.html
© Condo Hotel Center. All rights reserved. No portion of this Property Alert newsletter may be reproduced, exhibited or distributed without the express written permission of Condo Hotel Center. Condo Hotel Center takes copyright infringement seriously. Violators will be prosecuted to the fullest extent of the law.Although Condo Hotel Center believes the information contained in this Property Alert newsletter to be accurate and complete, Condo Hotel Center can make no such guarantee. All features and descriptions are subject to change. Please speak with your personal legal and financial advisors to determine whether this property is suitable for your objectives.