COMING SOON!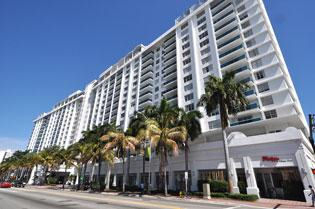 The Perry South Beach, formerly the Gansevoort South Hotel, will soon be renovated and rebranded to become the 1 Hotel & Residences South Beach.  The property is located at 2399 Collins Ave. in South Beach, Florida, just steps from South Beach shopping, beaches, nightlife and cultural attractions.
The property's owners plan to close the Gansevoort South Hotel at some point and invest more than $100 million in a complete redesign. The estimated reopen date for the 1 Hotel & Residences South Beach is in early 2014.
In February 2012, a consortium led by Starwood Capital Group paid about $230 million for the hotel and several Miami Beach assets connected with the property, which includes unsold units in adjoining condominiums, commercial space and a parcel of land across the street.
The building, which dates back to the 1970's will be gutted and completely redesigned and renovated inside and out.  The owners intend to apply for eco-friendly LEED certifications.
When complete, the new hotel will have 417 guest rooms, four swimming pools including a rooftop pool, a spa and large fitness center and private beach amenities.
This will be the first branded residential property tied to the new 1 hotel.  Additionally, the development will feature 163 private residences with one-to-four bedrooms, as well as duplex homes.  Sales of these private residences will begin in April 2013.
If you could be interested in the private residences at 1 Hotel & Residences South Beach, please contact us and we will notify you as soon as they are released for sale.  Provide your full name and email address to Joel@CondoHotelCenter.com.