Condo Hotel Center: Property Alert
August 9, 2004
$500-MILLION CONDO HOTEL PLANNED

Five-Star Magnificence & Big Name Developer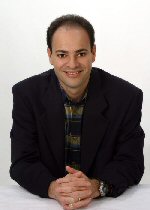 Hello, Joel Greene here from Condo Hotel Center. I hope this Property Alert finds you enjoying your summer. I have been enjoying mine although it's about to get even better. My six-year-old twin girls, the dynamic duo of mischief (and that's being polite), head back to school next week, and no one is more excited than me. Well, maybe my wife.

A Condo Hotel Outside the U.S.
Now I know most of you are interested in condo hotel properties in tropical locations like South Florida. However, part of my goal with these Property Alerts is to keep you abreast of the developing condo hotel market in general.
What we at Condo Hotel Center are seeing is that the condo hotel concept is definitely spreading, not only to states outside Florida but also outside the U.S. Today we're going to take a look at one of the grandest condo hotels currently being planned, a true mega-property, in our closest northern neighbor, Canada.
(By the way, even if Canada doesn't appeal to you, be sure to read to the end of this Property Alert for an exciting Florida pre-construction opportunity.)
$500-Million Condo Hotel Tower in Toronto
Toronto will soon get its first condo hotel. Well "soon" is a relative word, as we are really talking about 2011 by the time it's built, but what's that they say about the early worm?
Even though it's a Canadian property, you'll certainly recognize its American developer. It's none other than The Donald. That's right, Donald Trump along with Talon International Development, a Canadian-based investment company, is planning to build a $500-million, five-star condo hotel tower in Toronto 's financial district.
The Trump International Hotel & Tower, Toronto will represent ultra-luxury living in the heart of the city's downtown and promises to be a glittering jewel in the Trump crown. A 60-story tower, it will sit on the smallest parcel of land on which Mr. Trump has ever built a tower. But what the project lacks in footprint, it promises to make up for in over-the-top opulence.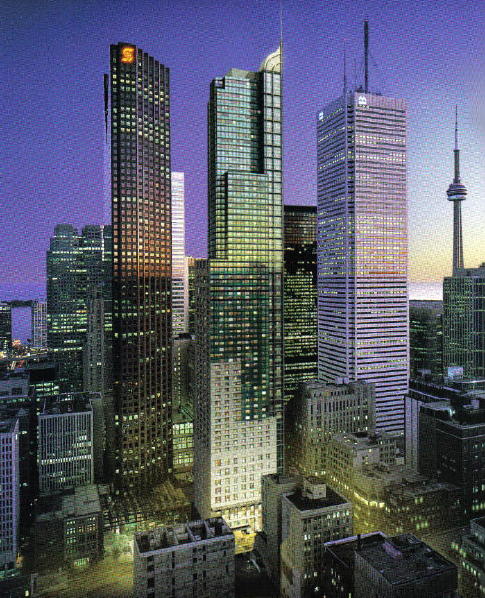 Mixed-Use Building, Hotel & Residences
The building will have two distinct sections, a 261-room hotel and 118 upscale residences. All residents will have access to the exclusive benefits and amenities of the hotel.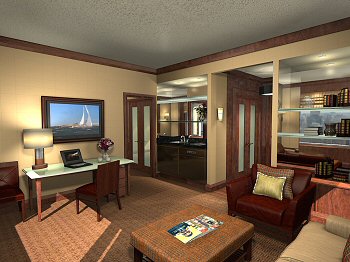 The hotel suites are available for purchase by individuals or corporations, and owners can participate in a rental program. The hotel offers 261 hotel guestrooms and suites, of which 34 suites are part of the exclusive Trump Club that will feature butler service and a private lounge.
The condominium residences will feature formal dining and living areas, exquisite hardwoods and granites, top of the line appliances in designer kitchens, and the finest features and finishes available. There will be a maximum of four residences per floor.
Hotel suites start at about $650,000 and residential suites start at $1.5 million. The building will offer a select number of Skyplex residences. Referred to as "mansions in the sky," these bi-level residences will feature grand staircases, great rooms, and soaring 22-foot ceilings in the entry foyer. Kitchens, living and dining areas will be located on the main level, with bedrooms privately secluded on the upper levels.
Amenities
The hotel suites and guest rooms will have a level of service, convenience and privacy found only in the finest hotels in the world. All the designs, décor and finishes will be of superior quality, leaving no need for upgrades. As a five-star hotel, the property will have the following amenities and services:


A 2-level, full-service, 18,000 sq. ft. spa & wellness facility





5-star gourmet restaurant





Casual full-service restaurant





Sushi and martini bar





24-hour personal concierge, valet and room service





Personal attaché service





Daily housekeeping and laundry service


In-room dining and catering services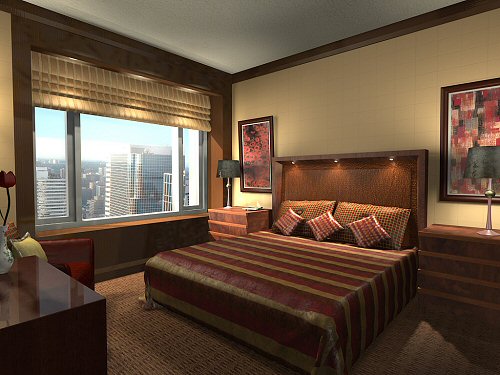 Why Toronto?

At over 1,000 feet high, The Trump International Hotel & Tower, Toronto will be the tallest residential building in Canada. It will change the skyline and elevate the downtown real estate market, while at the same time give the Trump Empire its first development on the international stage.

According to Trump, "It is going to be the ultimate destination for business, pleasure and entertainment. Toronto real estate is undervalued when compared to other leading cities in the world. It is only going to increase in value. That is why this is an excellent investment for those who buy a condominium residence or hotel suite."

A Strategic Location

The Trump Toronto will be located on the shores of Lake Ontario in one of the most culturally-diverse cities on the planet. Brimming with lush parks, historical neighborhoods, performing arts, shopping and sporting venues, this is one place with something for everyone. The building will be an integral part of Toronto's PATH system, the 16-mile underground shopping, dining and entertainment concourse that connects downtown Toronto.





In addition, the city itself is the financial hub of the country, and Canada's major banks, financial institutions and insurance companies call Toronto home. You would be hard pressed to find a Fortune 500 company that doesn't have a large office based there.

Who's Buying?

Trump believers say the real estate icon will find buyers among wealthy investors, especially foreigners who are looking for safe places to park their money.

The Trump brand cannot be underestimated. You may not like the guy's hair, but in New York , Trump has shown he can get twice the price per square foot as competitors.

Take a look at his Chicago condo hotel, a project similar to Toronto 's in that it will also be a mixed-use building with condominiums and condo hotel units. Since the Trump organization opened its Chicago sales office, 75% of the units have sold, and prices have appreciated by 95%. And construction hasn't yet started on the 90-story Chicago tower!

Construction Should Start in About Six Months

I'll keep you apprised on this mega-development in Toronto and periodically let you know how sales are progressing.

If you're a fan of The Apprentice, Donald Trump's reality TV show, (new season starts Sept.) keep an ear out for mentions of this property. Trump's sure to take advantage of the publicity opportunity, as he did for the Chicago Trump Condo Hotel during the series' last run. After the Trump Chicago was mentioned last season, I had nine e-mailed requests for info. about the property by 8 a.m. the next morning!

Want More Information?

If you're interested in learning more about the Trump Toronto now, just reply to this Property Alert with a quick e-mail, and I'll send you my detailed data sheet. I can also, upon request, FedEx a brochure package to you. Just don't forget to provide me with an address and phone number (FedEx requirement).

As I mentioned earlier, even if chilly Toronto isn't your dream vacation spot or if Trump is a little pricey for you, it's interesting to see how the condo hotel concept is being applied in different places around the world.

The Big News--Trump Ft. Lauderdale Is Next

Now before I wrap this up, I have rather exciting news regarding Trump again, albeit a little premature. I've had several discussions with the New York development corporation that will be building yet another Trump condo hotel. This one will be in my favorite place, sunny Florida-Ft. Lauderdale to be precise.

My contact and I have discussed giving Condo Hotel Center a select number of units that will be made exclusively available to our Property Alert readers. These will be units at absolute ground-floor prices, pre-pre-construction you could say.

How many units we are allotted is still to be determined. At this point, I don't have any information on the size of the units or the prices. I have, however, walked the site of the future Trump many times in recent months. The hotel that will be razed to make way for the Trump has housed the sales office site for the Atlantic Hotel, a five-star Starwood condo hotel located right across the street. Talk about a great one-two punch to boost real estate values in the neighborhood, a Starwood Luxury Collection property right next to the biggest name in. in. well in almost everything!

Sound good? Here's what I need you to do. If you're even the least bit interested in the Trump Ft. Lauderdale, reply to this e-mail and specify that you want Ft. Lauderdale Trump information. Send me your full name, mailing address (no P.O. boxes please), and your phone number (again, required for FedEx delivery), and I will put you on my special VIP Trump list.

I assure you your contact information will not be sold or used for anything other than this single purpose. And by placing your name on the list, you are not committing to anything, other than an e-mail from me or a knock at your door by a friendly FedEx representative.

Units go on sale in October. At least that is the plan. People who are on my list will receive complete brochures the second they become available. They will be in on what's known in the industry as "the whisper campaign."

While I will do a Property Alert on the Trump Ft. Lauderdale as soon as the developer gives me the okay, people on my VIP list will find out what's available first, BEFORE any price increases and BEFORE any of the choice units are spoken for. Again, the early worm.

Thanks for Reading to the End Well I hope you found the Trump Toronto AND the Trump Ft. Lauderdale information interesting. As always, thank you for taking the time to read my Property Alert. Next edition, we'll be back in the south looking at another exciting Florida property coming on the market.

If you wish to be taken off our Property Alert mailing list, just hit reply and write "Unsubscribe" in the subject line, and I'll take care of it.

Signed,

The Joel (Nah, just doesn't have the same ring as The Donald)

Joel Greene, Broker-Associate
Condo Hotel Center
A division of Sheldon Greene & Assoc., Inc.
12700 Biscayne Blvd. Ste. 301
N. Miami, FL 33181
PH: 305-944-3090
FX: 305-948-0460
Info@CondoHotelCenter.com
www.CondoHotelCenter.com
www.CondoHotelsDubai.com
www.WorldClassCondoHotels.com
www.CondoHotelsBahamas.com
www.CentralAmericaSecondHomes.com
www.DominicanRepublicVacationHomes.com

Want to know more about me? Click below:
http://www.condohotelcenter.com/joel-greene.html